When you want to be on the top of your game, basketball training is your first step. With a little practice, you can master the art of the perfect shot and watch the basketball swish through the net from any spot on the court. Basketball superstars are not made overnight and even if you have some natural talent, you will have to put in the hard work to hone your skills and really dominate on the court. That's where basketball training becomes crucial.
If you take time to study the lives of basketball legends like Michael Jordan, you will immediately see that basketball training was a crucial element to their success. As a teenager, Jordan was crushed when he didn't make the Varsity basketball team at his high school, but he didn't give up. Through rigorous basketball training drills and a whole lot of blood, sweat, and tears, he played his heart out on the JV team until he earned his spot on the Varsity ledger. From there, he continued to progress until he was shining in the NBA and known as the greatest basketball player of all time.
Improve Your Game with Fundamentals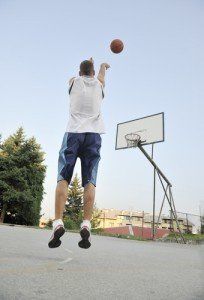 Whether you are brand new to the sport or you're already dedicated to the game, basketball training can help you take your skills to the next level. By following a proper training plan, you can maximize your workouts and get more form the time you spend in the gym. Focus on improving specific skills like dribbling, passing, or shooting free throws. Work together with your team to train for new plays and to develop a more united defense that will be impossible to penetrate on the court.
Players sometimes get frustrated when they are working hard in the gym without big results.
If you have ever felt like your training time was wasted, it's because you aren't training properly. By following basketball training plans, your workout will take you further and you will accomplish your goals faster than you ever thought possible.
Of course, players are not the only ones that benefit from training exercises. Coaches also love these basketball training plans because it can focus practice times and help their players improve drastically even in the small window of practice opportunities the team has each week. When players are getting bored with practice or complacent with the game, new training drills are the perfect way to mix things up and bring some new life on the court.
Work Smart, Not Hard With Basketball Training Equipment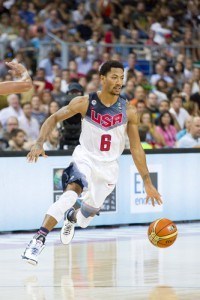 If you want to really take your game to the next level, it's time to invest in some professional basketball training equipment. Go beyond running lay-ups and doing endless burpees and try something new. Today, you can find equipment specifically designed to improve your basketball skills. You can improve your speed on the court, maximize shooting accuracy, and learn to rebound like never before. Vertical jump aids will transform the way you shoot and insure that you sink every shot. You could even learn to dunk like a pro! It all starts with basketball training equipment.
Basketball training equipment is a great addition to any school or gym, but you can also use it at home. Instead of spending hours practicing shooting drills without showing any real improvement, use equipment to improve your shot angle. Make the most out of your practice time and work smart while you work hard. With the proper equipment, you'll get big results even when your practice time is limited.
Practice Like the Pros With Basketball Training Drills
Give some structure to your daily practice time with the help of basketball training drills. Whether your goal is to improve speed and agility or to develop better defensive tactics, using basketball training drills is the right choice. Think of these drills as your step-by-step guide to becoming an incredible player. If you follow the steps carefully and you do the hard work, it's going to pay off and your game will improve substantially.
Finding the right drills can really make or break you as a player. You should choose practice drills that will challenge you to improve, but they shouldn't be so difficult that you cannot successfully master them in a reasonable period of time. Mixing up your practice time with new drills is also a smart way to stay motivated in training. It keeps things interested so you never get bored during practice.
In many ways, your basketball training drills will act like a personal coach, guiding you as you take your game to the next level. With the help of drills, you can enjoy expert coaching even if you are shooting a ball in your backyard. It's the perfect way to maximize your game and truly change how your body performs on the court.
Another important aspect when it comes to basketball drills is working on your explosiveness. If you want to dominate the game, you want to be able to drive past your defender and finish strong. In order to finish strong, you want to work on your hops. A lot of people overthink on how to jump higher. Most rely on genetics, but there are ways to increase your vertical. And by doing so, it's with the proper program and training.
Practice Anywhere With Portable Basketball Courts
Portable basketball courts are a dream come true for players that want to practice at home, but don't have access to a court. Whether you live in a rented home or you just don't have the time or resources to install an in-ground basketball system, a portable court is a perfect solution.
In years past, portable basketball systems were largely frowned upon. They weren't considered to be stable or effective. In fact, you might remember shooting on a rickety old rim mounted above the garage door as a kid. The good news is that today's portable basketball courts are completely different! They are heavy duty, sturdy, and you can even move them from place to place so that your basketball court goes with you if you ever change residences.
In your search for a portable basketball court, remember that quality is the key. There are a lot of options out there in every imaginable price range, but make sure you choose a system that will hold up over time. After all, your portable basketball system will face a lot of wear and tear during routine practice times. If you skimp on quality now, you will just end up replacing your system sooner. In the long run, it pays to spend a little more and get a top quality portable basketball court.
In-Ground Basketball Courts
If your home has a flat driveway or a paved area where you can practice an in-ground basketball court will be your choice. In-group basketball systems provide maximum stability and they can last for decades with proper care. You will enjoy consistent bounce rates and a more realistic playing experience similar to what you are used to during a real game. Ultimately, in-ground basketball courts are the option if you have the space to make it work.
In-ground basketball courts range in price so you can find something to fit your budget whether you're looking to shoot hoops with the grandkids or training to play basketball professionally. As you compare the options, keep a close eye on quality and durability. In-ground courts are really an investment because they cannot be quickly moved or replaced. That's why it's crucial to choose the best.
Basketball Training Shoes
Basketball training shoes are one of the best investments you can make in your progress as a player. Without the proper footwear, you just cannot perform up to your potential! These shoes are designed specifically to help you develop your skills on the court. They support your ankles and give you extra bounce for jumping. You can even buy basketball training shoes that engage the calves to strengthen and tone your muscles.
Many players falsely assume that any basic pair of sneakers will be sufficient on the court. However, if you really want to improve your game, you should invest in shoes specifically designed for basketball training. With extra support, they will help you jump higher and cushion you against the impact when you land on the ground. These shoes can help prevent injury by providing proper support.
Just like weight trainers wear specially weighted vests to add resistance during squats, basketball training shoes provide an extra element of muscle training to your workouts. By forcing you to engage your calves and quads, your ordinary training routine suddenly becomes more challenging. With regular wear and continuous practice, you can improve your jumps substantially and ultimately rake in more points on the scoreboard!
Make Your Training Plan Today
Whether you're a first time player or a long time baller, you can always benefit form new basketball training equipment and drills. Take some time to browse through our reviews of today's hottest basketball training gear to find the best products to take your game to the next level. From basketball training shoes to professional basketball training equipment, we'll point you in the right direction so that you can be more successful on the court and achieve your dreams.