10 Best Gifts for Basketball Players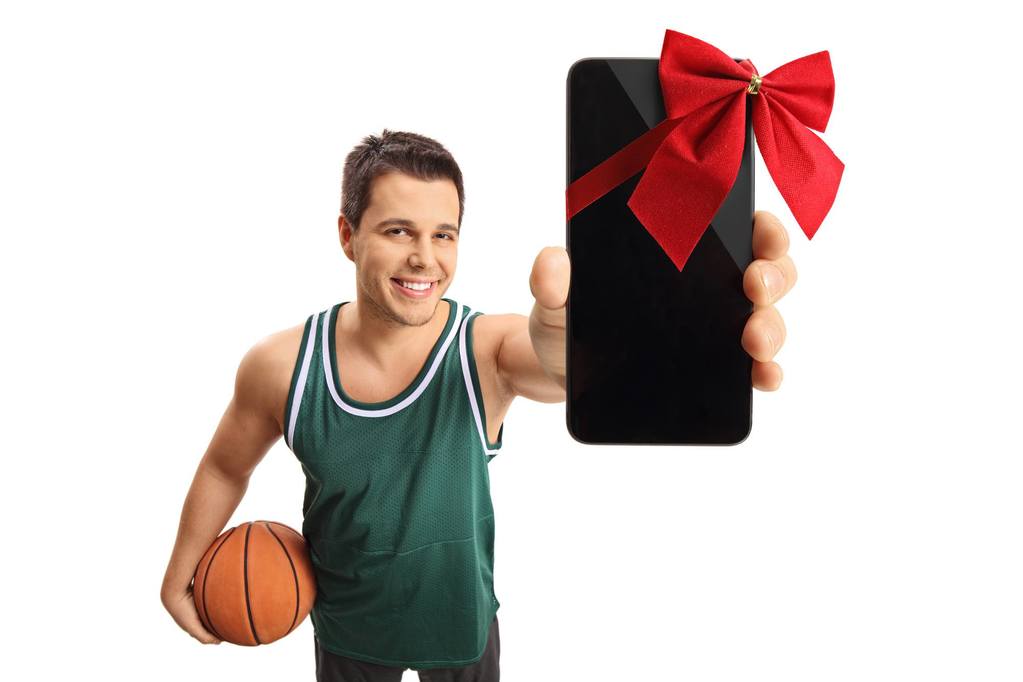 With over 400 million fans around the world, basketball is more popular than ever before. You will no doubt know of some hardcore fans.
Are you on the lookout for a gift your basketball-crazed kid, husband, wife or friend? What are the best kind of gifts for basketball players and fans? We've compiled a list of 10 awesome basketball gifts that'll knock their socks off…
So let's go!
1. Books About Basketball
A true basketball fan needs to do their research on and off the court. Books are a great basketball gift for the aspiring player.
Some classics include David Halberstam's "The Breaks of the Game" and Bill Simmons basketball bible "The Book of Basketball".
Other awesome books are "Wooden" by Seth Davis, "My Losing Season" by Pat Conroy, and "The Last Shot" by Darcy Frey.
2. Basketball Movies
Hardcore basketball fans will not only play the game but will also want to be inspired by watching movies about it.
Some classic basketball movies include Hoosiers, Coach Carter, Glory Road and Hoop Dreams. All with classic stories of rising basketball champions.
3. Basketball Fashion
High-performance basketball socks are in no way a boring gift. They are a must-have for every style-conscious basketball player. They aren't just about style though, they are designed to improve traction and give extra arch support.
Another awesome gift of clothing is a weighted speed vest. It is designed to help players improve their speed and strength while still looking good.
Compression pants, elbow sleeves, and shorts are all over the court in any game. Compression gear keeps muscles warm and the blood flowing. They also help to reduce the risk of injury and look really cool!
4. Portable Basketball Hoop
For countless hours of fun and practice, a basketball hoop is the best gift. You can set it up in your driveway or in your backyard.
There are a wide variety of hoops on the market. Some cheaper versions are great for kids and casual players. But there are also many professional hoops that can endure long hardcore sessions, and even slam dunks – if you've mastered the art!
5. Gifts to Improve Skills
Ambitious basketball players who want to push themselves further will appreciate any gifts that will help them to do so.
An agility ladder is great for footwork and coordination practice. And a dribble stick is a great gift for a player who is trying to improve their ball handling.
Every basketball player dreams of slam dunking. A tool that can help them to achieve this goal is a vertical jump training program. This 8-week program can help to improve their jumping skills.
Alternatively, a jump rope is a cheaper option. It is an essential item for any serious basketball player who wants to improve their quickness and footwork.
A shot tracker is also a cool gift for the ambitious player. It includes a sensor on the player's wrist and on the basketball net. Using an App it records the player's statistics.
6. Virtual Player
Relaxing is also important for training athletes. If they still can't get their head out of the game, basketball video games are the best thing.
The most popular video game on the market for basketball players is no doubt the NBA 2k18. Even actual NBA players play this game in their free time off the court.
7. Cool Basketball Stuff
Basketball accessories come in many different forms, you're sure to find something they can use to proudly show the world that they are a huge basketball fan.
A basketball backpack is a practical gift that can help to fit all of their gear into one bag. The same goes for basketball shoes. They are extremely practical and needed, as shoes wear out super quickly due to the intensity of the game.
A great gift for players that are trying to up their game is dribbling goggles. They help to keep the player from looking down while dribbling and to improve their overall ball handling.
Another great accessory to have are training gloves. The purpose is to improve the player's ball handling by removing the natural feel of the basketball, this causes them to get a stronger grip.
8. Classic Jersey
The most popular basketball present is probably a jersey. But just because it's popular, it doesn't decrease its worth.
A basketball jersey is an essential piece of clothing for any basketball player, as it doesn't restrict them in the same way that a tight fitting shirt would. A reversible basketball jersey is even better, as the wearer can easily switch teams by turning the jersey inside out.
There are many different versions of basketball jerseys available. Cheaper versions are great for kids and casual players. But for a basketball nut, an official jersey will be perfect.
Make sure to pick the jersey of their favorite team or player!
9. The Best Basketball
One of the essential gifts for basketball players is a good basketball. They might have many cheap options that wear out quickly, but how about something special?
There are many high-quality options available, all at a variety of prices. One of the best is the official Spalding NBA ball.
Another option is a smart basketball that can help them to improve their game. There are basketballs that can be connected to an app on your phone. The app gives statistical data on dribbling speed, ball-handling ability and gives tips on how to improve.
10. Tickets to a Game
The best gift you can probably give is a chance to see a live game. Whether its the pros or not, they'll have great fun seeing it all take place in front of their eyes.
You could go all out and get them courtside seats for the NBA finals, they would love you forever! Or just go for a local team, you can generally get fair priced tickets online.
If you're looking for something that'll entertain them all year round, how about an NBA league pass instead?
They'll appreciate being able to watch every single NBA game played through online streaming. But you might lose them to the TV for the next 12 months!
Bonus Basketball Gifts
Just a couple extra, because we love the idea so much. A coffee mug with a hoop or a waste paper bin with a hoop.
These basketball related gifts are a really fun way to incorporate basketball into a mundane object. They can practice their free throws with sugar lumps every morning into their coffee cup, or they can slam dunk waste paper through the hoop into the basket!
The Best Gifts For Basketball Players
Sometimes it's extremely difficult to find the right gift for a person. But if they are a basketball fan, the gift options are endless! You're sure to find the perfect present in this list of 10 awesome gifts for basketball players.
For more tips, hacks, and information for the basketball lifestyle, check out our blog.