Best Indoor Basketballs – Top Quality and Affordable Brands
When you're looking for the best indoor basketball, it's easy to get overwhelmed. There are just so many choices out there! It seems like everyone has a different opinion about which ball will be best for shooting indoors. Whether you're listening for tips from your favorite players or looking for the ball approved by the NBA, you will have to wade through your options before you find the ball that feels just right in your hands. To help you save a little time in your search, here is a look at five of the top products.
Comparison Chart – Top Rated Indoor Basketballs
Spalding TF-1000 Classic Men's Indoor Basketball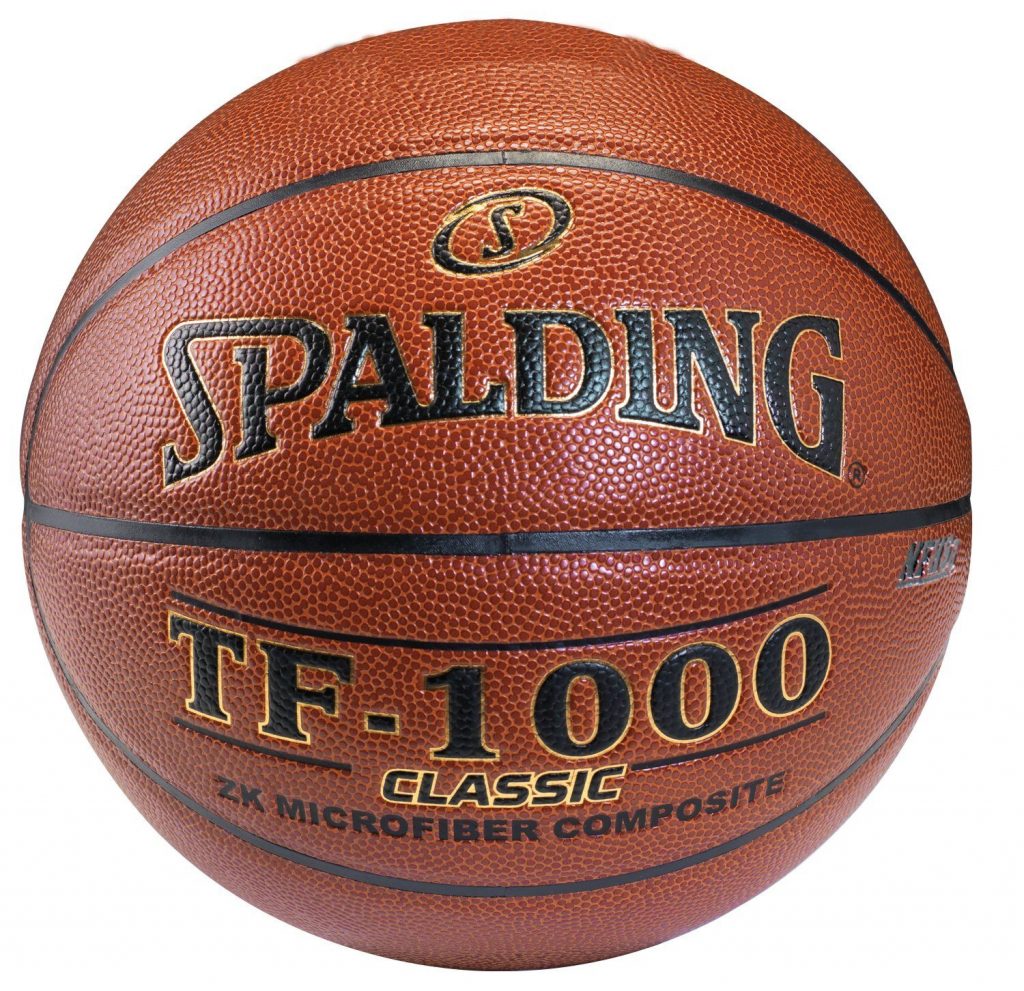 Hands down, one of the most popular indoor baskeballs out there. If you ask anyone that plays basketball through leagues, or school, they'll most likely tell you that the TF-1000 is one of the popular choices. Sure, there are tons of other indoor basketballs out there, but this one is most likely the first choice.
What makes the Spalding TF-1000 the right choice?
One of the reasons why ballers love using this ball is because of the quality and the grip. The TF-1000 indoor basketball is made out of ZK Microfiber composite. Additionally, if taken care of, the ball can potentially last for a long time.
Another great feature is the heritage wide channel that's designed for this ball, which makes it ideal for hand placement when it comes to shooting the ball.
Various sizes for the TF-1000
The Spalding TF-1000 comes in two sizes. You can select either 29.5" or 28.5" inches. Although this indoor ball is great for all ages, make sure to keep it away from children under the age of 3 due to choking hazards.
Again, this basketball is really intended for indoor use. I really find this basketball extremely beneficial when it comes to doing dribbling and shooting drills. The feeling of the grip helps me boost my own confidence when it comes to dribbling. Of course, everyone's experience would be different but for my sake, this is hands down one of my favorite indoor basketballs.
>>> Check Amazon for Prices and Availability
Spalding NBA Street Basketball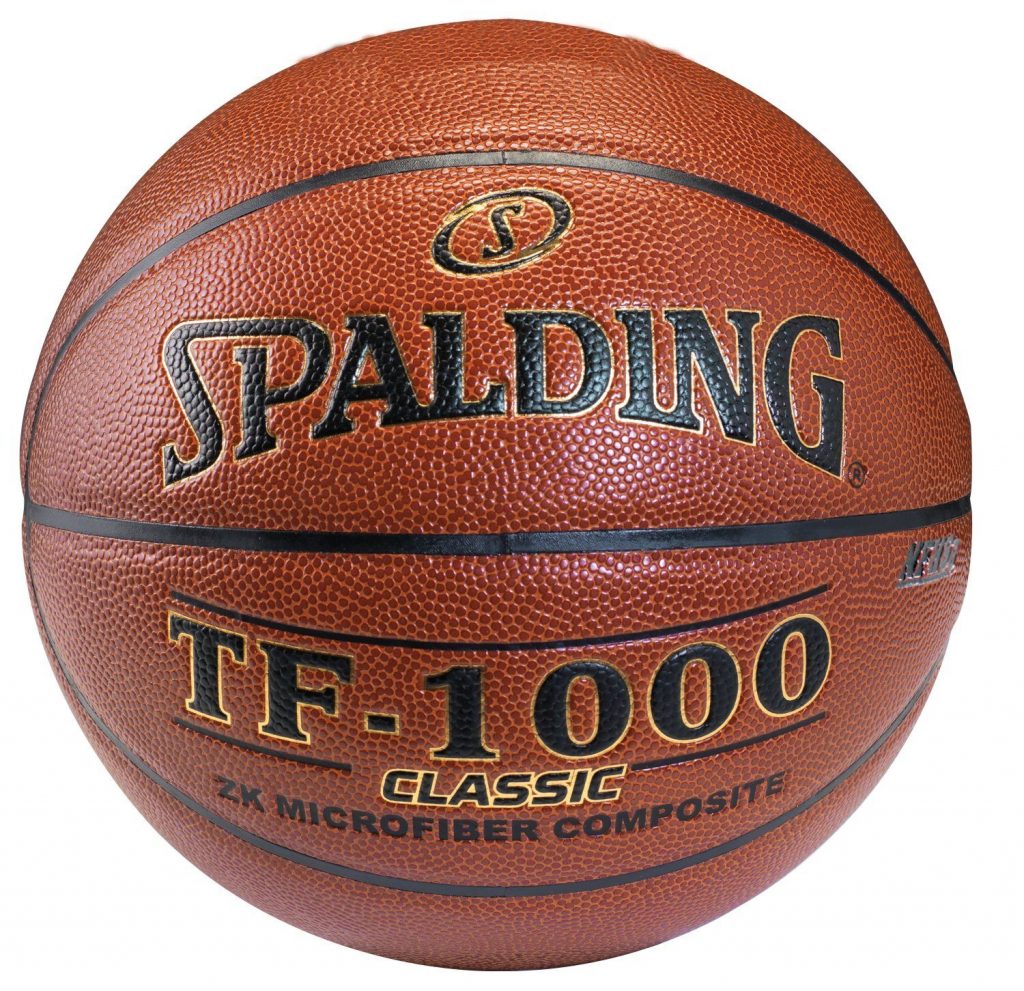 Spalding has a long history of success in the sporting industry. AG Spalding, a popular pitcher for the Boston Red Stockings, along with his brother, J. Walter Spalding, started the company in 2876. Since then, Spalding has been the go-to brand for innovative sports gear. This particular ball really shines as one of the Spalding's hottest releases in recent years. Created with INFUSION technology, this ball has a built in pump to make inflating it easier than ever.
You can get the Spalding NBA Street Basketball in three sizes. Choose from Youth (27.5 inches), Intermediate (28.5 inches), or NBA Official Size (29.5 inches). The ball was made with a performance outdoor cover so even if you use it primarily for indoor practice, it can also stand up to some heavy duty street games as well. With a wide channel design, it offers incredible grip and feels comfortable in your hand. Overall, this ball was designed to feel natural in your hand and it will let your skills really shine through during indoor play.
Positive Note of the NBA Spalding Basketball
One of the benefits of having this basketball is that it has a good bounce. In other words, if you dribble the ball you'll have more control. If a basketball doesn't have a good bounce then that means that it's deflated. Bare in mind, that all basketballs do deflate over time, so you'll always want to check on the basketball before taking it to an indoor gym / court.
Downside of the Spalding Indoor Basketball
Although the basketball has a good bounce. At times, it can be a little too bouncy. You'll want to make sure that you don't add too much air or you won't be able to have too much grip.
– Or –
Wilson Evolution Indoor Game Basketball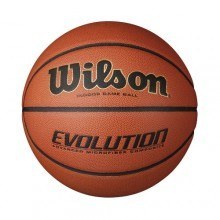 With official approval from the NCAA and the NFHS, the Wilson Evolution is a great choice for players at any skill level. Built with Cushion Core Technology, it has excellent bounce and feels good in your hands. You'll enjoy a better grip thanks to the microfiber composite leather that covers the outside of the ball. With an improved grip, you gain better control of your shots so you can sink that three-pointer with ease.
This ball is extremely durable and can stand up to a lot of time on the court. However, keep in mind that it's designed for indoor play. The composite leather will get dirty quickly and won't hold up as well outside so save it for your pick-up games in the gym. Once you experience the difference in how the leather feels in you hand, you won't ever be comfortable with the old rubber finish again. This product is by far the top pick if you are an intermediate player looking for extra control to hone your skills and improve your game.
>> CLICK HERE FOR PRICES ONLINE<<
– Or –
Wilson NCAA Replica Game Ball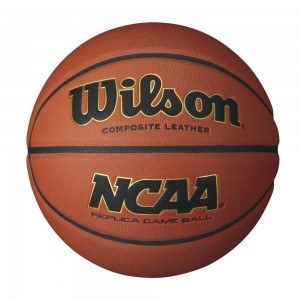 If you have big dreams of playing in the NCAA, you simply have to try this Wilson NCAA Replica. It features identical patented technologies that you would find in the balls used in official games. The cover is made from moisture absorbing composite leather that will hold up to games both indoors and outside. The channel grips are actually in laid on the ball so they are easy to hold and help you master the perfect hand positions to sink every shot.
Cushion core technology gives this ball extra bounce and makes it feel lightweight and comfortable even when you are running drills for hours on end. As the top selling composite ball from Wilson, this is a good pick if you're getting serious about your game and want to play with the same precision that you see from the pros.
>> CLICK HERE TO READ MORE REVIEWS<<
– Or –
Spalding NBA Zi/O Excel Basketball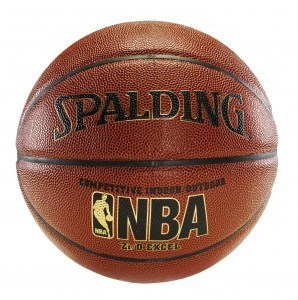 If you need better dribble control and you're primarily interested in indoor games, the Spalding NBA Zi/O Excel is going to be the perfect ball for you. This is the official ball used by the NBA so it's identical to what the pros use in their practices and games. It's made with top of the line features and solid construction for long lasting game time with minimal wear and tear.
This ball is covered in composite leather and has additional foam backing and full ball pebbling so you get better grip and improved overall control. The channels are designed to be 30 percent deeper than the average basketball and you can definitely feel the difference when dribbling and passing. The deeper grooves also provide better ball control when shooting so you get more accurate shots.
>> CLICK HERE TO BUY THIS BALL<<
– Or –
94fifty Smart Sensor Basketball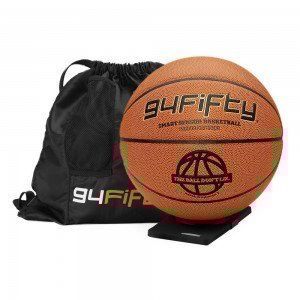 When you want nothing less than the best, check out the innovative new 94fifty Smart Sensor Basketball. This is one of the smart balls ever released with one of a kind technology that links to your smartphone and helps you develop the skills you need to take your game to the next level. Using embedded motion sensors, the ball monitors your skills and gives you immediate access to feedback and skill drills through a free downloaded app.
As you practice, you can level-up your skills from Beginner to Pro. The app will walk you through endless drills so you can shoot faster, increase your accuracy, and develop the proper arch to sink every shot. This ball also appeals to the competitive player. You can challenge your friends of teammates to skill competitions or play against anyone through social media challenge match-ups.
The 94fifty will constantly collect data and stream it to your smartphone and then the app will give you instant feedback. In many ways, the 94fifty acts as your personal coach, helping you develop new skills and achieve your goals with each subsequent practice.
Pros of the 94fifty Basketball
The 94fifty was one of the first smart basketballs that I've ever owned, so that alone was a "wow" factor. The game of basketball has been evolving over the course of years, and it seems like there's an emphasis on the analytics portions of things.
I really like the mobile application that I downloaded on my phone. I was able to sync it with my 94fifty basketball. The three main components on the application provided the following:
my power of dribbling,
the spin of the ball
my arc.
What's great about the application is that every time I would shoot, there would be a commentator/automated coach telling me if my shot was too flat, etc. Just having that own mobile personal coach was a convenience factor. Another great thing about the 94fifty is that I can save historical data of my shot, and dribble to see if I've made any progress.
The Downside of the 94fifty basketball
One of the flaws that I found with this basketball is that the synchronization isn't as accurate. Meaning, that sometimes the application can't detect the 94fifty basketball, even if I have it a couple inches away from the mobile app.
I also noticed that the quality of the 94fifty isn't as up to par with the TF-1000. In other words, I'm losing grip on the basketball, and it seems to deflate a lot faster compared to other basketballs.
Nevertheless, I really do like how I'm able to analyze my performance with the 94fifty, which makes this basketball a one of a kind. The fact that a "smart" basketball is still new, I can see some major improvements in the future. Although I've noticed some cons, this particular basketball can really help individuals improve their game based on the features provided on the mobile application.
>> CLICK HERE TO CHECK PRICES<<
– Or –
Check out this video by Courtside who made a review on the 94fifty.

Final Word
No matter which of these five basketballs you choose, you will be well on your way to a better experience on the court. The main thing is that you start putting in work! Don't be like everyone else where they'll buy all sorts of equipment to get better, but they never use it.