Indoor Basketballs – Top Quality and Affordable Brands
What the indoor basketballs?
As most coaches will tell you, the most important thing in basketball is not hours of practice, but perfect practice sessions. A perfect training session begins with getting game equipment and tools that keep you as comfortable and as relaxed as possible. And since the ball is your key tool in the game, you want to start by choosing indoor basketball for your skills.
After hours of analyzing and comparing the different options available, here are indoor basketballs that stood out for us this year.
Comparison Chart – Top Rated Indoor Basketballs
Product Name
Style Name
Price
Our Rating
Spalding TF-1000 Classic Indoor Basketball
Official Size 28.5″, 29.5″
$$$
4.8/5
Spalding NBA Street Basketball
Official Size 5 (27.5″),6 (28.5″),7 (29.5″)
$
4.6/5
Wilson Evolution Indoor Basketball
Official Size 5,6,7
$$$
4.6/5
Wilson Replica NCAA Game Ball
Intermediate 28.5″,
Official Size 29.5″
$$
4/5
Spalding NBA Zi/O Excel Basketball
Official Size 6,7
$$
4.4/5
94Fifty Smart Basketball
Official Size 7
$$$$
4.3/5
Spalding TF-1000 Classic Men's Indoor Basketball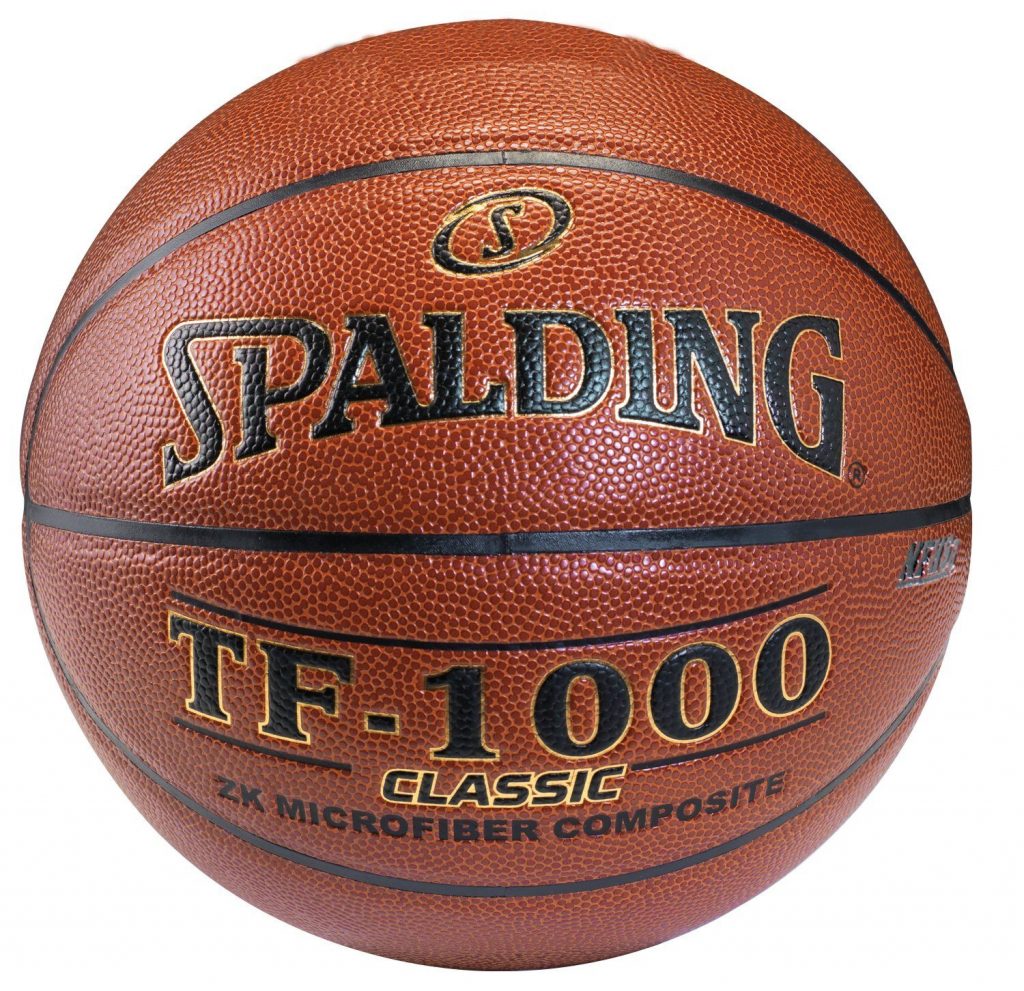 Hands down, one of the most popular indoor baskeballs out there. If you ask anyone that plays basketball through leagues, or school, they'll most likely tell you that the TF-1000 is one of the popular choices. Sure, there are tons of other indoor basketballs out there, but this one is most likely the first choice.
What makes the Spalding TF-1000 the right choice?
The Spalding TF-1000 Classic is among a few other balls that were released to replace the original Spalding TF-1000 basketball. Although there are a few areas where this ball doesn't match its predecessor, it still qualifies as one of the indoor basketballs to buy this year.
The Spalding TF-1000 Classic is a size 7 (29.5") ball that's NFHS-certified for high school games. This ball has ZK microfiber composite cover- an exclusive material that mimics real leather closely while keeping the price reasonable. This material is comparatively durable too, especially if you use the ball indoors.
The cover might feel tacky at first and it will also require some breaking in. But it gets buffer-soft after that making the ball super comfortable to grip. Speaking of gripping, the super-wide channels on this ball are noticeable right off the box- and they make shooting the ball incredibly easy.
We've seen a few complaints regarding air retention. However, it tends to make up for this with its strong, tough cover, excellent grip, and bounce.

Spalding NBA Street Basketball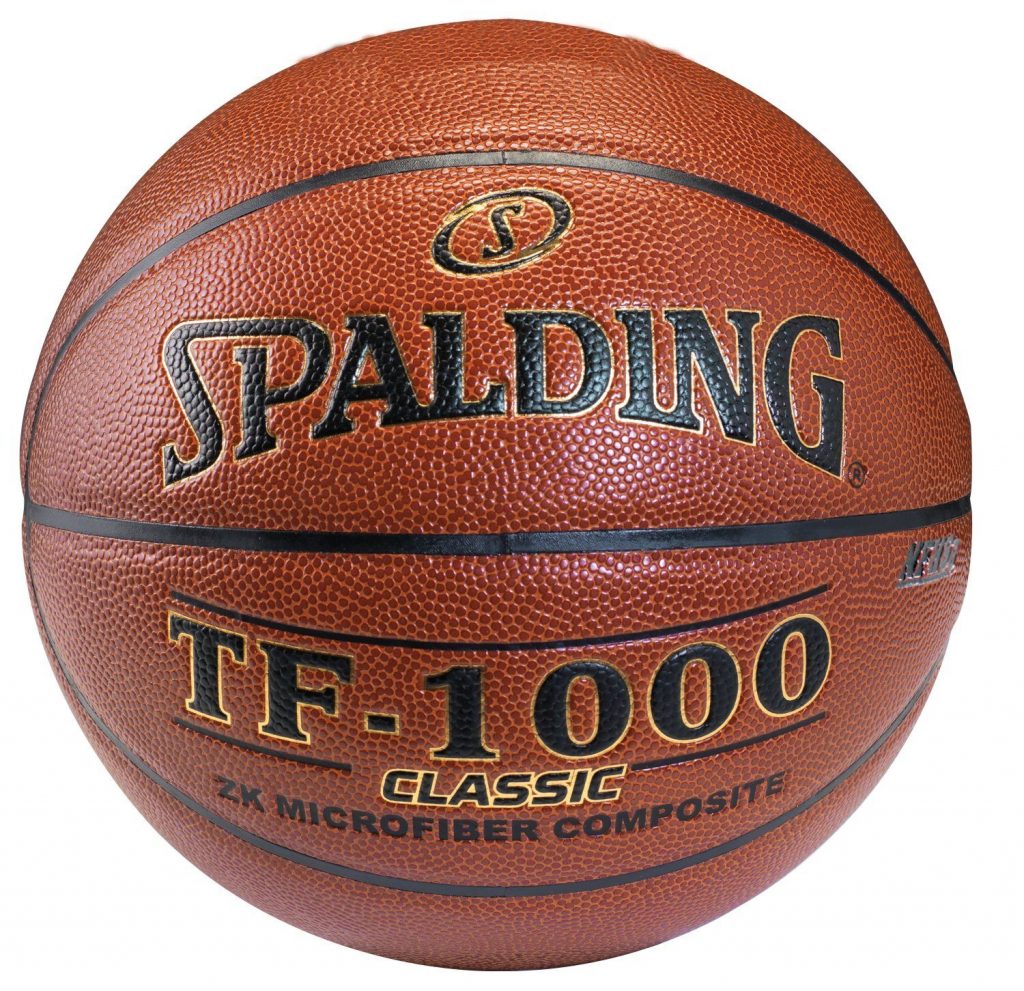 Our next pick for these reviews goes to recreational ballers looking for an indoor basketball that they can use outdoors too. The Spalding NBA Street boasts the official size 7 (29.5") circumference, but you can also get it in size 5 and 6.
Positive Note of the NBA Spalding Basketball
As a ball that's designed for outdoor use, the Spalding NBA Street boasts a performance-grade synthetic rubber to withstand extreme abuse on street courts. This rubber cover also gives you an unbeatable grip, keeping you in total control of the ball at all times.
To add on to its excellent handling capabilities, the Spalding NBA street has very wide channels plus a deep pebble design to manage moisture.
Lastly, this ball feels generally well-balanced and has an above-average bounce on most surfaces. That said, most players report that they are confident dribbling and spins are predictable.
Downside of the Spalding Indoor Basketball
Although the basketball has a good bounce. At times, it can be a little too bouncy. You'll want to make sure that you don't add too much air or you won't be able to have too much grip.
Wilson Evolution Indoor Game Basketball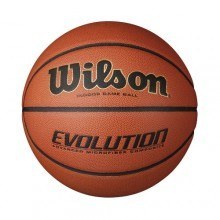 The Wilson Evolution is one of the priciest balls in our indoor basketball reviews 2021, but there's a reason why it's the number-one choice for most high school basketball teams today.
When you get this ball out of the package, the first thing that you're going to experience is its exceptionally soft feel. This ball's signature feel comes from its cushion core carcass and it offers you an easy grip around the rim.
Moreover, this NFHS-approved 29.5" ball has thousands of tiny pebbles that offer excellent contact surface and top-level control. It also has laid-in channels that do a tremendous job in wicking moisture away making it possible to handle the ball in all conditions.
The Wilson Evolution lies within the acceptable standards in terms of bounce. But what's even more important is that its bounce remains consistent at all times.
Wilson NCAA Replica Game Ball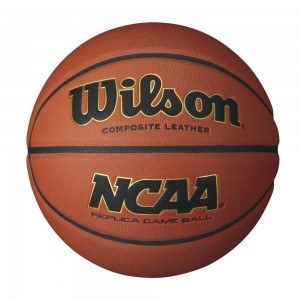 The Wilson NCAA Replica is an excellent choice for starters looking for an affordable indoor basketball ball. This is a 28.5" ball, so it's ideal for boys age 12-14 years and girls and women 12 years old and above. It's also available in the official size 29.5".
This ball has an impressive construction quality and approach. Its 100% cushion cover, for instance, has Wilson's cushion core technology that creates the feeling of real leather when shooting and passing the ball.
Another major reason behind this ball's popularity is its excellent grip and near-natural handling. It features wide channels that give you an incredible level of spin control when shooting. Notably, these channels are deep, so individuals with small hands should have an easy time handling the ball too.
Regarding durability, the reinforced cover used for this ball holds up really well in gritty outdoor courts. While it might not outlast a genuine leather basketball, this ball still offers an unbeatable value at its price.
Spalding NBA Zi/O Excel Basketball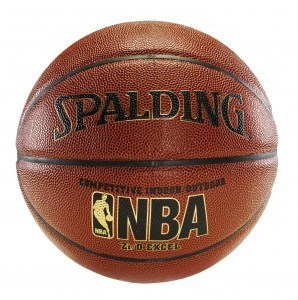 Next up is the Spalding NBA Zi/O- one of the top-rated and selling indoor basketballs today. The key-seller for this basketball is its unique construction design.
Similar to its contenders in this list, the Spalding NBA Zi/O has a composite cover that allows you to use it both indoors and outdoors. Uniquely, this ball has a foam backing that gives it an impressive level of sponginess that we don't always come across a lot with most hybrid basketballs.
To complement its soft feel, the Spalding NBA Zi/O has a tight pebbling that creates an incredible grip all around the ball, including on the graphics.
What's more, this ball only needs to be pumped to around 7psi to offer a sufficient bounce. This means that you get a great bounce without compromising the softness of the ball. On the same note, we should mention that the Spalding NBA Zi/O has some of the most consistent bounces in our list. This is particularly important since it eliminates the hassle of anticipating and chasing the ball.
94fifty Smart Sensor Basketball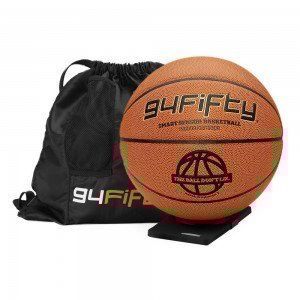 At the surface, the 94fifty is pretty much like any other ordinary basketball. It's made of synthetic leather and comes in the official men's size 7 (29.5"). As a hybrid basketball, the 94fifty can be used both indoors and outdoors and it performs above average in these environments. It tends to collect a lot of dust in outdoor courts, though, and this might affect handling.
So, what makes it unique? Unlike regular basketballs, the 94fifty is designed to be more of a personal digital coach. On the inside, this basketball has 9 accelerometers that connect to your phone via a Bluetooth App to offer real-time data regarding your backspin, arc, and release.
The App has several skills training modes to suit different players' skill levels. These levels also mean that the ball literally grows with you. But what's even more interesting is that it can keep records of up to 4 players.
The 94fifty basketball recharges wirelessly, but this isn't something that you'll do every day. Precisely, one charge lasts around 8 hours of play and the mobile app will keep you posted on the amount of power remaining.
Pros of the 94fifty Basketball
The 94fifty was one of the first smart basketballs that I've ever owned, so that alone was a "wow" factor. The game of basketball has been evolving over the course of years, and it seems like there's an emphasis on the analytics portions of things.
I really like the mobile application that I downloaded on my phone. I was able to sync it with my 94fifty basketball. The three main components on the application provided the following:
my power of dribbling,
the spin of the ball
my arc.
What's great about the application is that every time I would shoot, there would be a commentator/automated coach telling me if my shot was too flat, etc. Just having that own mobile personal coach was a convenience factor. Another great thing about the 94fifty is that I can save historical data of my shot, and dribble to see if I've made any progress.
The Downside of the 94fifty basketball
One of the flaws that I found with this basketball is that the synchronization isn't as accurate. Meaning, that sometimes the application can't detect the 94fifty basketball, even if I have it a couple inches away from the mobile app.
I also noticed that the quality of the 94fifty isn't as up to par with the TF-1000. In other words, I'm losing grip on the basketball, and it seems to deflate a lot faster compared to other basketballs.
Nevertheless, I really do like how I'm able to analyze my performance with the 94fifty, which makes this basketball a one of a kind. The fact that a "smart" basketball is still new, I can see some major improvements in the future. Although I've noticed some cons, this particular basketball can really help individuals improve their game based on the features provided on the mobile application.
Check out this video by Courtside who made a review on the 94fifty.

Final Word
No matter which of these five basketballs you choose, you will be well on your way to a better experience on the court. The main thing is that you start putting in work! Don't be like everyone else where they'll buy all sorts of equipment to get better, but they never use it.