Best Chain Basketball Net for Outdoors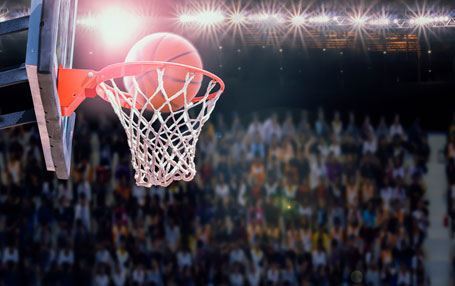 Basketball is a fantastic sport that's enjoyed by millions of people across the world. It's a game of speed, agility, and skill and is a great way to stay fit and socialize at the same time. Whether you play professionally or just for fun, there's nothing worse than trying to play a game with substandard equipment. It just doesn't work. And while a decent basketball court, an in-ground basketball hoop or portable basketball hoop and backboard, as well as a quality ball, are obviously important so is a decent basketball net.
Basketball nets: chain vs. material
You may not immediately think of a basketball net as being such a vital piece of equipment when playing basketball, but have you ever played with one that's falling apart or missing altogether? It's just not a nice experience. And, a decent net can make all the difference to your gameplay. While nylon and polyester nets are very good in their own right, they'll never be as sturdy or durable as a chain net. You also have the possibility of fraying and shrinking to consider with a material net.
Best chain basketball net for outdoor use
There are a lot of options when it comes to outdoor chain basketball nets. The problem is that not all of them any good. Thankfully for you, we've done some research and put together a list of some of the best available at the moment to help you when searching for your next chain basketball net for outdoors.
Overall rating: 8/10
Price range: This chain basketball net on offer from Crown Sporting Goods is an ideal solution for anyone looking for a decent looking, durable outdoor basketball net. It fits any standard 18-inch rim and is very simple to install. Being made from galvanized steel, and plated with zinc, there are no worries about it being left outdoors as it won't rust even in the harshest of conditions. The quality of this net may not be quite as on par as some of the bigger name nets, but all-in-all it's not a bad buy .Check Price on Amazon
Overall rating: 7.5/10
Price range: Look like a pro and play like a pro with the help of this great outdoor basketball net made by Champro. It's been designed to fit any standard 21-inch rim with a 12 loop construction that's very easy to install. Made of nickel plated steel, this net's both durable and rust-proof and should last for several seasons. The only thing to be aware of with this net is you may need to crimp the S-loops that come with it as they don't always stay in place otherwise. Check Price on Amazon
Overall rating: 10/10
Price range: Don't like the price deter you, as this outdoor basketball net is excellent value for money. This net has been designed to ensure there's no tangling or knotting. Made of heavy-duty galvanized steel, not only can it withstand the kind of wear and tear that nets typically receive, but it also keeps any rust at bay. It's very easy to install and is compatible with any standard size basketball hoop. Check Price on Amazon
Overall rating: 8.5/10
 Price range: Basketball is a fast-paced sport where accidents are inevitable. However, players can lower their chance of injury with the help of this safety chain basketball net on offer by First Team. Designed with safety in mind, this net is made from high-quality steel and zinc plated for added durability. There's no tangling or knotting with these nets, and they're very easy to fit. The only real issue, like many other nets, have is the fact that the hooks need to be clamped to avoid them coming out. Other than that, it's a fantastic outdoor basketball net that helps keep players free from injury.Check Price on Amazon
Overall rating: 9/10
Price range: Here we have another great example of an outdoor basketball net, this time on offer by Coast Athletic Brands. Made from galvanized steel, this net is extremely durable and won't rust. There are no sharp edges to worry about and it's been designed to fit most standard size rims. You don't have any concerns about tangling with this net and installation can be done in minutes. It might not look as fancy as some of the others available on the market, but the price is great and it does the job. Both of those features make it an excellent choice for anyone on a budget looking for an outdoor basketball net. Check Price on Amazon
How to install a chain basketball net
Once you've decided on the best chain basketball net for you, all that's left is for you to install it. This shouldn't take too long as there's not much to it. To help make this process even less painful, the following is a short step-by-step guide to help should you get stuck at any point.
Step 1: Identify the hanging loops. These will usually be slightly larger than the actual links themselves.
Step 2: Slide the loops over the hooks. As silly as it may sound, make sure you take your time with this part. If you miss one of the loops you'll get to the end and won't have enough chain left. This means you'll need to then remove the loops one by one until you discover where you went wrong, correct it, and re-loop it all over again. While this isn't exactly difficult, it can be time-consuming if you have to do it more than once.
Step 3: Try it out by shooting some hoops!
We hope you found this article useful and are now one step closer to making your next outdoor chain basketball net. The main points to bear in mind while shopping is the size you need is it weatherproof, and how does it attach. Get these things right and there's no doubt you'll get hours of uninterrupted playing time out of your net.