Chain Basketball Net for Outdoors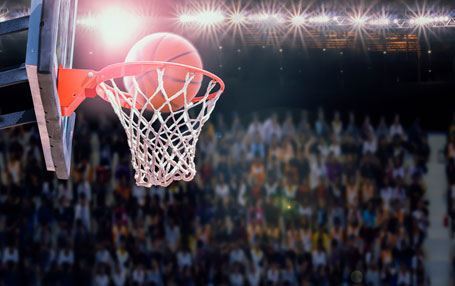 Basketball is a fantastic sport that's enjoyed by millions of people across the world. It's a game of speed, agility, and skill and is a great way to stay fit and socialize at the same time. Whether you play professionally or just for fun, there's nothing worse than trying to play a game with substandard equipment. It just doesn't work. And while a decent basketball court, an in-ground basketball hoop or portable basketball hoop and backboard, as well as a quality ball, are obviously important so is a decent basketball net.
Basketball nets: chain vs. material
You may not immediately think of a basketball net as being such a vital piece of equipment when playing basketball, but have you ever played with one that's falling apart or missing altogether? It's just not a nice experience. And, a decent net can make all the difference to your gameplay. While nylon and polyester nets are very good in their own right, they'll never be as sturdy or durable as a chain net. You also have the possibility of fraying and shrinking to consider with a material net.
Chain basketball net for outdoor use
There are a lot of options when it comes to outdoor chain basketball nets. The problem is that not all of them any good. Thankfully for you, we've done some research and put together a list of some of the available at the moment to help you when searching for your next chain basketball net for outdoors.
Crown Sporting Goods Galvanized Steel Chain Basketball Net.
Overall rating: 8.2/10
Price range: The Crown Sporting is one of the best-rated chain basketball nets for 18-inch rims on Amazon. This chain net is crafted from galvanized steel and has a zinc coating to boost its durability even in extreme weather elements. It also has heavy-duty S-shaped hooks that attach nicely to all rim styles. Installation is a breeze, and although you'll need pliers to pinch the S-hooks closed, the whole process only takes a couple of minutes. In Crown Sporting chain basketball reviews, most people say they were able to get it ready in 15 minutes or so.
Markwort Metal Chain Basketball Net
Overall rating: 8.5/10
Price range: The Markwort is another outdoor basket net that you'll come across a lot in your search for the chain basketball net. The first thing that you're going to notice on this net is its regulation hour-glass design that brings out its professional touch. This net chain is made of steel, and it makes an awesome swish rattle sound with every successful shot. Its edges have been thoughtfully smoothened too to prevent scratches and cuts. As with other nets in our reviews, the Markwort also uses S hooks that need to be crimped using pliers to stop them from coming loose.
Champion Sports Heavy Duty Galvanized Steel Chain Basketball Net.
Overall rating: 8.9/10
Price range: The best metal basketball net for durability doesn't necessarily need to be too expensive as our second pick here depicts. Champion Sports is among the most affordable outdoor basketball net out there. But it's super impressive that this basketball chain is consistently rated as an excellent performer, especially in resisting rust. We also appreciate the heavy-duty galvanized steel used for this basketball hoop chain. We reckon it will make an excellent solution if you want a net that will withstand energetic teens in any outdoor and indoor recreational basketball court. Installing the Champion Sports chain basketball net should be easy thanks to its easy-to-use hooks. Bring your pliers, though, as you'll need to bend the hooks closed so they don't come off.
Cannon Sports Standard Chain Basketball Net
Overall rating: 9/10
Price range: When you peruse Cannon Sports chain basketball net reviews on Amazon, you'll realize that it gets a lot of praise for its swoosh sound. We attribute this sound to the heavy-duty 13-gauge steel used for its construction. This chain net is 19 inches in length and will fit well in most standard basketball rims. We appreciate that it's galvanized, so you can comfortably use it outdoors. Although rust is inevitable, most buyers report that the chain takes a long time before showing signs of rusting. Lastly, the Cannon Sports basketball chain net is super easy to hang. You'll need to nip its S hooks, but that should be drop-dead easy to do.
TRIXES Silver Heavy Duty Metal Pro Basketball Net
Overall rating: 9.5/10Price range: Our next recommendation for the best chain net for basketball hoop is this silver net by Trixes. We can't deny that the Trixes is pricier compared to other models in this list. However, we believe you're getting a really good deal here if you want a net that's made with corrosion in mind. The Trixes Silver Metal Pro is made of stainless steel and has anti-rust properties that make it an ideal pick if you live in the rust belt. Most of its current users in online reviews report that it looks as good as new one year after installation. Also, it's hard to miss the high polish of this net. So, if you want a net that will complement your basketball court vibe, the Trixes heavy-duty metal Pro could be it.
How to install a chain basketball net
Once you've decided on the best chain basketball net for you, all that's left is for you to install it. This shouldn't take too long as there's not much to it. To help make this process even less painful, the following is a short step-by-step guide to help should you get stuck at any point.
Step 1: Identify the hanging loops. These will usually be slightly larger than the actual links themselves.
Step 2: Slide the loops over the hooks. As silly as it may sound, make sure you take your time with this part. If you miss one of the loops you'll get to the end and won't have enough chain left. This means you'll need to then remove the loops one by one until you discover where you went wrong, correct it, and re-loop it all over again. While this isn't exactly difficult, it can be time-consuming if you have to do it more than once.
Step 3: Try it out by shooting some hoops!
Where to buy a basketball net
Basketball nets are easy to find and buy online and in most brick and mortar sports stores.However, you can also get them from Target, Walmart, Aliexpress, and eBay. If buying online isn't a viable option for you, most major stores, including Walmart and Target, stock these nets. Also, try searching 'sports stores near me,' for Google recommendations on the closest open physical sports store near you.

How much does a basketball net cost
Basketball nets are generally inexpensive, but the price varies a lot depending on the type, brand, and where you're buying from. Nylon and polyester basketball nets are often cheaper than their metallic alternatives. These range between $3 and $7. The downside is that they fray fast and may require regular replacement. Chain basketball hoops are comparably pricey. Their cost starts at around $8 and could get as high as $30 depending on its construction quality and anti-corrosion properties.
Note that inexpensive basketball nets are not necessarily low quality. We've also seen dang pricey nets that don't cut it in durability. So, factor in current users' reviews and feedback on the quality of the net before paying for it.

We hope you found this article useful and are now one step closer to making your next outdoor chain basketball net. The main points to bear in mind while shopping is the size you need is it weatherproof, and how does it attach. Get these things right and there's no doubt you'll get hours of uninterrupted playing time out of your net.