Goalsetter Captain In Ground Adjustable Basketball System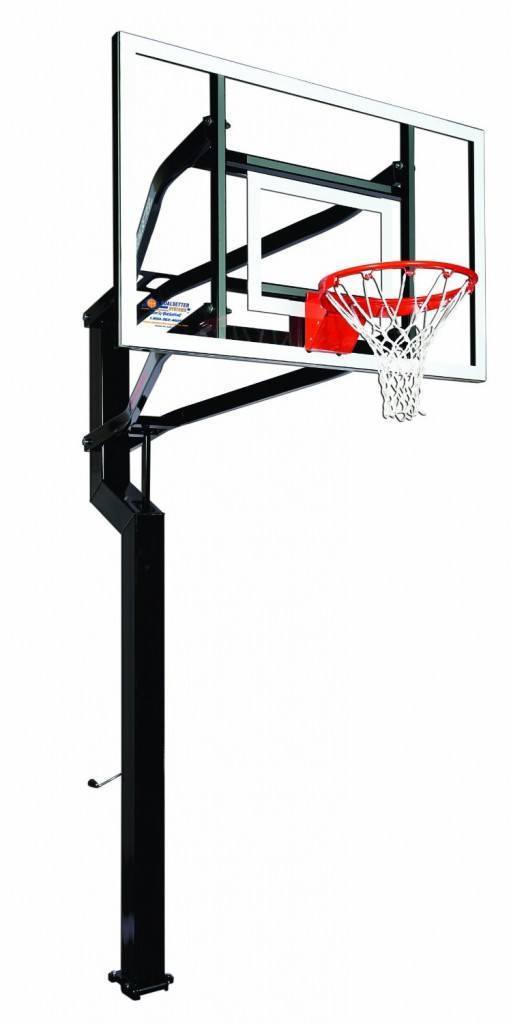 If you are looking for a mid-sized in-ground adjustable basketball system, then you will love the Goalsetter Captain System. With a six-inch square poll, it offers supreme stability with a mid-sized backboard option that works well for young aspiring athletes and serious ballers alike. When you want to bring the superior quality of a professional basketball goal home to your driveway, the Goalsetter Captain will make that dream a reality.
Construction, Durability, and Features
Built to last, the Goalsetter Captain In Ground Basketball System doesn't skimp when it comes to quality. The six-inch square pole is made from steel with seven-gauge wall thickness to reduce the usual wear and tear on the system's joints. There is a four-foot overhang from the pole to the backboard and the height is fully adjustable from 6 to 10 feet. Adjustments are made using the internal compression height adjustment mechanism. There is no pinching or grabbing so you can easily change the height without worrying about injuries.
The Goalsetter Captain Basketball System includes a 60-inch backboard made from tempered glass and mounted on an H-frame fashioned from structure steel tubing. Even the paint is corrosion-resistant so your goal will still look like new in five years.
Design and Safety
This system was designed with safety in mind. The four foot overhang offers a safety buffer when you're practicing your slam dunks and jumps. The height adjustment mechanism protects your fingers from being pinched or squashed. Even installation was designed with safety in mind. Thanks to the Ground Anchor Hinge System, you don't even need to climb up on a ladder or scaffold to install this basketball system.
Installing the Goalsetter Captain Basketball System
Follow the included step-by-step directions to install your new Goalsetter Captain In Ground Basketball System. You will start by digging a hole and then you can set your goal in place and mount your backboard. It's a pretty simple process and even if you have never installed a basketball system in ground before, you can handle it with the help of the easy to follow directions.
User Experiences
Buyers report that the Goalsetter Captain is an incredible value. Most buyers report that installation was simple after the whole was finished. The pole and backboard are heavy duty and can stand up to a lot of wear and tear over time. Once installed, it offers superb stability so layups are easy and even three-point shots are more quickly mastered. Buyers also love that this system comes with a lifetime warranty and is made in the USA and they claim that the difference is obvious when you look at the quality of this system compared to basketball systems made in China.
Pros
Includes a lifetime warranty, which is really rare for an in-ground system
Adjustable height makes it a good fit for all ages
Four-foot overhang provides excellent clearance
Ground anchor hinge system makes installation simple
Made in the USA
High quality materials
Durable design

Cons
A little pricey compared to other in ground systems
Requires a large hole
Takes up a lot of ground space
Final Thoughts
All things considered, the Goalsetter Captain In Ground Adjustable Basketball System is a solid choice. With an adjustable height and heavy duty construction, it's a good pick for families with kids that are going to grow up playing basketball. This system is sufficient for pro ballers, but it's simple enough to install that even amateurs will enjoy it. Overall, this is a great option for anyone that wants a top rated in-ground basketball system to enjoy at home.
Return to: In-ground Basketball Hoops