The Importance of Free Throw Drills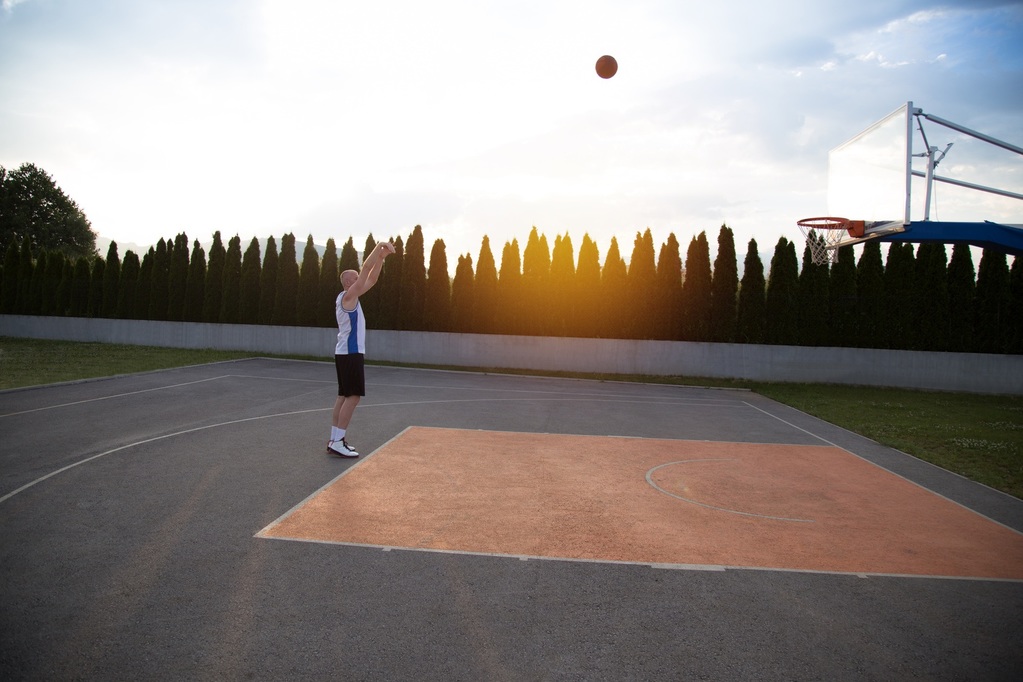 Struggling from the charity stripe? You aren't alone.
You can master foot speed and dribbling, but nothing is more important in your development as a team player than being effective at free throws.
In contemporary times, the free throw has often been either a huge benefit to players or a huge disadvantage. Shaquille O'Neal was infamous for his woes at the free throw line.
He once missed 11 free throws in a single game. Worse still, the Los Angeles Lakers lost that game by 8 points.
Free throw drills can change your game. Unless you're a megastar like the 7'1″ Shaq was, you also need to make your foul shots to keep on the floor.
Miss too many free throws and you move from an asset to a detriment to your team.
Still hesitant to spend the hours you need to get better at free throws? We will help show you why free throw drills are so important.
Here goes:
Your Team Needs the Points
Shaquille O'Neal is one of only 2 players to miss over 5,000 free throws over the course of their career.
Let that sink in. Shaq could have 5,000 more points in his career.
Just imagine the benefit that could have meant to his team in terms of playoff wins, championships, and close games.
And all those missed free throws aren't just for padding your stats. Free throws win games.
Close Games Are Won With Free Throw Drills
How many times have you been in a game or watched a game that was won or lost by a close margin? Sit down and watch a game and see what happens.
Basketball games are won and lost at the free throw line. Free throw drills make the difference between a win and a loss because they are an essential part of the game.
Even games that seem to be a blowout by the closing buzzer are often decided during the free throw shooting in the last 5 minutes of the game.
If you want to play and compete you need to spend time doing free throw drills.
Practice Real Game Situations
One of the worst feelings for a player is to do well in practice after practice only to choke come game time. And this isn't just while shooting free throws.
Unless you practice with real-time game pacing your entire play will be off once the rock is tossed up for a jump ball.
Basketball is a game of starts and stops. You sprint like mad to get down the court only to have the play stopped by the ref's whistle.
Practicing free throws and performing drills from the charity stripe as a regular part of your personal and team practice will simulate the real game scenarios.
Think opposing coaches don't understand pacing? Just get a hot hand and watch them call a time out.
Or worse, make a few shots in a row and watch out. You're bound to get fouled and end up on the free throw line.
Unless you can perfect the set shot you will be costing yourself and your team points. It doesn't matter if you can sprint up and down the floor and make every jump shot.
Unless you can stop and start you aren't practicing in real time. Integrate some foul line drills with your fast-paced practices and you'll be better prepared come game time.
You Become Better Through Repetition
Ask the best free throw coaches and they will tell you one thing:
"You get better through repetition," says Gary Boren, the shooting coach who got all-star players to average 90 percent from the free throw line.
They are free points for you and your team. Free throw drills help you collect the freebies.
They call them free throws for a reason. But watch out, if you miss too many you'll be handing a free gift to the opposing team.
You Will Hurt Your Team
If you can't dribble and shoot with both hands you cut your game exactly in half. All an opposing defense needs to do to stop you is overplay your weak side.
As soon as an opposing team or a scout discovers this weakness you become a detriment to your team. The same is true for missing free throws.
If you don't practice free throws regularly by using drills you become a major weakness for your team. All an opposing needs to do to stop you is foul you mid-shot.
And if you are anything like us, your coaches have made it clear. If you are going to foul someone on the other team you better make sure they don't make the basket.
If the defense knows you won't make your free throws why wouldn't they foul you every time? What's even worse if you know you won't make your free throws.
You'll be unprepared mentally every time you step on the court. In fact, you'll be less likely to step on the court at all.
You Want To Play
You don't just want to play basketball. You want to play when it counts.
Who hasn't rehearsed shooting a buzzer-beating shot to win a NCAA title in overtime? Or swishing a three to propel their NBA team to world champion status?
There's no chance you'll be in the game if you can't make your free throws. It will be too easy for the other team to win.
We already know hoops is a game of inches. The closest games are determined by a single shot or a missed free throw.
If you want to be on the floor when it matter you need to participate in drills to round out every part of your game.
The Lost Art
Free throws aren't just a lost art. Ask basketball historians and they will explain the lost art of the mid-range jumper.
A mid-range jump shot is just about right to qualify as a free throw. Defenses are spread out to defend 3-pointers and tough physical play in the paint.
Master the free throw and you'll be upping your mid-range game too.
Rounding out every part of your game means sinking your free throws.
Round Out Your Game
Nearly every part of your game will improve with your prowess at the free throw line. You'll be more clutch in game-winning situations and more prepared for the pace of real-time hoops play.
There's no better way to round out your game than practicing from the charity stripe. All you need is a great ball and the right hoop to get started.
Don't wait to be the best player you can be.
Click here now to see the best hoops for 2021 and start practicing your free throws today.