The Best In-Ground Basketball Hoop For Future Ballers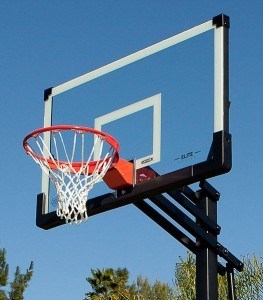 In-ground basketball systems require cement installation on the ground and are permanent. Now don't let the permanent part turn you off. Though In-ground hoops cannot be moved compared to the roller base of the portable systems, it still has its benefits.
In-ground systems take a small amount of room on the ground space where it is to be installed and due to its permanent installation it tends to be more firm and unyielding compared to the portable hoops, thus offering more stability and room for aggressive and dynamic play.
We'll review some of the top range In-ground basketball systems on the market. These thorough and concise reviews will help you find out the best type of system for you. We will be discussing their features, and the best characteristic each of the In-ground system has to offer, hence making it an effortless task for you to choose the best suited to your needs.
Comparison Table for In-Ground Systems
Showing 1 to 5 of 5 entries
Top Rated In-ground Basketball Goals
Goalrilla GS with Tempered Glass Backboard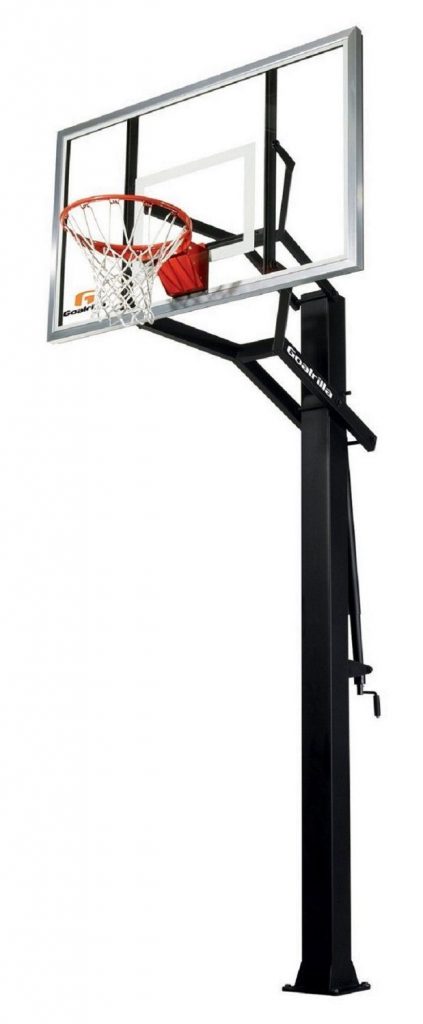 Features
The goalrilla basketball hoop dimensions measured to be 60 inches by 38 inches of the backboard, it is made up of 3/8 inch tempered glass and provides with an excellent rebound. The pole is of superior strength and comes with a squared base which measures 6 by 6 inches.
The goal height is adjustable to the usual standard of 7.5 feet to 10 feet.
The backboard quality cannot be in doubt regarding the durability it offers because of the 3/8 inch high tempered glass.
This court is Goalrilla's most Pro-Style in-ground basketball system. Compared to the standard college backboard of 72 inches, the 60" of this system doesn't signify significant differences. Thus providing one a professional feel when playing.
If your kid is planning to apply for college basketball scholarships, then it is a good buy for practice purposes and perfecting the jump shots.
The Good:
The squared base makes it strongest and the most stable in-ground system.
Powerful rebound owing to the 3/8 inch tempered glass.
Perfect for intense backyard games as there is minor shaking
Withstands heavy pounding and dunking
Easy assembling with little to no issues
Easily adjustable to different heights
The Bad:
Slightly pricey than other systems
Though easy installation, it takes a lot of time
Takes up a lot of ground space and a deep hole is required for firm installation
Check Amazon for Prices and Availability
Spalding H-Frame In-Ground Basketball System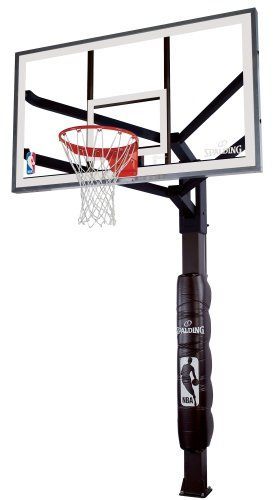 Features:
Spalding's H-Frame's backboard is 60 inches by 38 inches. It is made up of steel framed glass. Similar to Goalrilla' 3/8 inch tempered glass, it delivers a high rebound. The pole is squared with 6 by 6 inches providing the ultimate stability if it were to be installed properly.
The height is infinitely adjustable between 7 feet to 10 feet. Thus, it is the perfect hoop for adults and teenagers alike.
H-Frame comes with an anchor kit which allows for easy assembly. However, we'd advise you to check if everything is available before starting assembling since some customers found parts missing.
The Good:
Positive lock breakaway rim and heavy duty allow for aggressive dunking and play
Most systems provide with a minimal height of 7.5, but this allows for 7 feet. Thus ideal for your kids.
Solid goalpost
Durable because of the high-quality backboard
The Bad:
Extremely expensive
Backboard is quite heavy so it can be difficult when it comes to installation
Check Amazon for Prices and Availability
Spalding "888" Series In-Ground Basketball System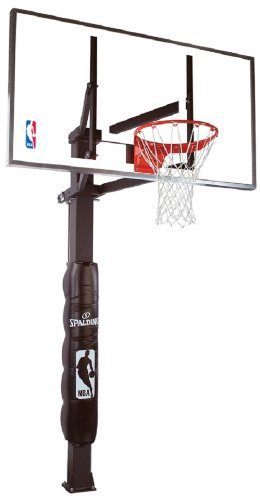 Features:
Spalding "888" in-ground basketball system features a 72 inches by 42 inches steel framed backboard. The 3/8 inch glass backboard is made up of tempered glass. Like almost Spalding's entire in-ground basketball hoop, this one also has an exceptional rebound.
The power lift pole allows for infinite height adjustment between 7 feet to 10 feet. It is easily adjustable to anyone owing to the J-bolt anchoring system.
The pole has a squared base of 6 by 6 inches. Thus, allowing for supreme stability.
Moreover, the heavy duty NBA pole pad and a flex break-away rim style included in the system compliments an institutional and intense level of performance.
The Good:
The heavy duty pole pad ensures a safe play
Very little vibration
Looks nice in the driveway or yard
The Bad:
The recommended hole by the manufacturers is 24" deep which is not very concrete. However if you dig an extra 6" deep, you shall be okay.
Backboard is too heavy to install and requires at least 3 persons to install the system
Extremely expensive
Check Amazon for Prices and Availability
Silverback 54″ In-Ground Basketball System

Features:
This in-ground basketball system has a 54 by 33 inch backboard. Though the backboard system is not quite as significant as of Spalding's "888' series, it does come with a 4.8mm tempered glass and aluminum frame which boasts durability.
The height of the pole is again easily adjustable between 7.5 feet and 10 feet. Basically, everyone in your family can play, regardless of their height.
The steel pole comes in two pieces and has a squared base of 4 by 4 inches. It is coated with Dupont powder to prevent from rusting and keeping it shiny.
The pole pad and backboard pad creates a soft cushion, so when you make contact with the backboard or pole during the play, it protects you from injury.
It also has a 2.5 feet overhang which allows playing underneath the hoop without risking running to the pole.
The Good:
A good value in-ground basketball system concerning low price and numerous benefits it offers. If you have a limited budget, this system gives you the best closer to a real game feel.
Comes with anchor system making it an easy installation.
Overhang allows for defending underneath the goalpost during competitive play.
The Bad:
Not a very sturdy unit as it shakes when the ball hits the backboard. The hoop could probably still be shaking when taking an instant shot after shot.
Compared to other models, you may not find it as pro basketball system as others.
Check Amazon for Prices and Availability
Goalsetter Captain In-ground Adjustable System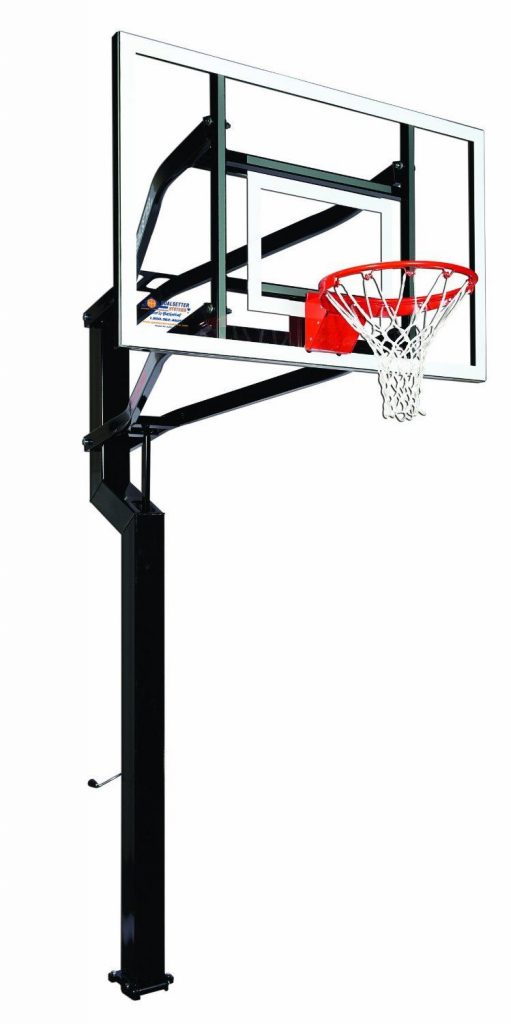 Features:
Goalsetter's Captain features a 38 by 60 inch glass backboard. It is made up of 3/8 inch fully tempered glass. The backboard design is H-Frame which provides stability.
The height adjustment mechanism in this system allows for height to be adjusted from anywhere between 6 feet to 10 feet. Thus, it is a type of in-ground system designed to keep in mind players of all ages.
This mild sized backboard and a minimum height of 6 feet offer you an indoor experience.
The squared steel pole is of 6 inches and comes in one piece. Goalsetter's ground anchor hinge system provides complete assembly and optimal stability.
The Good:
Comes with a lifetime warranty subjected to proper installation.
Ideal for all ages.
Easy to put together due to the ground anchor hinge system.
The four feet overhang offers a good clearance between the rim and the pole to do reverse layups.
The Bad:
The 6 inches pole thickness is likely to take a lot of ground space.
Check Amazon for Prices and Availability
Final Thoughts
These comprehensive reviews of the in-ground hoops cater to individuals who are bewildered by so many choices available in the market. These reviews on our page will relieve you of the pressure to do extensive surfing on the web and will provide you with the best system suited to your requirements. However before embarking upon the purchase, it will be good for you to be aware of what you should be looking for when searching the best in-ground basketball system.
Fortunate for you that you stumbled on our page as we have you covered with the things you need to consider before making the purchase.
Easy installation: Installation of the in-ground hoop should be your primary concern. Often complicated systems are difficult to install and may require professional help thereby increasing your cost. So it is imperative that you look for an easily installed system. When installing it is better that you dig a deeper hole than mentioned in the instruction manual as it guarantees stability.
Height adjustable mechanism: If the pole height of basketball hoops is adjustable it provides you with versatility. Anyone in the family can adjust it to suit themselves and benefit. However, fixed height hoops has its advantage as they are argued to be more stable than adjustable heights.
Durability: You need to make sure that your system is durable and is made to resist rusting and protected from the weather. The backboard material made of tempered glass is preferred by customers because it can withstand aggressive gameplay. Nevertheless, there are different types of materials when it comes to in-ground hoops.
The best in-ground basketball system is tough to choose from such a broad range of systems at the customer's disposable. Thus, it is necessary to be aware of the technical features of each system and not just compare price and appearance of the different systems. Yes, they are factors that can't be ignored as people have a limited budget and prefer to have a basketball hoop which looks nice and lovely in their backyard. However focusing on these two while being ignorant of its features are bound to get you in trouble.