Top In-Ground Basketball Hoop For Future Ballers
What is in ground basketball hoop?
An in ground basketball hoop is the opposite of a portable hoop. This system is designed to be installed permanently in your backyard, driveway, and pretty much anywhere else where you plan to fix it.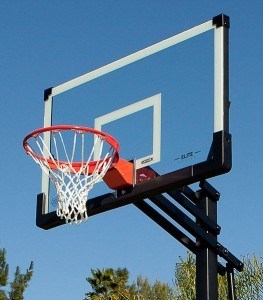 The main advantage that in ground hoops have over portable systems is their permanent installation. Since inground hoops are fixed directly into the ground, you don't need to worry about them being blown away by hurricanes. Though in-ground hoops cannot be moved compared to the roller base of the portable systems, it still has its benefits.
In-ground systems take a small amount of room on the ground space where it is to be installed and due to its permanent installation it tends to be more firm and unyielding compared to the portable hoops, thus offering more stability and room for aggressive and dynamic play.
Also, inground basketball hoops can withstand higher weights. This means that you have a wider choice of the type and size of the backboard to go for. This is unlike with a portable basketball hoop where the size of the backboard depends on the capacity of the base.
We'll review some of the top range in-ground basketball systems on the market. These thorough and concise reviews will help you find out the best type of system for you. We will be discussing their features, and the characteristic each of the In-ground systems has to offer, hence making it an effortless task for you to choose the one suited to your needs.
Top Rated Inground Basketball Goals
Goalrilla GS with Tempered Glass Backboard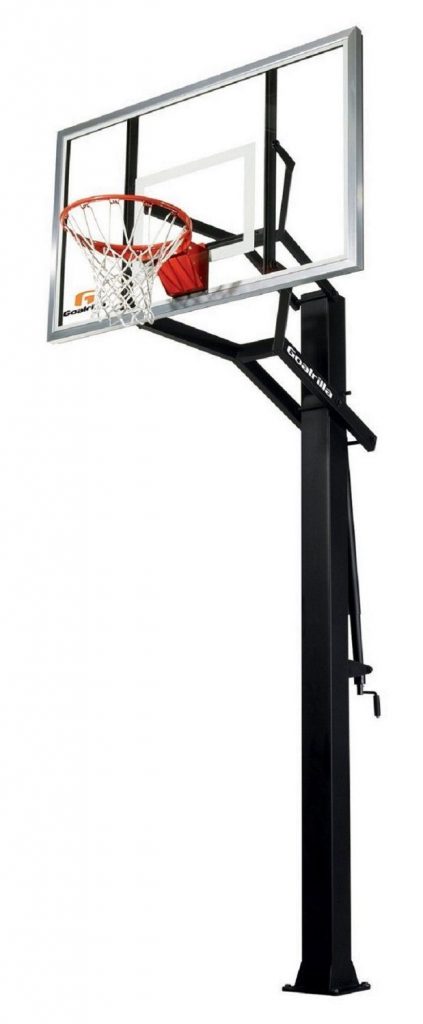 Features
Designed to mirror pro-level goals, the Goalrilla is the best in ground basketball hoop if you're after optimum quality and durability.
There are tons of great features on this hoop, but the 60″ backboard catches most basketballers' attention first. Compared to the 72″ regulation size boards, the 60×38″ backboard of this hoop offers an excellent midway point in making bank shots more satisfying without occupying a lot of space.
Importantly, this backboard is made of a 3/8″ thick tempered glass. This is the most common thickness with premium basketball hoops, and it offers authentic rebounds with minimal vibrations. Again, the tempered glass used for this board will last almost forever, looking as good as new because it's less prone to yellowing and scratching than plastic and acrylic alternatives.
The Goalrilla GS is fitted with a pro-style breakaway rim. This rim is spring-loaded to make it flexible when dunking, and this increases playability. For basketballers who enjoy intense gaming, the 3-foot overhang of this basketball hoop dramatically reduces the risk of crashing onto the post and offers a considerable amount of under-the-basket play.
We also appreciate that this basketball hoop combines a one-piece 6×6 steel pole and an anchor bolt mounting system for maximum stability and reduced base flex.
The biggest drawback of this hoop is its high price tag. However, if your budget allows, the Goalrilla GS is among the best on the market today for size, stability, and durability.
Lifetime 71525 Basketball Hoop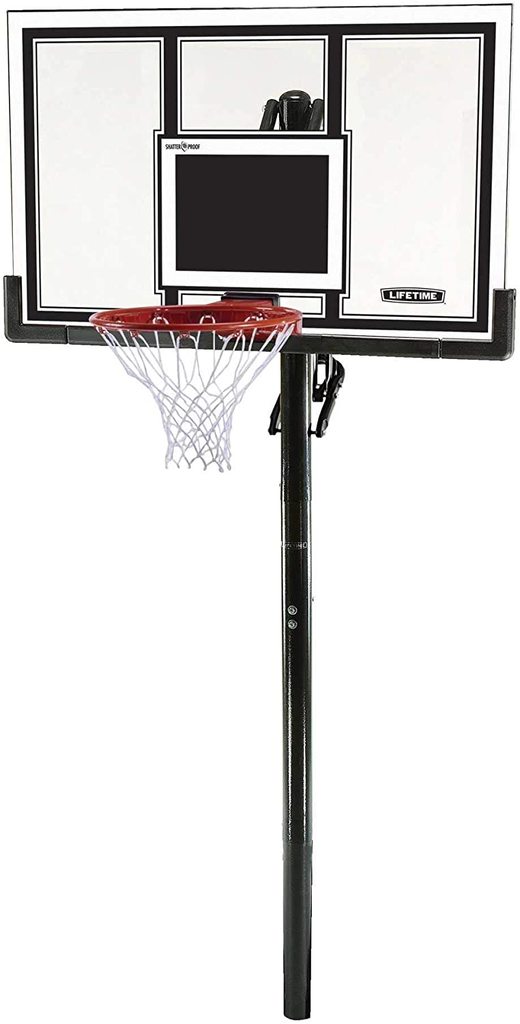 Features:
Lifetime is a reputable brand in most inground basketball hoop. Its Lifetime 71525 is an excellent choice if you're looking for an affordable hoop with a decent size backboard. This hoop costs a fraction of what the Goalrilla GS comes at. And although there are a few compromises to its overall design, it's one of the best-rated hoops for the money today.
The first notable difference here is the 54″ polycarbonate backboard. While it's slightly smaller than that of the Goalrilla, the size of this board still allows you to perform bank shots with relative ease. And although the polycarbonate material is not as heavy as tempered glass, it does not rattle or shake a lot.
The main advantage that this board offers is its lightweight design, which allows your kids to adjust the height easily. On this note, this hoop has a power lift system that will enable you to adjust the height from 7.5″ to 10″ with infinite increments in between.
This basketball hoop utilizes Lifetime's top-rated Slam-Pro rim with a double spring design for hard dunking.
Lastly, the Lifetime 71525 uses a ground sleeve base foundation. Great if you ever want to remove the pole. It's relatively easy to install solo and feels pretty solid after setup.
Lifetime 90020 In Ground System

Features:
Our search for the best cheap inground basketball hoop led us to the Lifetime 90020. This is one of the most affordable hoops in this list, and it makes an excellent choice, especially for kids and starters.
The Lifetime 90020 uses a 48″ polycarbonate backboard, which is much smaller than the 54″ of the Lifetime 71525 above. As such, it might be a little bit trickier to do bank shots on it.
On the upside, the size of this board, coupled with its very lightweight design, means that your young players can comfortably adjust the height of the backboard. Lifetime makes height adjustment even more effortless by fitting this hoop with an action grip adjustment mechanism that allows single-hand operations.
In addition, a light backboard means that you don't need an overly heavy-duty support pole. This makes the installation bit more manageable as you only require a 24-inch hole. Installing this system is a breeze, and the package includes all the necessary parts.
Admittedly, the Lifetime 90020 rattles when the ball hits the board compared to premium basketball hoops. However, we can't complain so much considering the cost of this hoop. Overall, we believe it will interest most people who want an affordable basketball hoop for recreational play.
Silverback 54″ In-Ground Basketball System

Features:
This Silverback system is among the cheapest options for a 54″ inground basketball hoop with a tempered glass backboard. It's worth checking out if you want an affordable but long-lasting hoop that lets you get a little more intense.
The most outstanding feature of this basketball system is its 54″ tempered glass backboard. Besides giving the system a professional design, tempered glass cuts out most of the drum effects that are common with cheap plastic boards to offer you consistent rebounds each time. In addition, this backboard's size is just what a serious player on a budget wants.
This hoop's 2-foot (24″) overhang is half of the official 4ft distance. However, it's more than enough and offers a decent under-the-rim action for a driveway basketball hoop. If anything, this overhang means that the Silverback won't require a lot of space.
The 4×4″ square tube used for the pole is strong and stable. Although it wobbles slightly, current users affirm that it doesn't affect game play.
Spalding NBA In-Ground Basketball System

Features:
If you want a pro-quality hoop at a decent price range, this model by Spalding should be your first consideration. The 60″ tempered glass backboard on the Spalding NBA is the biggest in this inground basketball hoop . If you've practiced with different size basketball hoops, you probably understand that size matters a big deal.
This 60-inch hoop is the closest you can get to the official 72-inch gym-quality hoop, and it adds a lot of enjoyment to the game. When you double this size with the thick tempered glass material, you get a backboard with the highest bounces and incredibly reduced vibrations.
The Spalding NBA boasts a heavy-duty Pro Image rim that makes high-intensity dunking even more enjoyable. The 2-foot offset distance might be slightly on the shorter side, but it hits the sweet spot in under-the-rim play and space-saving design.
This basketball hoop features a 4×4″ support pole that further reduces rattling and wobbling to a significant level. You can adjust the height from 7.5-10ft using a detachable U-turn lift. This mechanism works well, and it's very stable. However, most kids may find it a tad difficult to use.
How to install in ground basketball hoop
The process of installing a basketball hoop in ground isn't for the faint-hearted. That's why most people opt to have a professional do it for them for around $450. But it's doable if you know what you're doing.
When fixing an in-ground basketball pool, the first step is to determine the best location for the half-court. In the USA, you want a space measuring 94×60 feet. Basketballers in Europe will want a minimum space of 91.9×49.2 ft.
Once you've identified the ideal location for the hoop, it's time to dig the hole. Before that, though, ensure that you call 811 and enquire about the approximate location of any buried underground utility lines.
The ideal foundation for your in ground basketball hoop depends on the type of its base. There are 3 major types of bases;
Direct burial – this system involves digging a hole at least 4ft deep, inserting the basketball hoop pole inside, and filling the hole with concrete. While this is the cheapest route, there's no room for mistake as you can't straighten the pole once the concrete dries.
Ground sleeve – in this system, you dig a 4ft deep hole, place a metal tube in the middle, and secure it with concrete. After drying, you insert the basketball pole into the ground sleeve. This installation system is preferred since it's much easier to uninstall the hoop and take it with you when moving houses.
Anchor system – this is the most preferred. It involves digging a 4ft deep hole and inserting 4 J-shaped bolts, which should be at least 2ft deep. Next, fill the hole with concrete and let it dry. Lastly, fit a steel plate into the 4 J-shaped bolts. The basketball hoop is then attached to the steel plate.
Final Thoughts
These comprehensive reviews of the in-ground hoops cater to individuals who are bewildered by so many choices available in the market. These page will relieve you of the pressure to do extensive surfing on the web and will provide you with the best system suited to your requirements. However, before embarking upon the purchase, it will be good for you to be aware of what you should be looking for when searching the best in-ground basketball system.
Fortunate for you that you stumbled on our page as we have you covered with the things you need to consider before making the purchase.
Easy installation: Installation of the in-ground hoop should be your primary concern. Often complicated systems are difficult to install and may require professional help thereby increasing your cost. So it is imperative that you look for an easily installed system. When installing it is better that you dig a deeper hole than mentioned in the instruction manual as it guarantees stability.
Height adjustable mechanism: If the pole height of basketball hoops is adjustable it provides you with versatility. Anyone in the family can adjust it to suit themselves and benefit. However, fixed height hoops has its advantage as they are argued to be more stable than adjustable heights.
Durability: You need to make sure that your system is durable and is made to resist rusting and protected from the weather. The backboard material made of tempered glass is preferred by customers because it can withstand aggressive gameplay. Nevertheless, there are different types of materials when it comes to in-ground hoops.
The best in-ground basketball system is tough to choose from such a broad range of systems at the customer's disposable. Thus, it is necessary to be aware of the technical features of each system and not just compare price and appearance of the different systems. Yes, they are factors that can't be ignored as people have a limited budget and prefer to have a basketball hoop which looks nice and lovely in their backyard. However focusing on these two while being ignorant of its features are bound to get you in trouble.