Indoor and Outdoor Mini Basketball Hoops for Doors and Walls
The mini basketball hoops in 2021 offer an affordable alternative to the pricey permanently-installed rigs for a budding basketballer. When installed properly, these mini basketball hoops for doors make it possible to continue with your drills when the weather outside isn't so friendly.
Also, small hoops are an important investment if you want to maximize your kids' basketball development from scratch.
For this post, BBallworld scoured the market to identify the mini basketball hoops to buy now. Among other factors discussed in our mini basketball hoop buying guide later in this article, we compared these models in terms of value, durability, and functionality.
Here are the winners!
TOP-10 Mini Basketball Hoops
1. SKLZ Pro Mini Basketball Hoop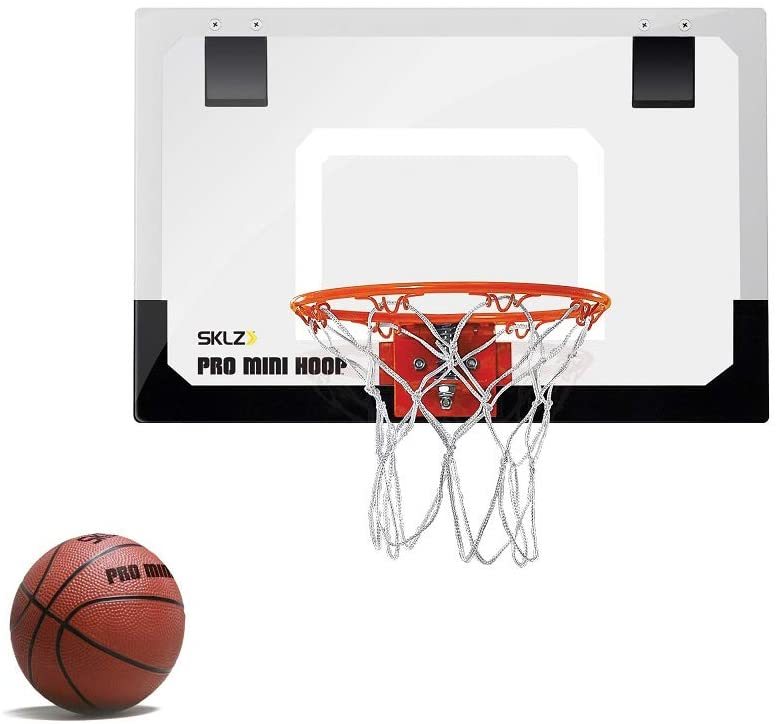 The SKLZ is among the rated mini NBA basketball hoops online today. This model features an 18" by 12" clear polycarbonate backboard that is shatterproof. It also boasts a pro-grade spring-away 9'' (diameter) rim that withstands some serious dunking using the 5" basketball that comes in the package. This rim is made of steel, but it's powder-coated to resist rust and should last you a long time.
Besides its quality construction, the other thing that makes the SKLZ Pro a top seller is its easy assembly. This is a door-hung basketball hoop and has hooks that let you mount it on any door. This ease of installation practically makes this a hoop you can use not only in your apartment room but also in the office and dorm room. Significantly, the door mounts are nicely padded to prevent marking your doors.
2. Spalding NBA 56099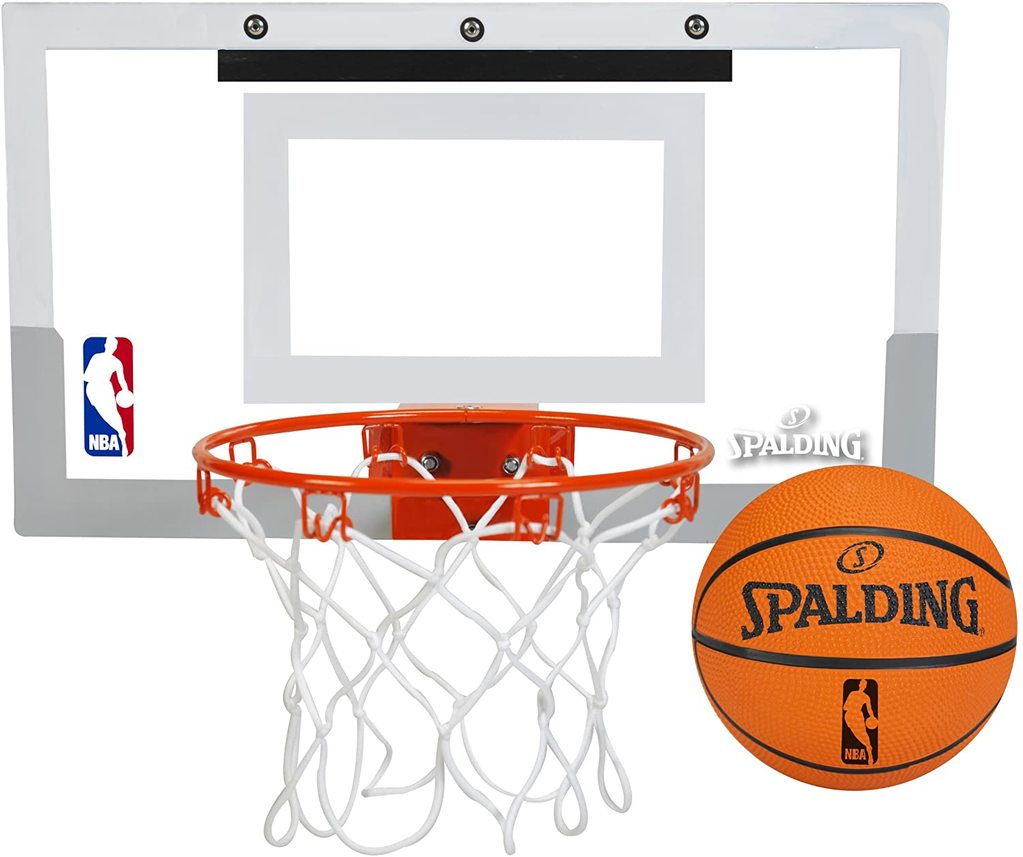 Spalding is a reputable brand, especially with its indoor basketballs. If like us, you're a fan of this manufacturer, then the Spalding NBA 56099 is worth checking out. This is an indoor basketball hoop with a polycarbonate backboard measuring 18" x 10.5". The board is an inch or so smaller than the SKLZ, but we doubt you'll realize the difference.
The rim has a heavy-duty spring system underneath. This allows it to bend as you dunk, enabling you to emulate professional players. However, we don't recommend hanging on these hoops.
If you live in a rented apartment, you're in luck because there's no drilling involved when installing this unit. It has hangers that go over your door, and the assembly process takes only a few minutes.
Lastly, the Spalding NBA 56099 comes complete with a 5-inch rubber basketball, so you can start shooting baskets right away.
3. Franklin Sports Over The Door Mini Basketball Hoop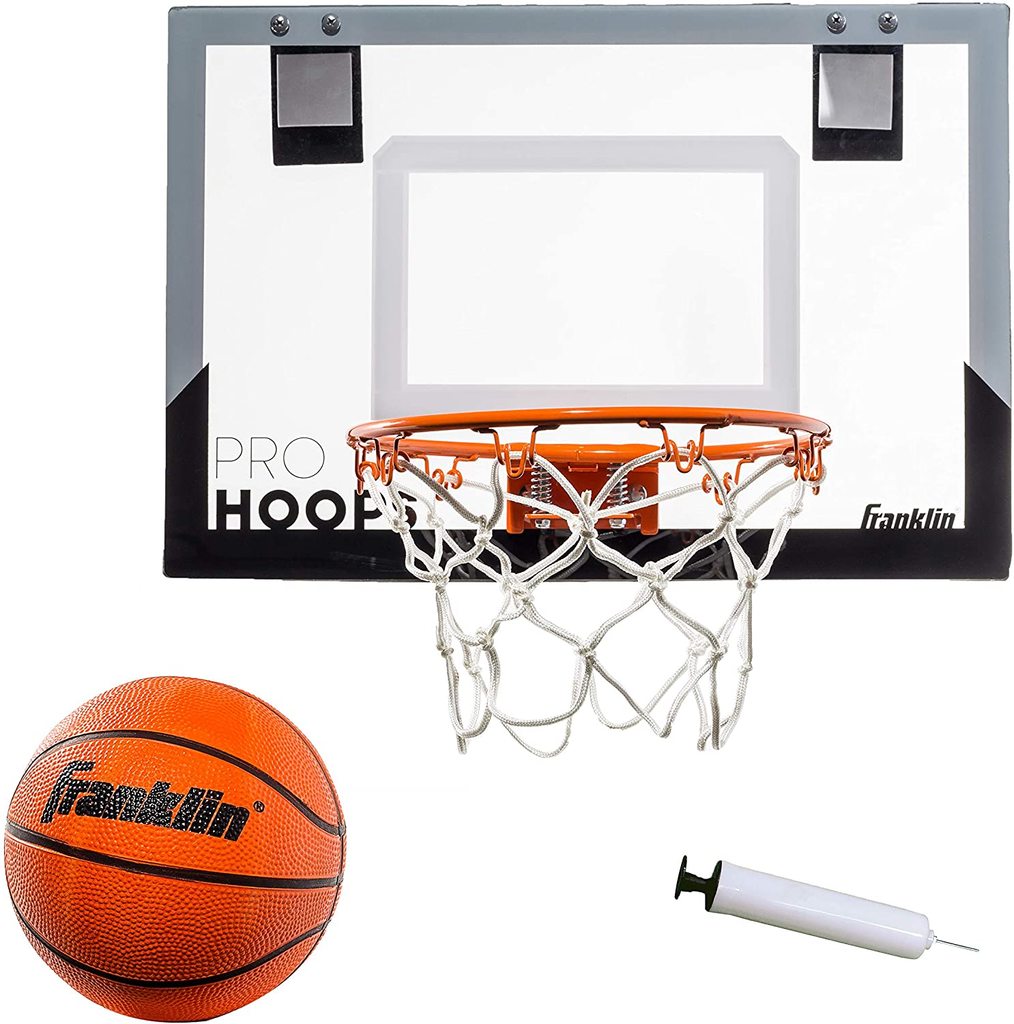 This model by Franklin Sports is another hot seller among mini basketball hoops indoor recommendations. This is an affordable system that scores a lot of marks on all the areas that matter when choosing the mini basketball hoops in 2021.
What's in the package?
For its price, the package contains a shatter-resistant polycarbonate board measuring 17.75" by 12" a steel rim, 5" rubber basketball, and a pump. The rim has a diameter of 9 inches, and it's powder-coated for durability. What makes it unique is the double-spring breakaway design that makes it one of the mini basketball hoops for dunking. There is a small amount of assembly to do, but the instructions are clear and easy to follow.
4. Rawlings NBA Game On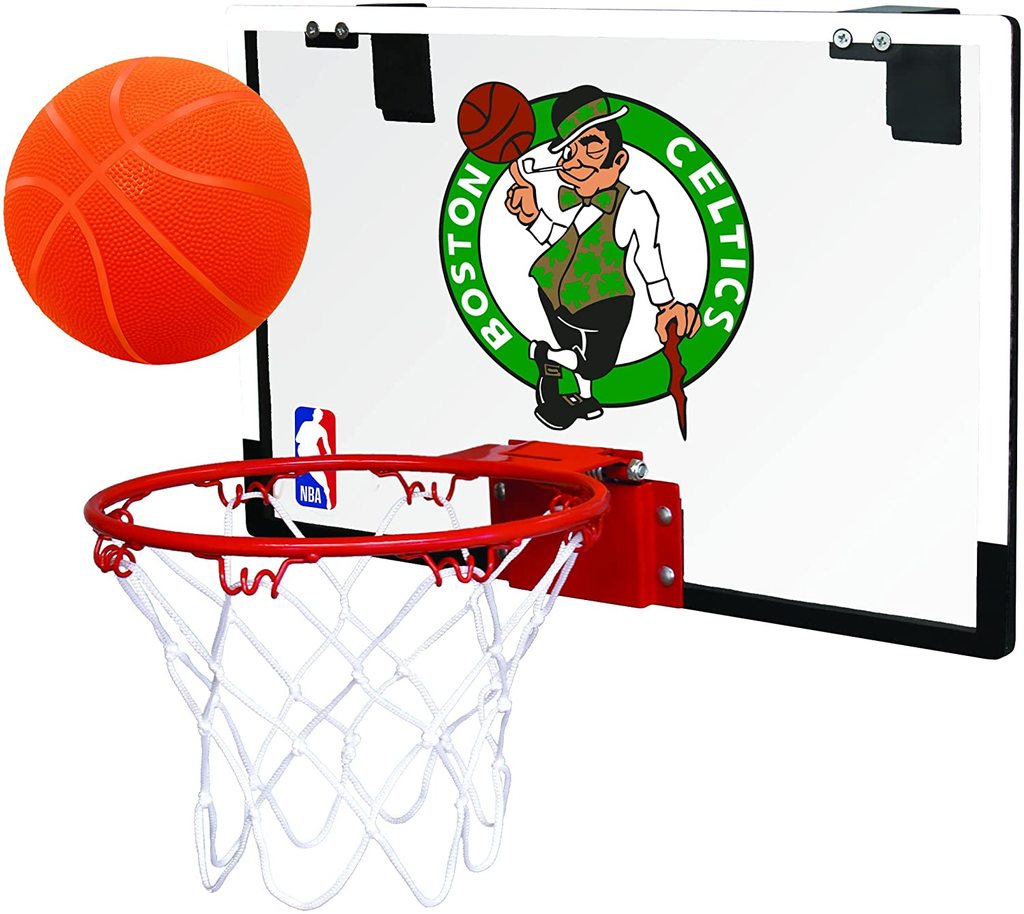 Our next pick in these mini door basketball reviews is this Rawlings NBA Game On. If you're shopping for a sleek hoop with a unique basketball vibe, then this could be the hoop for you.
First things first. The Rawlings Game On comes as a package consisting of an 18" by 10.5" backboard, a spring action metallic rim with nylon net, and a rubber blow-up basketball. Assembly is pretty straightforward, and you won't need any tool for it. Like other models here, the Rawlings hangs over any standard door and can be moved around easily.
What makes it unique?
The part about this basketball hoop has to be its aesthetics. Rawlings offers this model with different basketball teams logos on the backboard. From Boston Celtics to Chicago Bulls and Golden State Warriors, this will be the measure of your loyalty to the team you love.
5. JAPER BEES Pro Mini Basketball Hoop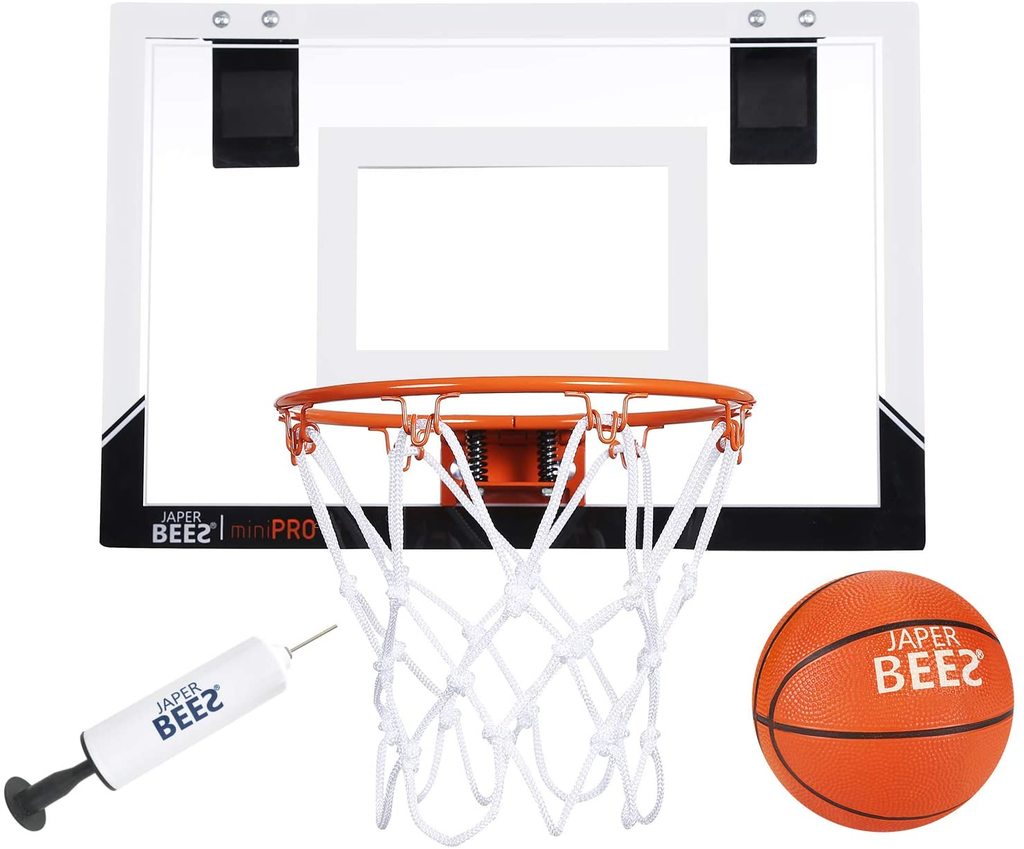 Japer Bees is a name that you'll hear a lot about in most comparisons of the basketball mini hoops outdoor. This model is loaded with features that we believe are going to boost your basketball training sessions besides making the game more enjoyable.
The Japer Bees uses a polycarbonate backboard just like most rigs here. However, you'll realize that this one is notably thicker. This double thick backboard plus the dual spring steel rim make a strong duo for a hoop that will handle rough plays and energetic dunks and swishes.
As for assembly, this basketball lets you get into the game without having to cut a sweat. What's more, you can hang it over the door or mount it on a wall outside. Whichever route you wish to take, all the installation parts are in the package.
6. Play Platoon Mini Basketball Hoop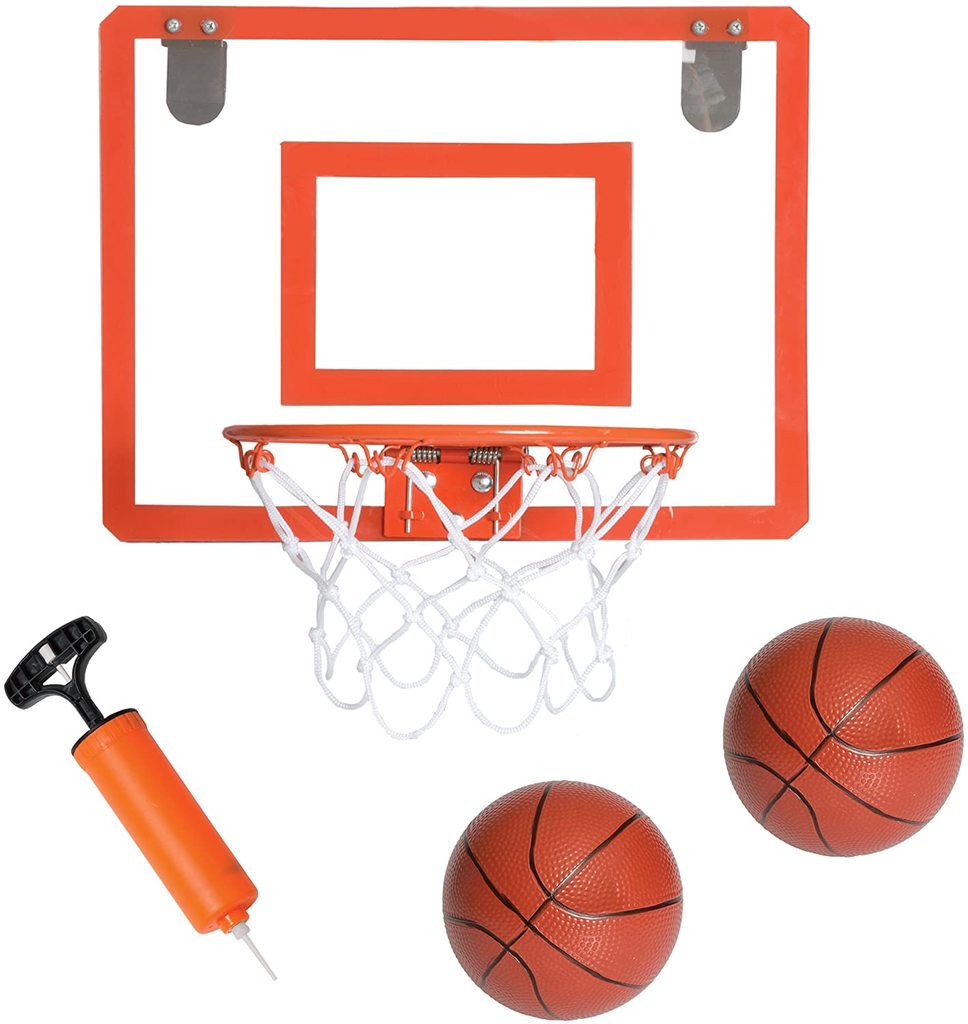 Our next pick on this list is a popular model among players looking to buy a quality mini-basketball hoop without breaking the bank. Not to take lightly, the Play Platoon compares favorably with basketball hoops double its price.
You can get this over-the-door hoop in black or orange design. Regardless of your choice, you're getting a hoop with a sturdy backboard to withstand intense games and a heavy-duty, spring-loaded steel rim.
What else comes in the package?
Its low price notwithstanding, we're impressed that Play Platoon still includes 2 mini basketballs and a pump to get you going right away. These balls are made of rubber, so they have a really good bounce even on carpets. The package also includes free mounting hardware plus a toolkit to make set up quick and hassle-free.
7. PikDos Indoor Mini Basketball Hoop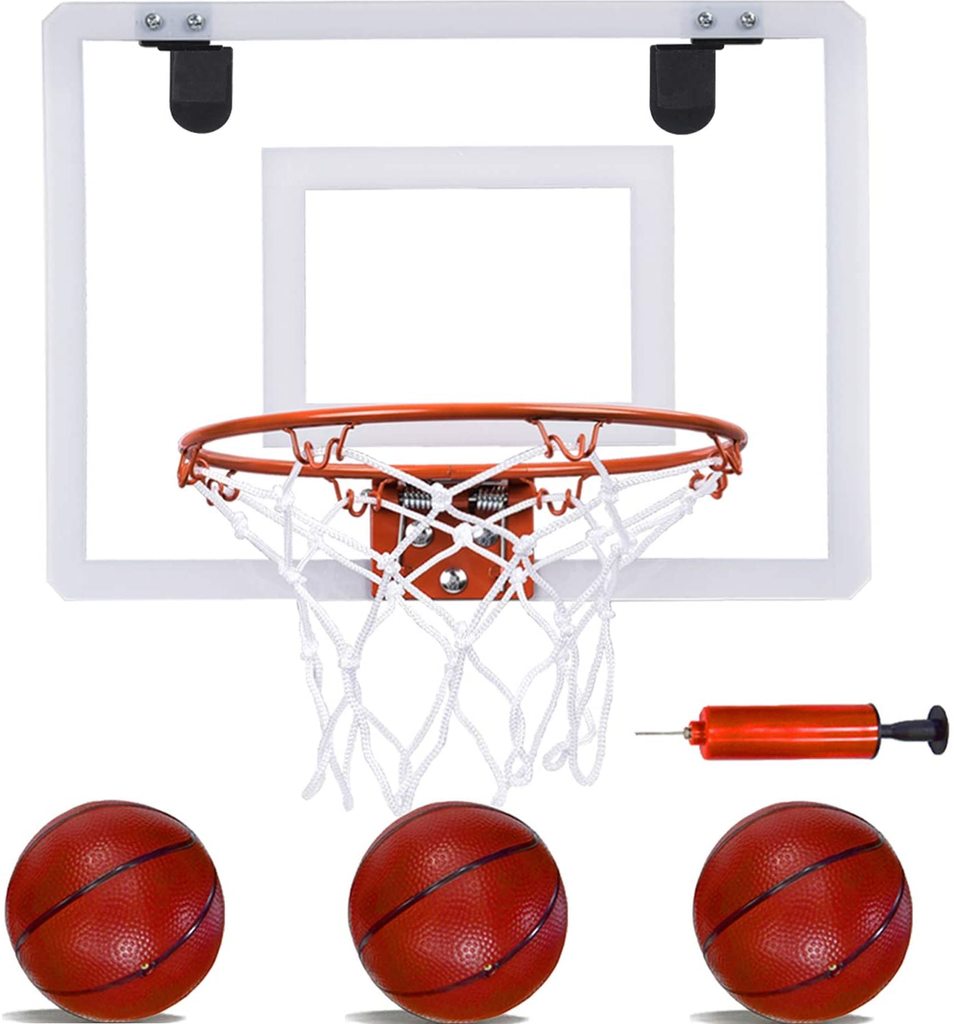 Yet another brilliant everyday mini basketball hoop, the PikDos has a 16" by 12" backboard that perfectly balances a true in-court feeling and durability. This backboard is made of ASTM, and CPSIA tested polycarbonate material that will resist scratches and shattering even when used by the most energetic teens and adults.
One of our favorite features is its spring-loaded 9-inch rim. This design not only adds to this hoop's overall durability, but it also allows for some professional slam dunks without risking busting the backboard or hoop.
The PikDos has also received positive feedback from present users for its ease of assembly. This model will slide into most regular doors at home, office, and dormitory. It also has heavy padding to scale down the noise level and protect the door from damage.
8. NONZERS Mini Basketball Hoop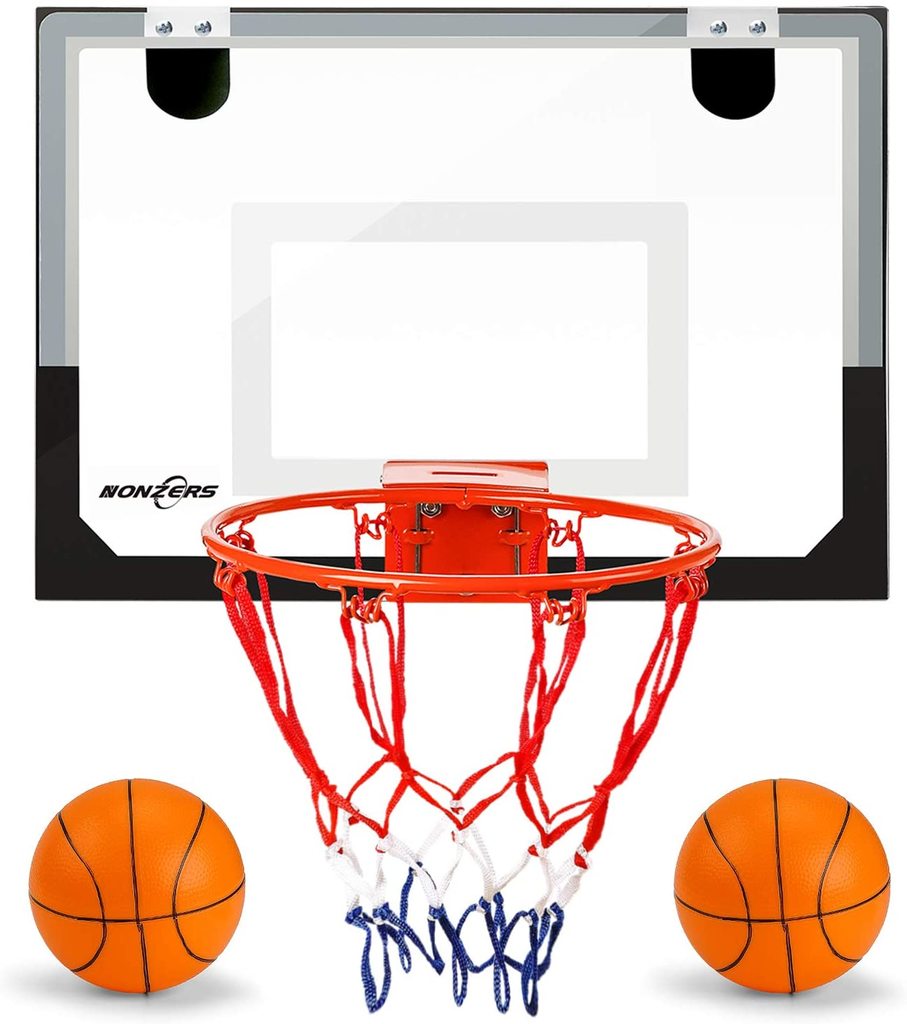 For parents looking for a small mini basketball hoop for children, here is a model that you may want to consider. The Nonzers comes as a package consisting of the basketball hoop, two non-slip 5" basketballs, and an inflator.
This model has a backboard measuring 16.9" by 11.8", so it should occupy less space in your kids' room compared to other models on this list. The backboard is clear to create a professional basketball hoop feeling, and it's thick to resist shattering.
The ease of installation is commonly highlighted by most parents in the reviews section on Amazon. Importantly, this system has all the installation hardware and kit that you'll need to hang it on your door, and the instructions are clear. Additionally, it uses smooth hooks, so it won't leave marks on your doors.
9. Tekk Monster Jam Mini Hoop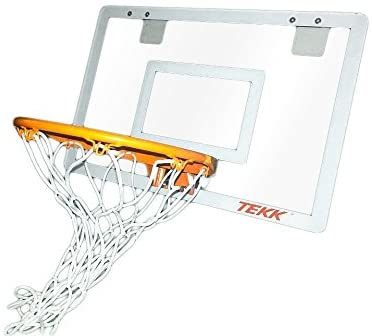 The Tekk Monster Jam is another model that won't miss a slot in 2021 mini basketball hoops reviews. This is a highly rated mini hoop on the market at the moment. Most of its users have described it as amazing, great, strong, and durable because, well, it's just that.
Unlike other hoops that come in only one size, Tekk offers you the Monster Jam in 2 size options. Depending on your space and budget, you can get this Monster Jam with a backboard measuring 18" by 24" or 12" by 18". We believe the latter will make a good choice if you want the mini basketball hoops for room.
The Tekk Monster Jam features a ¼" thick clear polycarbonate backboard, which is thick enough to withstand being slammed. The rim has a diameter of 9.25" and Tekk claims that it's slightly thicker and, therefore, stronger than most of the competitors.
This mini hoop installs easily over any door using the foam-padded door bracket. The package also includes a 5" high-grade basketball.
10. Franklin Sports Mini Basketball Hoop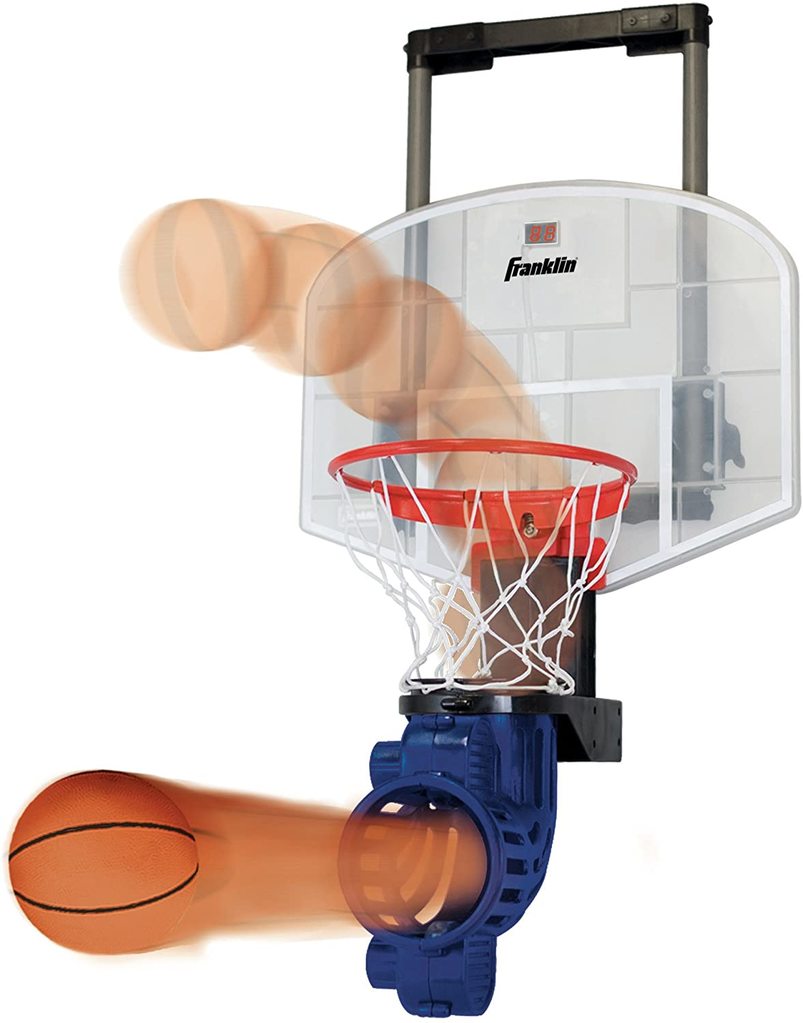 You'll be paying a little bit more for the Franklin Sports compared to other mini basketball hoops that we've reviewed above. But it offers incredible value for your money, and we are positive that you are going to love it.
Let's begin by saying that this is a 2-in-1 fun tool. In addition to a basketball hoop, the Franklin Sports also has a rebounder. The latter works by shooting the ball back to the player, so you don't have to go after it with each basket. This system also has a battery-powered electronic scoring and time clock- another cool feature that we don't find in most basketball hoops for youths.
If you're looking for a mini basketball hoop with the most authentic playing experience, the Franklin Sports is a good bet as its plexiglass backboard depicts. But what we like most is the height-adjustable frame that lets you set it to meet different players' height needs perfectly.
Important Features and Considerations When Buying the Mini Basketball Hoop
Do you look at all the mini basketball hoops online and wonder how to differentiate them? Well, this happens to all first time buyers, but everything gets super easy once you understand what to look for. That being said, here are tips for selecting the top mini indoor basketball hoop in the market.
Backboard
The backboard is among the most crucial components on a basketball hoop system. Depending on the brand and who the hoop is meant for, mini basketball hoop backboards may be made of plexiglass or polycarbonate.
Plexiglass (also called acrylic) gives your hoop a pro appearance as it's clear as glass. Unfortunately, it's more susceptible to scratches and fading, especially if used outdoors. Polycarbonate backboards look and feel like acrylic boards. However, they are much more durable and will withstand rough play and intense dunking better.
Rim and net
Most mini basketball hoops have steel rims, and this is good for durability. However, if you're eyeing little hoops for toddler and kids, most of them are mainly made of plastic since they aren't meant for heavy play. Another important consideration as far as the rim is concerned is whether it's breakaway. A breakaway rim has a spring that allows it to bend downward and snap back when dunking. This is important as it creates a more authentic basketball experience.
Installation- Does it allow easy mounting?
Most mini basketball hoops are meant for door mounting, although there are others that can be put on the wall. Either way, consider whether it will be easy to install. Pretty much all the models in our mini basketball hoops reviews 2021 are easy to install and come with the necessary installation kit.
Height adjustability
If you're buying a mini basketball hoop for adults and teens, height adjustability may not be a problem. However, if you're buying it for toddlers and kids, a hoop that grows with the child will make more sense. From our list, the Franklin Sports Mini Basketball Hoop is undeniably the mini basketball hoop as far as height adjustability is concerned.
FAQs
Why buy a mini basketball hoop?
A mini basketball hoop indoors or at the driveway lets you continue practicing outside of your real training schedules. Also, it's an excellent alternative to portable basketball hoops and in-ground basketball hoops in terms of affordability and ease of installation.
How much do mini basketball hoops cost?
Generally, mini basketball hoops are affordable. Inexpensive door-hung models cost around 20 bucks. Pricier ones can cost $50, which is still way affordable than a portable system.
What is the indoor mini basketball hoop?
SKLZ Pro is the best-rated mini basketball hoop this year. It has a solid construction and a heavy-duty spring action rim for intense dunking.
Conclusion
A mini basketball hoop hanging over the door will definitely trigger some activity, whether at home, dorm, or even in the office. And the good thing is that these systems are relatively inexpensive. So, go ahead and choose the mini basketball hoop for your door and start perfecting those shots and layups.