Indoor and Outdoor Wall Mount Basketball Hoops
The adjustable wall mount basketball hoop offers a practical solution where space is at a premium. These hoops are more stable than their portable alternatives, and they are relatively affordable too.
Now, unless you know exactly what you're going for, we advise you to go through our wall mount basketball hoops buying guide towards the bottom of this article. It's a straightforward guide on the critical features that you shouldn't ignore when choosing these systems.
Having said that, let's take you through our top 10 wall mount basketball hoops for 2021.
TOP-10 Wall-Mount Basketball Hoops
1. Goalsetter Wall Mounted Basketball Goal- Top Adjustable Wall Mount Basketball Hoops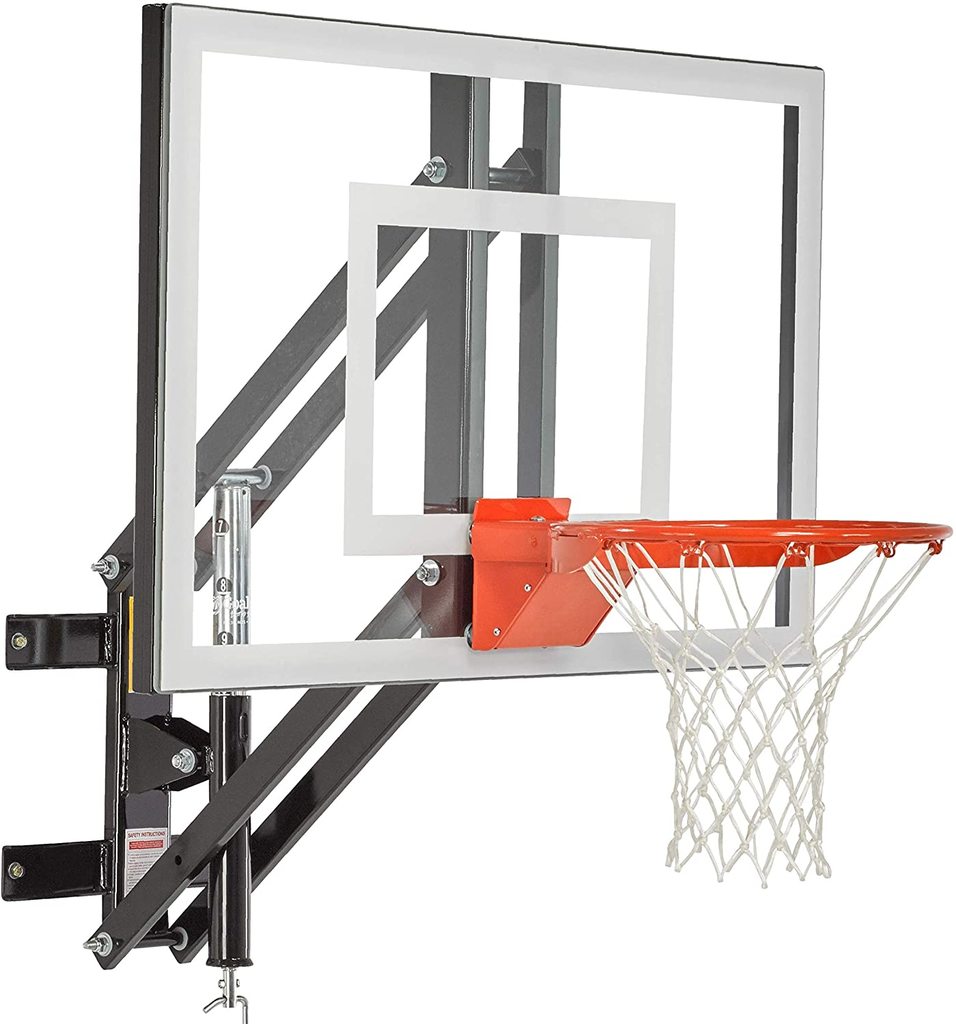 We bet this is a system you'll want to consider if you've been saving up for one of the best wall mount basketball hoops in the market. The Goalsetter is a premium model that doesn't cut corners when giving you a quality basketball for your at-home training.
To start with, this basketball hoop comes in two sizes- 54″ and 60″. Any of these will make an excellent hoop for residential training. So, your choice comes down to your preference, budget, and available space.
The major difference between the Goalsetter and all the systems that we've reviewed below is its tempered glass backboard. This material is traditionally preferred for competition basketball because it offers the best overall rebounds.
To complement its high-end backboard, the Goalsetter also boasts a heavy-duty breakaway rim to give you a professional play and feel. This goal also has a reliable height adjustment mechanism that easily adjusts the rim from 6′ to 10′ to accommodate all players.
2. Spalding 79307 Acrylic Basketball Backboard & Rim Combo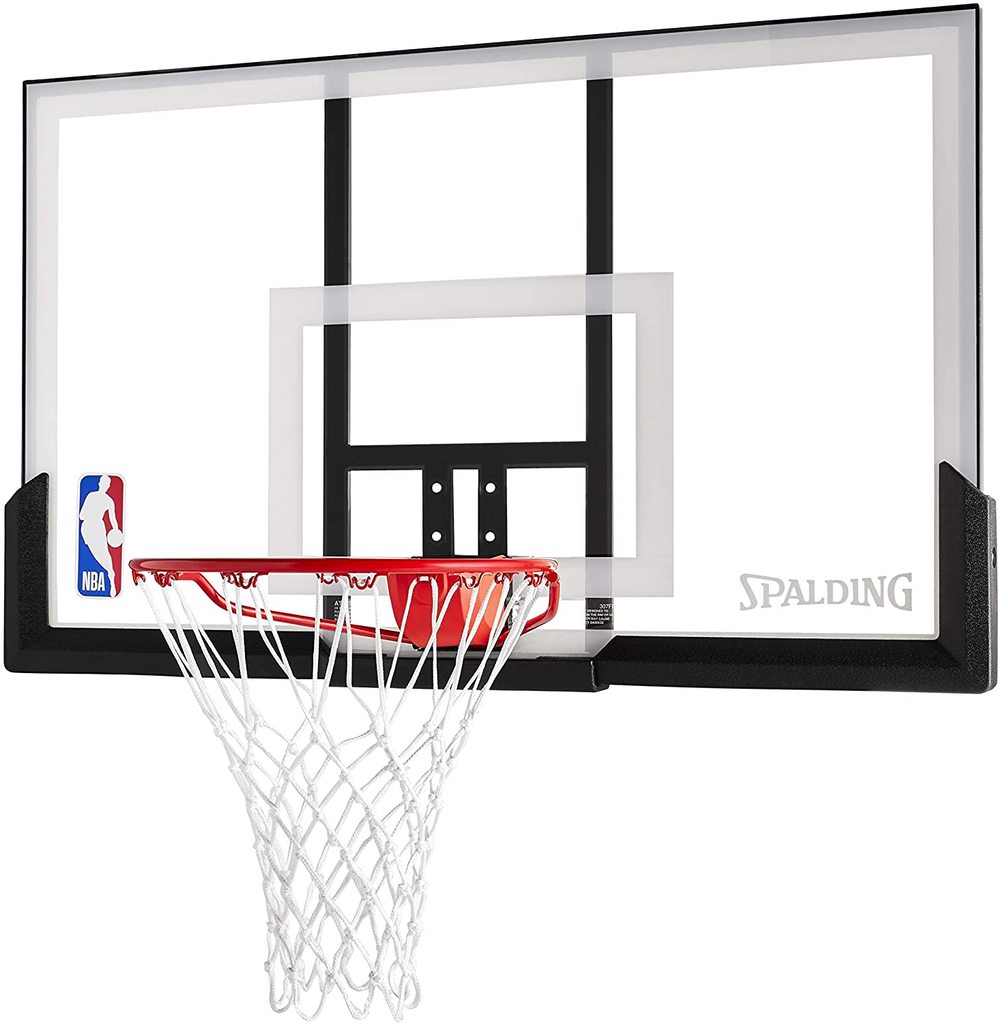 The Spalding 79307 is what you probably have in mind if you're thinking of a reasonably priced basketball hoop with average ball response. This model features a 52-inch ¼-inch Plexiglass backboard.
Compared to polycarbonate backboards, this acrylic board is bound to give you a really good bounce making your playtime even more immersive and enjoyable. The rim and net appear to be of great quality, too, and we expect them to hold up well even with daily use. Similar to other offerings from Spalding, the 79307 does not come with the mounting bracket. On the positive side, this allows you to fit it with the best system depending on your budget and where you want to mount it. Most of its current users match it with the Spalding U-turn lift system thanks to its height adjustability and ease of installation.
3. Silverback NXT 54″ Wall Mounted Adjustable-Height Basketball Hoop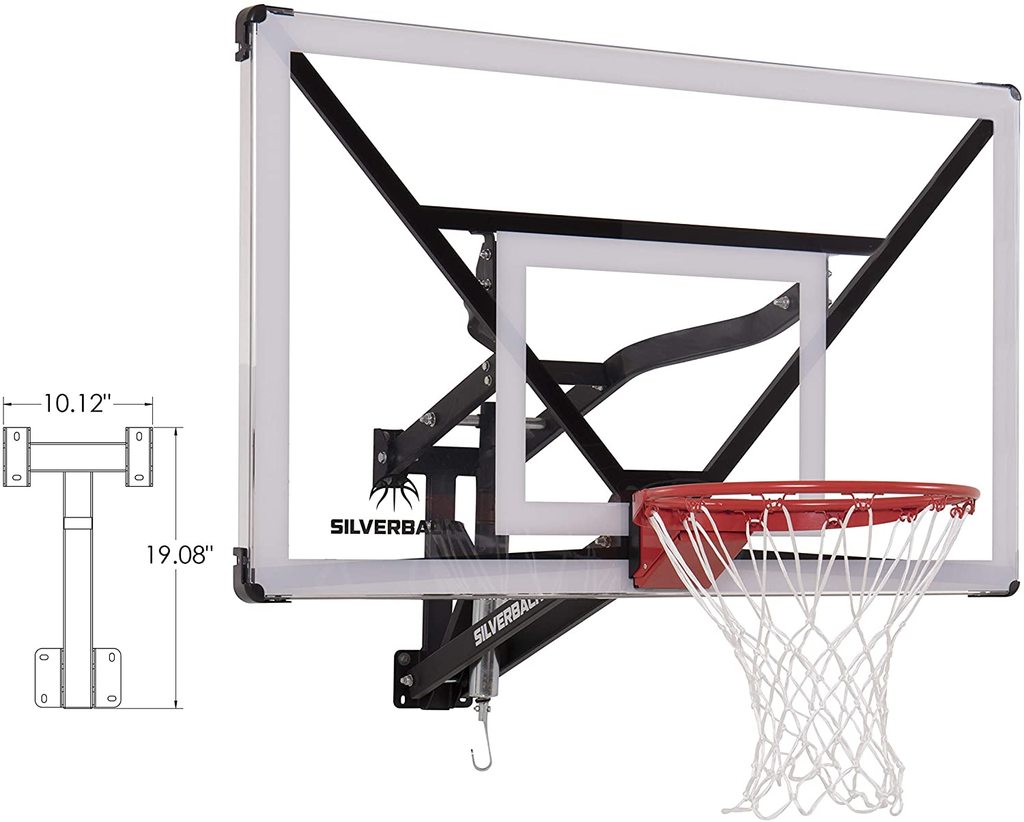 Next up is a model that you'll appreciate if you don't want the hassle of purchasing the hoop and mounting bracket separately. Actually, the Silverback NXT not only saves you the struggle of getting a matching mounting bracket, but it's also relatively cheaper than the Spalding 79307 above.
So, what makes it the best adjustable wall mount basketball hoop 2021? First, we like the size and design of its acrylic backboard. This is a 54″ by 33″ board made of acrylic to make it more vandal resistant and give you better ball responses. Significantly, this backboard bends backward slightly to boost its rigidity when lightweight players dunk and hang on the pro-style breakaway rim.
Designed to accommodate all players, the Silverback NXT also features a height adjustment system that lifts the rim from the safety-approved 7.5ft height to 10ft. This raising and lowering mechanism works smoothly, too, and most kids can adjust it.
4. MaxKare 44 Inch Backboard Basketball Wall-Mount Hoops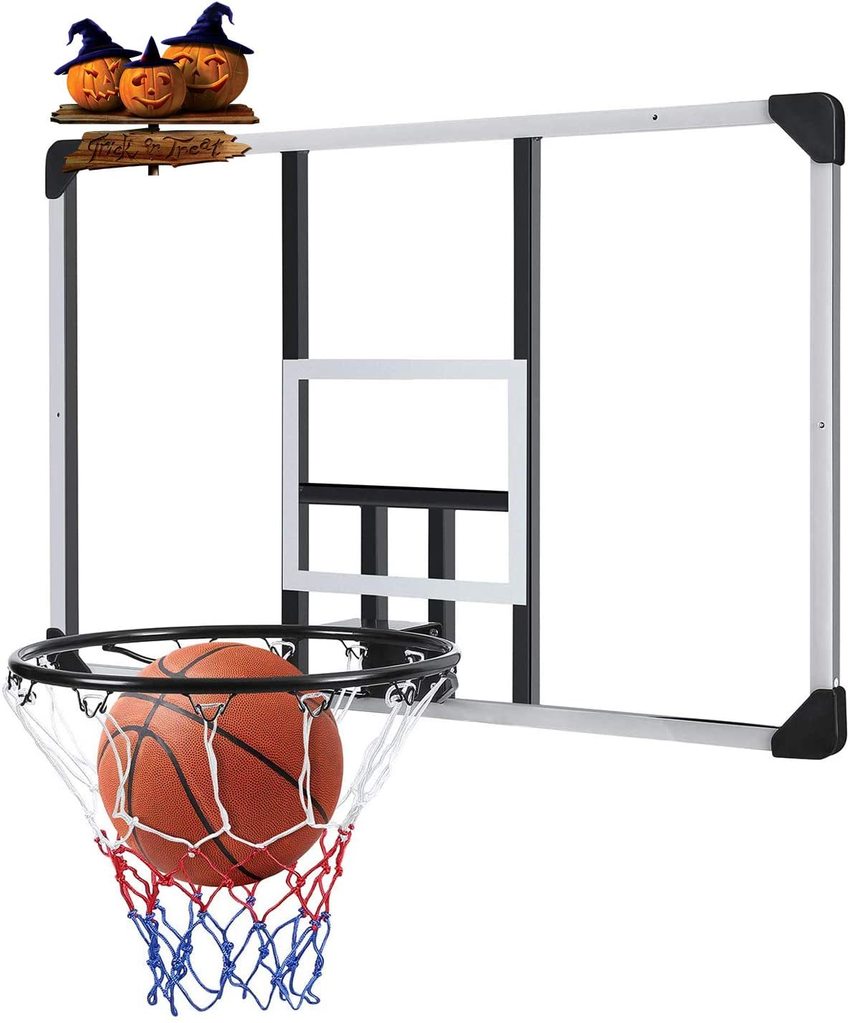 The Maxkare falls in the category of inexpensive wall mount basketball hoops for kids. This model has a 44-inch by 29-inch polycarbonate backboard with a thickness of around 1.2 inches. Hoops in this range make a great investment for introducing young players to the fundamentals of the game.
This basketball hoop has a 17.7″ all-steel rim with an all-weather nylon net. The rim is made of thickened steel and is nicely welded to keep it sturdy. However, note that this is not a breakaway. So, players should refrain from hanging on it when dunking.
What about installation? The Maxkare can be mounted on any vertical wall, either indoor or outdoor and does not require a complex mounting bracket. All that you do is drill 4 holes on your preferred location and use the screws included in the package to mount the rig.
5. Spalding 79351 Basketball hoop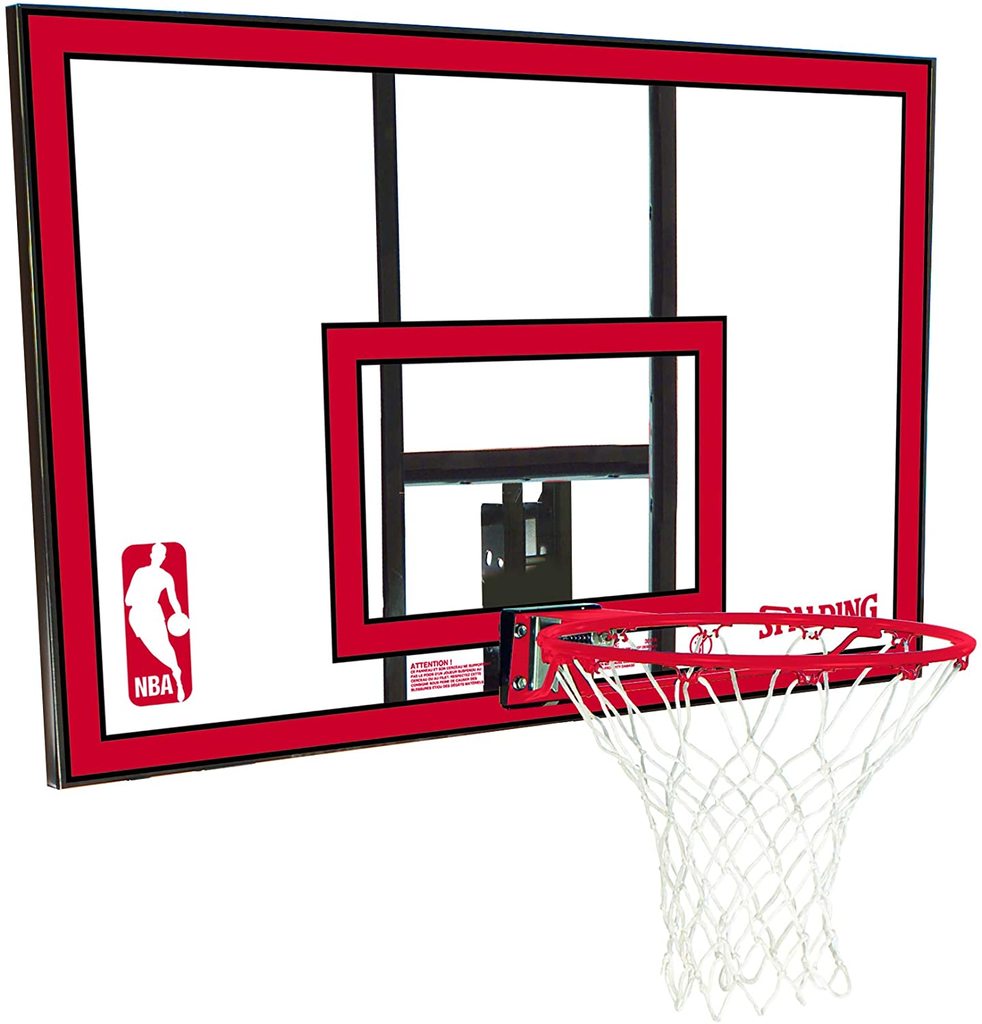 Our next recommendation here goes to basketball players looking for an affordable but well-built wall mount basketball hoop outdoor system. The Spalding 79351 is a reasonably priced hoop with a steel body frame and a polycarbonate backboard measuring 44″ by 30″ by 1/16″.
Polycarbonate material offers the least ball bounce compared to tempered glass and acrylic. Again, this system's backboard thickness means that it will be a little shaky with intense play. All in all, it still qualifies as one of the best wall mounted basketball hoops for children and starters.
Important to point here is that the Spalding 79351 does not come with the mounting kit. You may want to add this Spalding universal mounting kit to your basket. It's inexpensive and pretty easy to install.
6. Lifetime 73650 44 Inch Shatterproof Backboard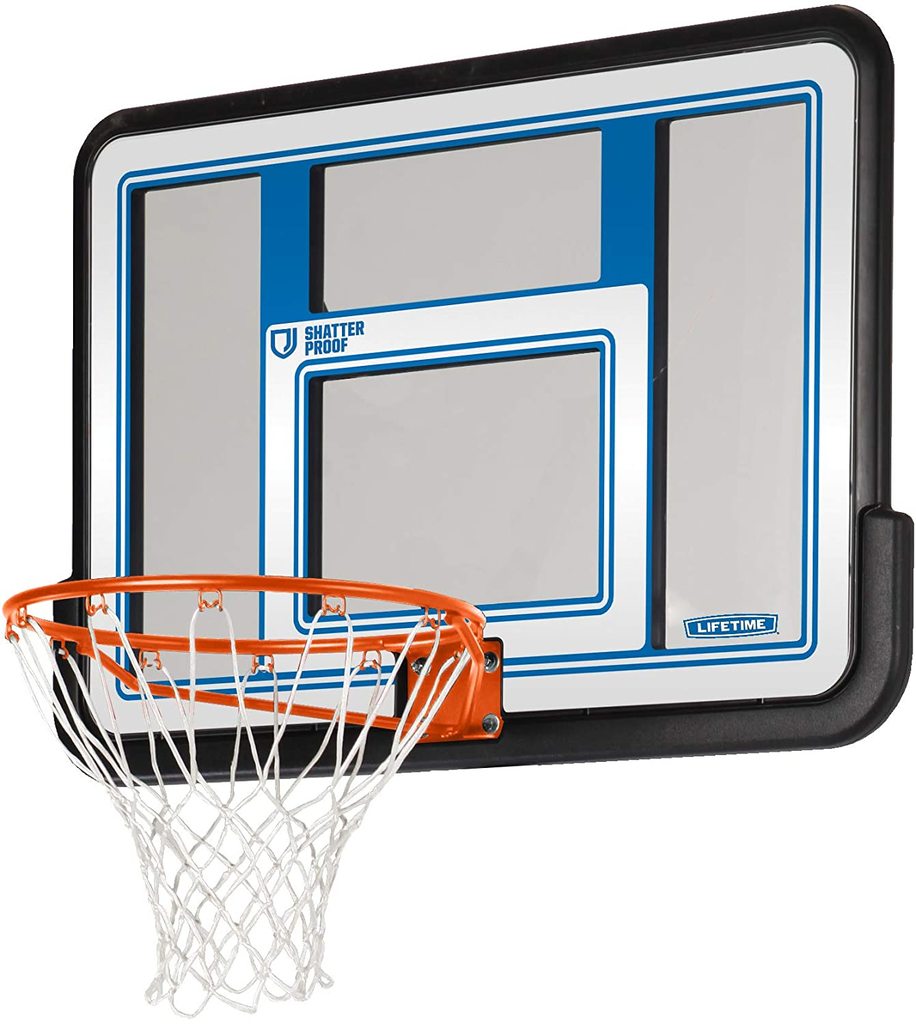 The Lifetime 73650 is another excellent recommendation if you want an indoor wall mount basketball hoop for kids and teens. This model uses a polycarbonate backboard measuring 44″ x 30″. While it doesn't promise the best rebounds that experienced players would be looking for, its 18″ slam-it rim with double compression springs packs enough fun for young players.
Another reason why this basketball hoop might make a good investment is that it's practically shatterproof. This should offer you great relief if you'll be installing it in a vandalism-prone location.
Where should you install it? There are no limitations as far as installing the Lifetime 73650 is concerned. The manufacturer says that you can mount it on a wall, eave, roof, or even a pole. The mounting bracket is sold separately, though, but it will work with any universal kit. Importantly, the entire rig is powder-coated to slow down rusting. Again, the backboard has fade-resistant graphics, and the net is all-weather proof, so you can install this system indoor or outdoor- wherever seems convenient to you.
7. RAMgoal (Best Indoor Adjustable Wall Mount Basketball Hoop)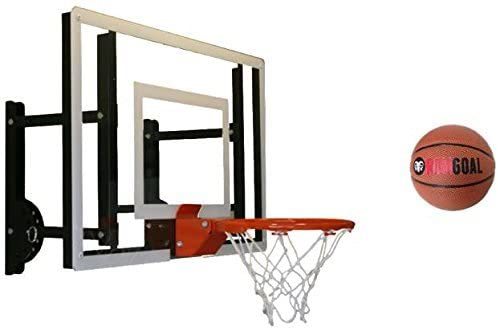 The Ramgoal is often among our recommendations of the best wall mount basketball hoops for indoor installation. It will offer a serious upgrade if you are tired of your upcoming basketballer breaking door-mounted basketball hoops.
Starting with the build quality, we must acknowledge that this is the real deal as far as sturdy construction goes. The entire thing is built on a steel framework, and the edges have been smoothened to minimize the risk of injury. What's more, is that the frame can swivel up and down easily for height adjustment.
This basketball hoop features a clear 24″ by 16″ backboard, which creates an authentic NBA hoop feeling. As its size suggests, the Ramgoal is often marketed as a kids and teens hoop, but we've heard of adults who have it in their rooms too.
8. JustInTymeSports Wall Mounted Mini Basketball Hoop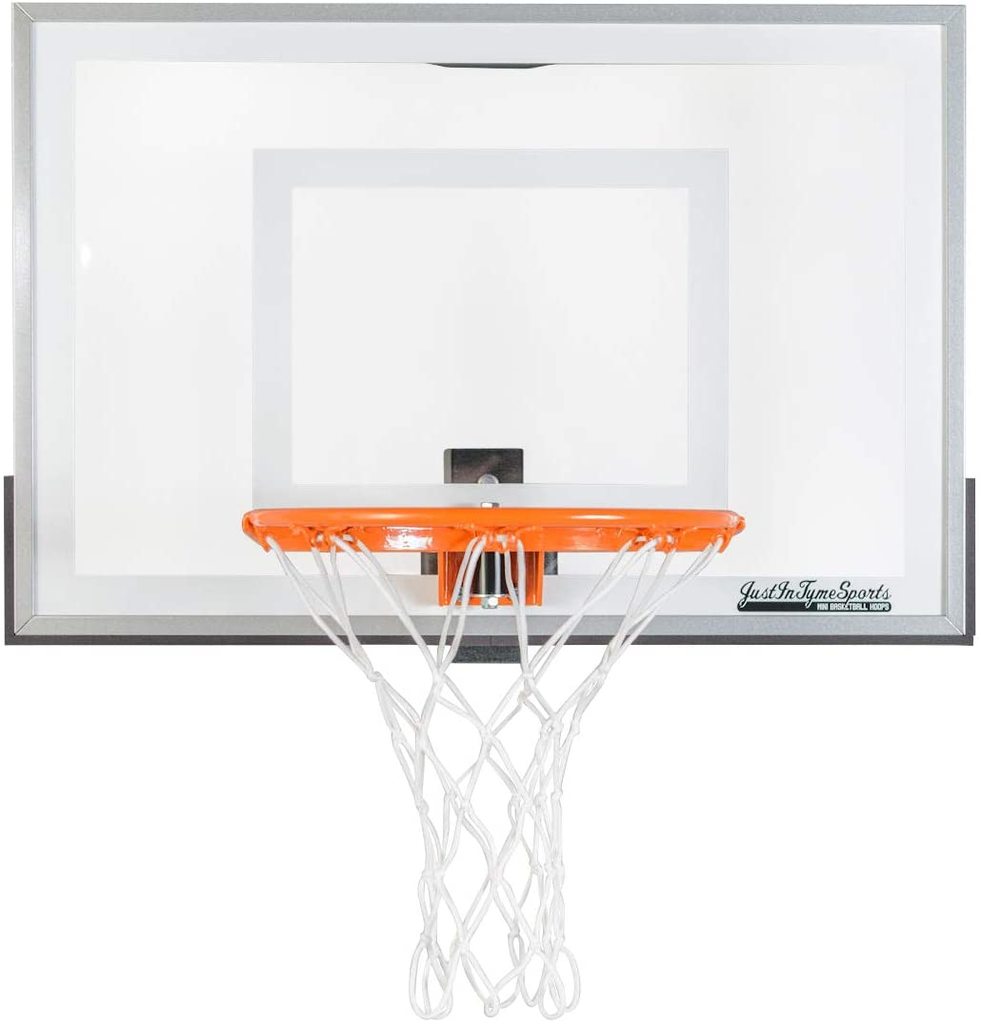 The Justintymesports is a direct competitor for the Ramgoal above, and it's a few bucks cheaper. As such, you may want to consider it if you're trying to save some dollars.
Similar to Ramgoal, this basketball hoop has a clear polycarbonate board measuring 24″ by 16″ by ¼". That's to say that it's meant for young basketball enthusiasts. The rim measures 10-1/4 inches in diameter and is engineered with this manufacturer's Justflex2 (TM) spring technology that makes dunking a blast. The manufacturer does not recommend hanging on the rim. However, they say that it's tested to withstand up to 180 lbs.
Regarding installation, it's good to know that the metallic framework of this basketball hoop has a powder-coating. That's to say that you're free to install it outside or inside your rec room, dorm, bedroom, and even in the office.
9. Lifetime 3823 44 in. Backboard Rim Combo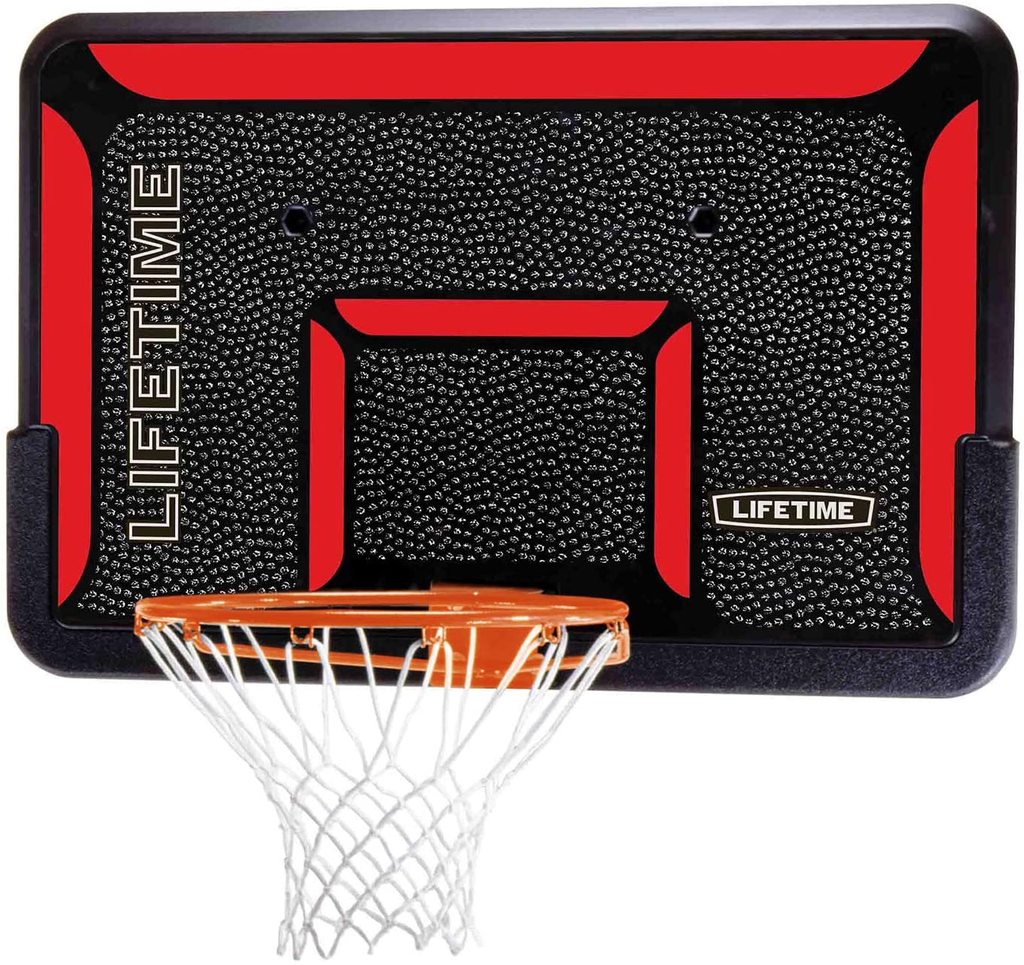 The Lifetime 3823 offers you yet another affordable and high-quality wall-mounted basketball system for children and teens. Given its price tag, this model will also make a great replacement for a broken basketball hoop.
Unlike other goals in our list, this model has a backboard made of blow-molded plastic. This may be a little shakier than an acrylic board. But that won't be an issue if you're not installing the hop for intense basketball training. If anything, this backboard is virtually indestructible and durable wherever you opt to install it.
The rim has a diameter of 18 inches, and it's quite basic in terms of construction. However, most parents affirm that it holds up really well to daily use.
This basketball hoop does not come with the mounting bracket. But whether you want to install it on a wall, roof, or pole, Lifetime has a matching bracket for just that.
10. Spalding Acrylic Basketball Backboard & Rim Combo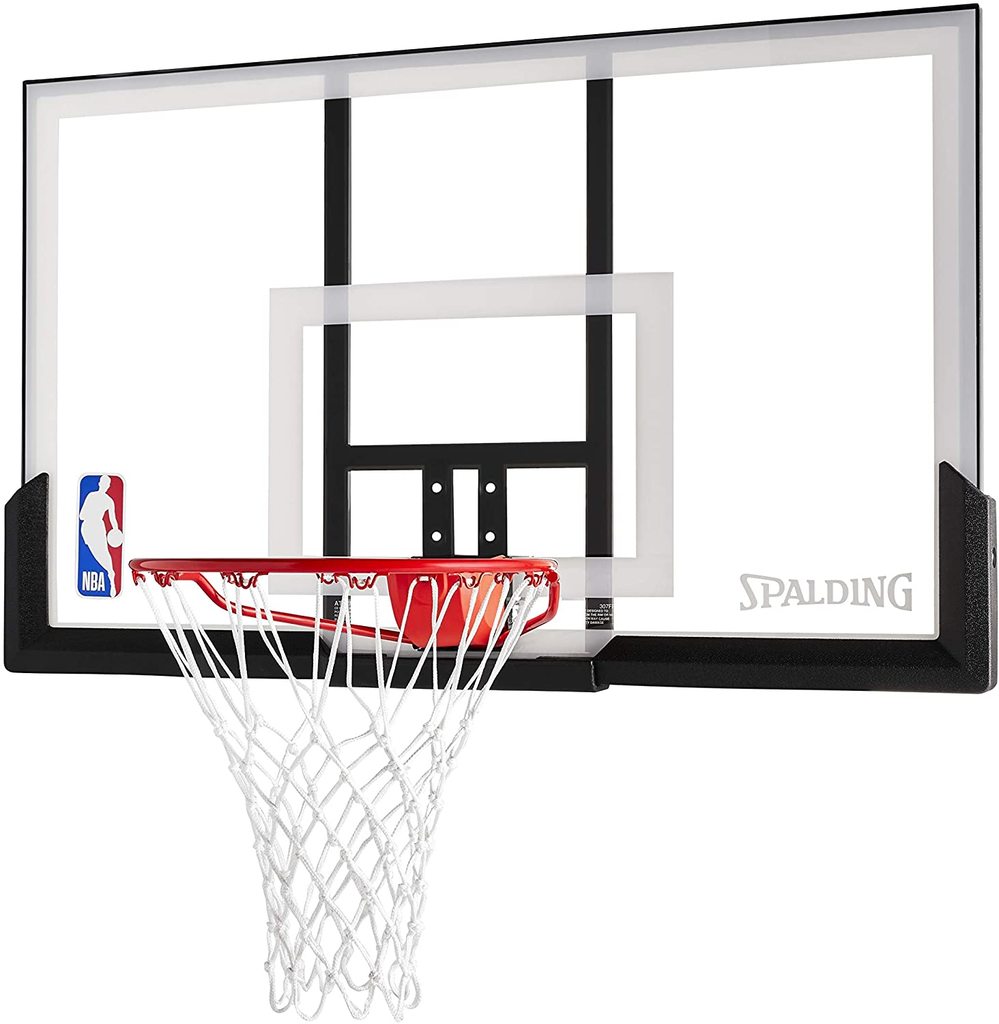 Wrapping up these wall mounted basketball hoops reviews is this Spalding 79307. This is an excellent recommendation for basketball players who tend to be rough on their goals and want a model that is designed for just that.
The Spalding 79307 has an acrylic backboard measuring 52" by 32" by 1/4". As mentioned in the wall mount basketball hoops buying guide below, acrylic (also called Plexiglass) is much more forgiving than glass in terms of vandalism. Additionally, it offers a much better rebound compared to polycarbonate and blow-molded boards. This board, coupled with the breakaway rim, provides an incredible tool for you to perfect those layups and jumpshots.Does it come with the mounting kit? No, the mounting kit is sold separately. Depending on your skills level and budget, you can match it with this Inexpensive Spalding universal mounting bracket (with a fixed height), or invest in this height-adjustable lift mechanism.
Wall-Mounted Basketball Hoops Buyer's Guide and Tips
Basketball goals look very similar, and this makes narrowing down to the right model quite confusing. However, this should be easy once you understand what features to go for, depending on your skill level.
Backboard size- what size should you choose?
Basketball hoop backboards come in various sizes ranging from 44" to 72" in width. Backboards below 48" and below are ideally meant for children.
If you intend to install the hoop on the outside wall of your garage or in your backyard, a backboard in the range of 48" to 54" should make an excellent choice in terms of space and budget.
Basketball players who're looking forward to some serious training should consider a system north of 54". On the other hand, if you want to replicate the feeling of playing on a pro-level system, go for a 72" model. This will cost you a premium, but it's the perfect rig should you ever decide to challenge LeBron James to shoot some hoops.
Material- glass, acrylic, or polycarbonate?
The size of the backboard is among the major contributing factors when choosing a wall mount basketball hoop outdoor system. But the material is even more important.
Tempered glass – tempered glass is up to 10x stronger than standard glass, and it's the official material for NBA indoor competitions. Tempered glass backboards have an exceptional bounce and don't scratch easily. However, they are more prone to vandalism with rocks, BB guns, or baseballs.
Acrylic backboards – also known as Plexiglass, this material provides around 85% bounce of tempered glass. Since this material is clear, it makes a much better alternative to glass backboards, especially because it's less prone to vandalism.
Polycarbonate backboards – these hoops are commonly used in kids' basketball hoops. They are reasonably inexpensive, but they have the least ball response, too.
Height adjustment
Will the system serve several people, including children? If so, then you may want the wall-mount basketball hoop with height adjustability. Otherwise, a fixed-height-mounted basketball hoop should work just fine.  
Foldability
Another critical consideration when comparing top quality wall mounted basketball systems is whether you want something foldable. This depends on where you plan to install it and the available space. If you wish to save more space when the hoop is not in use, a model that folds upwards or sideways will be a good bet.
Conclusion
A mounted basketball system is a great choice when neither an in-ground nor a portable system fits the bill. While choosing the best rig might seem overwhelming, we hope that these reviews wall mount adjustable basketball hoop article will make it easy for you. As a heads up, consider what's included in the package before narrowing down to a particular circle. Importantly, double-check whether the wall mount basketball hoop ships with the mounting bracket to make the installation process less daunting.