Lifetime 51544 Front Court Portable Basketball System – Featuring a 50-Inch Shatterproof Backboard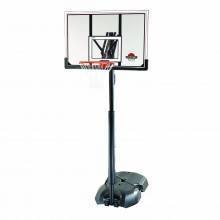 Product Overview:
The product pretty much works as advertised.
Its structure is sturdy and has withstood rough use. It is used almost daily for a quick game.
Good quality; expect it to last a long time.
It appears to be very well manufactured.
Assembly Issues:
After reading numerous reviews for this product, I noticed that several individuals had concerns while assembling it.
They seem to be in the minority because the product was easy to assemble, as long as the instructions were properly understood and followed carefully.
The cause of the confusion seems unclear because according to my experience, the instructions were clear. Just take a methodical approach and follow the instructions in their proper sequence and the product will work properly.
Make sure you lay out all the tools that you need before you start the process. If you do not have some experience with the tools, you will need someone to help you out.
Instruction Manual:
The instruction manual seems to be almost exclusively filled with pictures; this was a little hard to understand at first glance.
However, just be patient and go through the pictures and understand the how the different parts work together before starting the assembling process.
Putting it together will seem much easier and straight-forward once you have a clear grasp of the process.
Physical Features:
The board is made of some strong materials; it remains very stable. The high impacts from the ball are absorbed by the material used for building the board.
The look of the board has remained the same during use; it has not gotten any scratches from the rough handling.
The hoop is very strong and does not give way.
The base is very tough and holds enough water to make it very stable. You can fill the base with either water or sand.
Water is the easier option and will work perfectly, but some people are concerned with issues of having water leaking through the base. To avoid this you can opt for using sand as a ballast weight. If you are someone who dislikes lugging around heavy bags, then the option will be to purchase a base gel. The gel mixes with water and forms a very heavy weight that will be better than plain water without the messy use of sand.
Using sand will also make it harder to move the base around if you want to change the location.
The pole height is adjustable and has a simple option to move the hoop to the desired height.
Packaging:
The product was well packaged and was delivered on time. All the parts were properly secured and in good shape when delivered.
Final Word:
If a portable system is what you want, then this product is a perfect alternative to a permanent in-ground basketball system.
Spend some time setting it up properly and you will have a great basketball system in place.
Overall it is a very good basketball hoop, good backboard, and good product.Lifetime 51544 Front Court Portable Basketball System, 50 Inch Shatterproof Backboard