Lifetime 90061 Portable Basketball System Review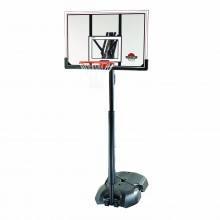 I purchased this portable basketball system based on the reviews here, and I have to say that it was worth it. I had to do a lot of research because I wanted to find a good product that would last a long time. Narrowing down the options was a nightmare because there were a lot of conflicting reviews and information out there.
The manufacturer has managed to create a useful and sturdy product. Most others that I have used seem to be a bit on the flimsy side and do not last long.
This one has a tough backboard made of a polycarbonate, is scratch-resistant, and seems to handle high impact play perfectly.
The base looks tough and, once adequately filled, remained sturdy.
The assembly requires some time, but once it has been setup it serves as a tough product that withstands the elements quite well. The instructions are complete – just read them carefully before starting the assembly. Make sure you have the tools you need; check that the product package shipped to you contains all the listed parts.
The height adjustment is simple and can be altered from the front. The hoop is perfectly capable of handling rough play and doesn't shake or move from side to side when a high impact shot hits it.
The base can be filled with water or sand or base gel, whichever you prefer. I would advise using water if you want to move the hoop around frequently. Sand can be messy and prove to be too much of a hassle when you want to move the hoop. Be careful when the base has been filled because it gets quite heavy. Do not allow your children to move it.
Other products require fiddling around with cement and creating a permanent installation location, but that's inconvenient for most enthusiasts. This product is portable and is perfect if that is your need.
High quality portable systems are hard to find, but this one fits the bill and my kids have been happily using this one. The product has survived a regular high-impact beating when me and my buddies are in the mood for a quick weekend play off.
I also like the fact that it makes less noise as compared to other products on the market. Glass backs make a loud, unpleasant clanging noise when hit with the ball.
The description boasts UV protection. I live in a hot clime and this turned out to be a true claim, despite my apprehension. The rust gets to everything here, but this product seems to have weathered it bravely.
The base is surprisingly large; that was encouraging, because I knew it would be sturdy once it was filled with something.
The negative reviews had me a little worried, but do not be misguided. This product turned out to be well-made and the assembly required a methodical approach that was easy to implement.