Outdoor Basketball Brands: Top 5 Products of 2021 |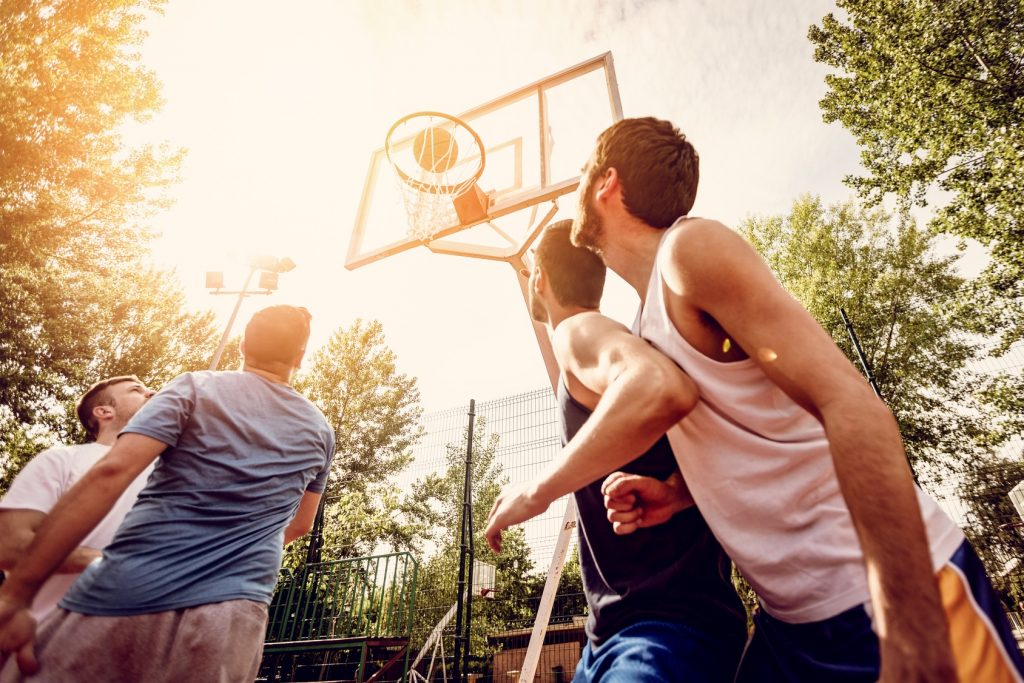 In sports, you're as great as your skill. And your skill is as great as your gear. If you're wearing the wrong shoes, bouncing the wrong ball or wearing the wrong materials, your abilities can be hindered.
How? Surely, you've picked up a ball with not enough air and then tried bouncing it. It just doesn't work as well as it should. Then, there are certain balls better for indoor b-ball and others designed for outdoor balling.
As you play more and more basketball, you'll also see there are certain brands that perform better than others.
This is why you need to pay closer attention to the basketballs you purchase. Whether you're trying to become the next Lebron James or just enjoy picking up games in streetball, you're going to need a great basketball.
Here are the top things you need to consider when you're shopping for outdoor basketballs.
Selecting an Outdoor Basketball Based On Your Age
First things first, knowing what size ball to get is crucial for your gameplay. Obviously, you wouldn't want to have a ball that's too large or small for your hands. This is why brands created balls based on age.
For example, you can get a size 5 outdoor basketball if you're 11 years old. These balls are around 27.5 inches and weigh around 18 oz. Then the next size up is for children between 12 and 15 years old. It's 28.5 inches and 20 oz.
Last, there's the size 7, which is designed for folks 16 and older. It's 29.5 inches and weighs 22 oz.
The size 7 is the official ball used for the NBA.
The Material and Construction of the Ball
What the basketball is made of matters because some balls just feel better than others. You may not like the feel of leather against your palms. On the other hand, you may prefer genuine leather over composite leather.
Here's a quick overview of the different material types:
Composite leather: This is a cheaper option compared to genuine leather. You don't have to break in the balls, so they're ready to use right away. This is typically used for indoor play.
Genuine leather: You don't find these that often anymore. Spalding is one of the last brands that produces leather outdoor basketball options. The downside is it feels slippery and hard to manage at first.
Rubber: This is optimal for outdoor basketball. It's very tough and durable, making it suitable for outdoor surfaces. It's also the for children who are just learning to play.
Choosing a Brand
It's important to determine which brand you're going to purchase your outdoor basketball from. There are various brand options, which can make it difficult to select. Of course, you want to choose the best one, but how do you really know?
Some of the popular brands on the market include Wilson, Under Armour, Spalding, Nike, and Rawlings. The brand used by the NBA, WNBA, NCAA, and NBDL is Spalding. The NAIA uses Rawlings basketballs.
Wondering why basketball leagues choose these specific brands? Well, it has a lot to do with the size, weight, and texture of the ball. In the NBA and NCAA, the size 7 is used, while in the WNBA, the size 6 ball is used.
If you're trying to play in a league, make sure you're using the same size ball you're required to play with during games.
Selecting the Texture
You'll quickly learn that the texture of the basketball plays a big role in how well you play. You want to be able to hold, clutch and dribble the ball with ease. This is why most people like balls with the bumps or pebbles on the surface. It makes it easier to grip.
The Price of the Ball
The price you pay for your basketball is determined by the material and size of the ball. For example, the genuine leather balls can run you around $140, while a composite leather option would be between $20 and $50. The cheapest on the market are those made from rubber, which is between $10 and $15.
So What Are the Top Outdoor Basketball Brands?
Now that you know how to select a basketball, it's time to see which brands offer the best options. The following are the top five picks.
Spalding NBA Street Basketball
This ball comes with a host of features worth talking about. For one, it has amazing grip, durability, and balance. It's crafted from quality rubber, which gives it its toughness. The design ensures max performance for your outdoor balling sessions.
It can be used on concrete pavements, driveways, and outdoor courts. The texture consists of a pebble feel, providing easier ball handle. The price isn't that bad either. It's the official ball of the NBA, plus it sports the NBA logo on the front.
Wilson NCAA Replica Game Basketball
If you're getting a ball for a younger player, then this is the option to go with. It meets the specs of college basketball leagues. One of its notable features is its ability to absorb moisture (aka sweat).
This makes it easier to control. It's made from composite leather, which provides great durability. Also, it's easy on the wallet.
Spalding NBA Varsity Outdoor Rubber Basketball
This too has the NBA logo on the ball's design. It meets the standards of the NBA and is highly recommended for varsity outdoor playtime.
It comes with enhanced grip for better ball handle and comes with different color options than the typical orange. The price is affordable, thanks in part to its rubber material.
Under Armour 495 Basketball
If there's one thing Under Armour is known for is its consistency in quality. This basketball comes with composite leather material and GripSkin. This makes it easier to control the ball. If you're a passer or shooter, you'll enjoy playing with this ball.
Molten GM7 Official Basketball
Most people haven't heard of the Molten brand in America. However, in other countries, it is a popular and top choice. In fact, it's used in international games and the Olympics. This says a lot about its quality and performance.
Never Stop Improving Your Game
Getting the right basketball is only the start of your dominance on the court. At BBall World, we offer tips, tricks and advice on everything to do with basketball equipment and training. Make sure to check back often to read up on the latest news, reviews, and drills to improve your basketball skills.
And if you ever need assistance, don't hesitate to contact us!