Portable Basketball Hoop | Outdoor Systems and Goals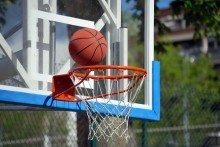 When it comes to choosing a basketball hoop, families should first decide between the installation of a permanent hoop on their property or the purchase of a portable hoop.
While some families find permanent goals to be the fit for their needs, parents are increasingly choosing mobile hoops because of the extensive benefits they offer.
A portable hoop system offers all the same 'all in one' components of a permanent system with the added benefit of allowing individuals to play the sport without being limited to a particular court or park with a fixed basketball hoop.
Top 7 Rated Portable Goals
Spalding NBA "The Beast" – 60″ Glass Backboard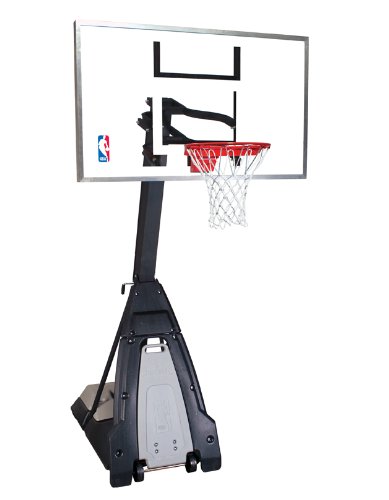 Equipped with 5 inch squared angled pole system along with a screw found in gauge base cap and a 60 inch blackboard that is made of glass, The Beast basketball hoop is designed for a more extreme level of play.
This system comes with a maximum height of 10ft which is adjustable to 7.5ft. The crank handle "screw jack" adjustment makes it very easy to adjust the height.
This sort of portable system is formulated to give a pro image to the play; ergo it is labeled as "The Beast".
Facilitated with a capacity of 50+ gallons of water or sand filling in the base, it provides you with a solid stability and safety making you feel like a professional player.
This portable basket "beast", also allows you to show off your jump shots with its robust and unyielding base.
What You May Like About This Portable Hoop?
Despite being heavy, it is one of the portable systems among many. It has two front wheels for simple movement.
Half of the water or sand should be removed to move the goal smoothly around. It has an eighteen-inch diameter rim with welded steel net hooks and sturdy net for long-term use.
The Spalding Portable hoop is well designed and the rebound of the backboard once you shoot is firm and tight due to the premium glass material.
What You May Not Like About The Beast Portable System?
Assembling this portable system could be time-consuming and challenging. It would be better if you seek assistance with one of your friends to help you set this up.
However, the instructions in the manual are quite clear, supplied with picture directions. If read carefully, it will be easy to assemble.
If all else fails, you can always have a professional install the portable goal for you. Without a question, "The Beast" is one of the portable basketball hoops available on the market.
Lifetime 90061, 52 Inch Portable Shatterproof Backboard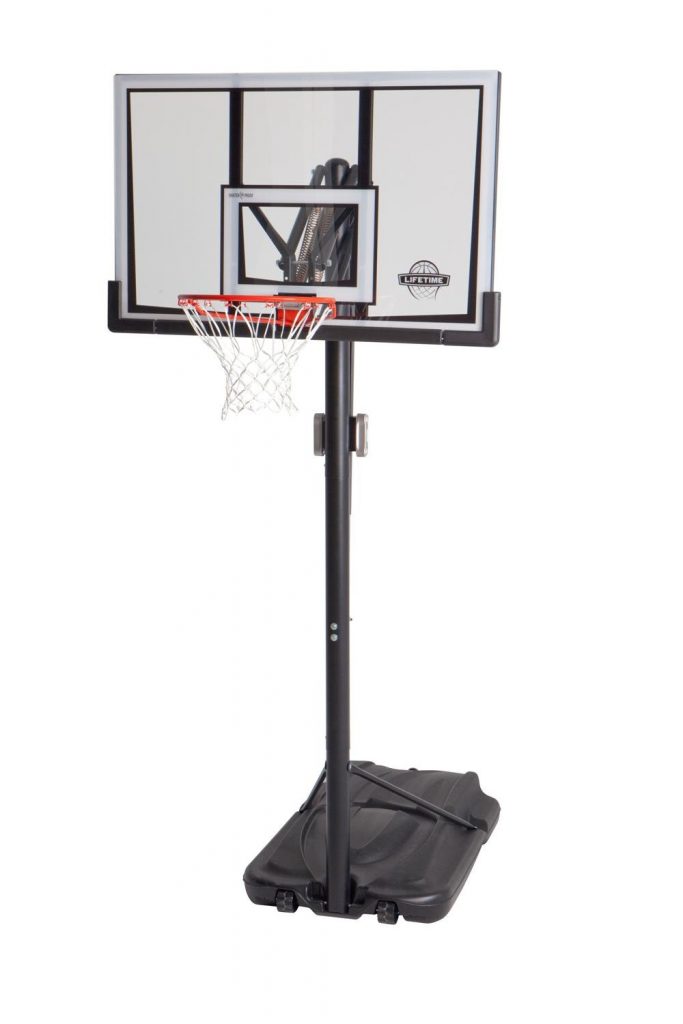 This portable system comes with a steel polycarbonate blackboard, which is much stronger than Acrylic, which is shatterproof. The backboard is Ultra-Violent(UV) protected and, therefore, has a high resistance to sun damage.
The height of the goal system adjusts between 7.5 ft. to 10 ft. in 6-inch increments. The base has a thirty-five-gallon capacity, which can be filled with either water or sand.
The system is designed for hard play and slam-dunks. Once it is assembled correctly, it is impossible to come apart.
The height of the hoop is conveniently adjustable from the front and is easy to manage. The Lifetime 90061 is preferably used as an outdoor basketball hoop. It ranks among one of the top choice hoops.
What You May Like About The Lifetime 90061 Outdoor Portable Basketball Hoop?
At a reasonable cost, this particular portable system is not very pricey by Lifetime for the brilliant features it provides without losing any quality.
Moreover, because of base rollers, it is the perfect portable basketball system, allowing you to move the hoop wherever you want to.
The UV protection is a bonus to those who plan to leave their mobile system in a permanent spot where it will get sun exposure. This added feature will add longevity to the portable system.
What You May Not Like About This Adjustable Backboard Hoop?
Lifetime 90061 requires a lot of patience and time invested in setting up. Nevertheless, once fixed and set up this system will not come apart and will be sealed. Be sure to spend time carefully reading the instruction manual.
Do not rule this great product out, just because the installation is a challenge. There are many professional that can install your portable system.
Lifetime 71286 XL, 52 Inch Adjustable Shatterproof Backboard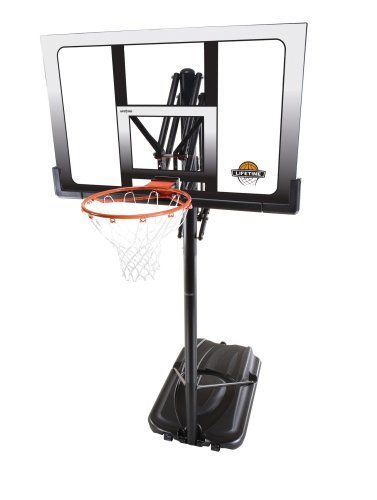 This portable model offers 52″x33″x1″ sq. backboard, which is made up of a sturdy polycarbonate backboard. The portable shatterproof backboard is printed with UV protected graphics enabling fade resistant color.
A double compression spring allows for a strong spring back action making it for a more entertaining play.
The pole is adjustable from 7.5 feet to 10 feet. Lifetime 71286 XL comes with a five-year warranty that covers everything on the system.
The durability of the product is exceptional because of the welded steel net hooks and all-weather nylon net.
What You May Like About This 52 inch Outdoor Basketball Hoop?
The thing about this portable system is that it is equipped with polyethylene base and bottom wheels, which make it effortless and trouble free to be moved. Furthermore, it is relatively easy to setup.
What You May Not Like About The Shatterproof Portable Backboard?
Even though it's easy to set it up, it still requires a lengthy amount of time. Understanding the visual diagrams in the instruction manual can be a bit confusing, but it is still easier to assemble than many of the other high-quality portable systems.
If it seems difficult or too time-consuming, do not hesitate to contact a professional for installing the portable outdoor basketball court.
Spalding NBA Hercules – 54″ Acrylic Portable Backboard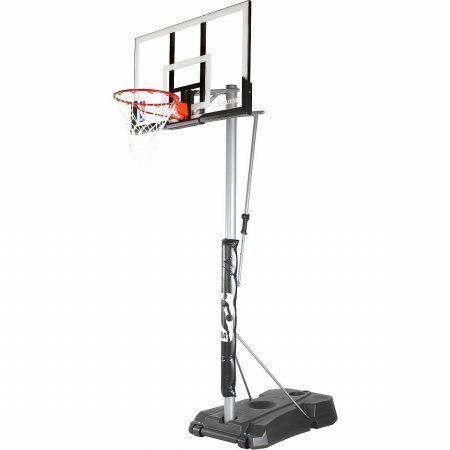 The Spalding NBA Hercules is endowed with a 54″ x 32″ x 4mm backboard. The adjustable portable basketball hoop is made up of Acrylic which gives it a good bounce and is set to enable a fun filled competitive play.
The height of this portable hoop can be adjusted in 6 increments from 7.5 feet to 10 feet. Besides this, the steel pole is 3.5 inches thick and is divided into three pieces for painless installation.
The classic black base holds about thirty-seven gallons of water, allowing it to stand solid.
It also has the additional two wheels on the base, to provide maximum portability. The twenty-degree angle of the pole makes it easier to shoot winning baskets and impress your friends.
What You May Like About The Hercules Acrylic Mobile Hoop?
The wheels included at the base make it very easy to move to a different location. This Hercules portable basketball system is designed so that it can endure outside weather conditions.
This added weather protection makes it ideal for those desiring to keep it in the backyard or driveway.
What You May Not Like About This Adjustable Backboard?
Filling the base with water might get you into some obstruction as many users have complained of a leakage.
However, this excellent basketball hoop system is accompanied by a one-year warranty. Therefore, any problems with the Portable Spalding Hercules can be easily solved.
Lifetime 51544 Front Court, 50 Inch Shatterproof Backboard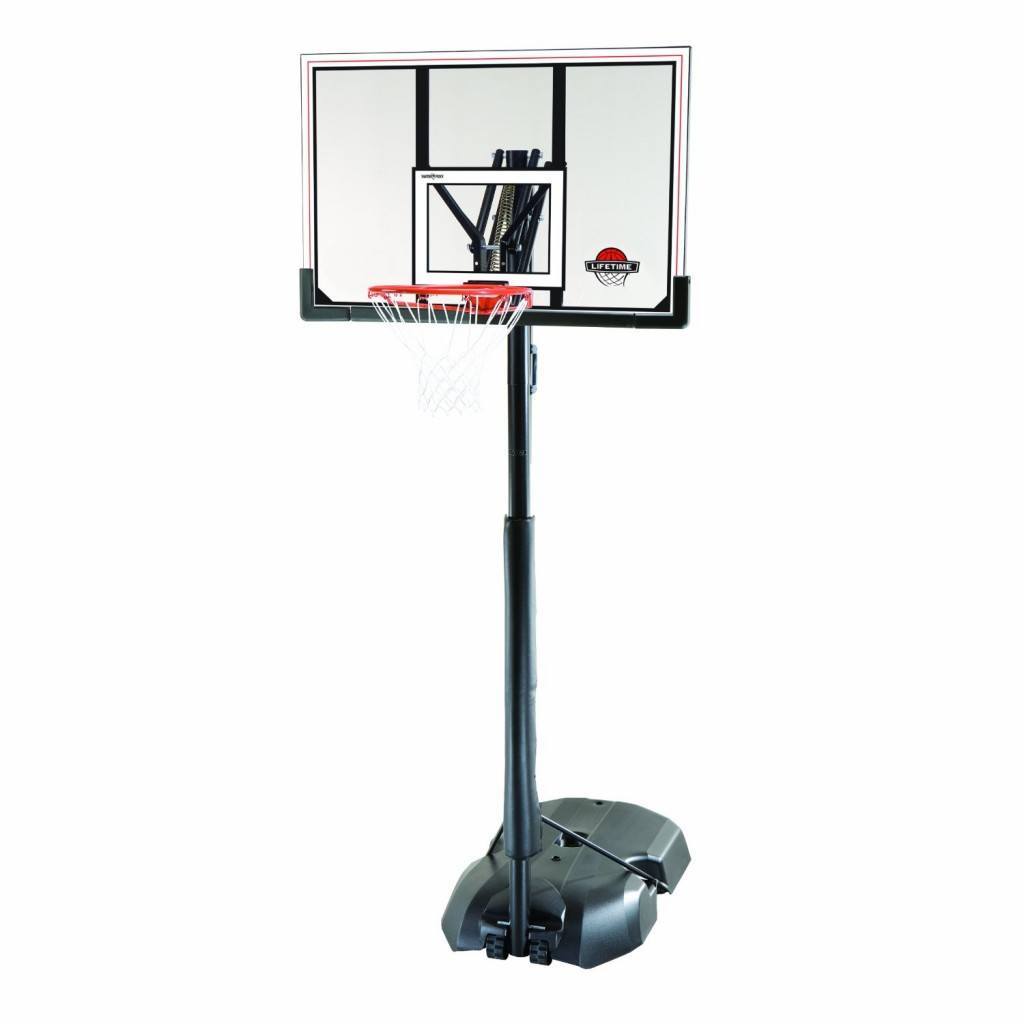 The portable Lifetime 51544 front court allows you to bring the playground at home. With the features that include a power coated steel pole and a slam-it rim, you can now practice and perfect your jump shots.
The shatterproof backboard is made up of Makrolon polycarbonate, which makes it solid.It is also shielded from discoloration from the weather.
What You May Like About The Lifetime 51544 Portable Backboard?
This portable system has been experimented and tested to withstand up to 40 mph wind when perfectly filled with water.
If you wish for a more aggressive play you might want to fill the base with sand instead of water which is more resistible to the surroundings.
What You May Not Like About This Adjustable Portable Backboard?
Although this portable model by Lifetime gives you the option to adjust the heights in 6 increments from 8 feet to 10 feet, when compared to other models reviewed in this article the lowest height is restricted to 8 feet instead of 7.5 feet offered by so many other models.
Lifetime 90022 32″ Youth Portable Basketball Hoop

The Lifetime 90022 might fit the bill if you're looking to purchase the first basketball hoop for your youngsters and don't want to spend a lot of money on one. This hoop has a telescopic support pole that lifts the rim from a minimum height of 5.5ft to 7.5ft in 6-inch increments. This height range makes the Lifetime 90022 a great basketball pole for basketball players between 5 and 10 years although most adults will enjoy it too.
What You May Like About The Lifetime 90022 32″ Youth Portable Basketball Hoop?
This hoop features a 32-inch Youth Impact backboard made of UV-protected high-density polyethylene. The rim is notably small at 15", but a junior size and a regulation basketball fits just fine.
The Lifetime 90022 uses a 10-gallon base that you can fill with either water or sand. For additional stability, you may want to put a sand bag on both sides.
Set up is a breeze. Although there's an option to have a professional do it for you, most buyers say that they have been take to put it up in around 2 hours.
Lifetime 1558 52" Portable Basketball System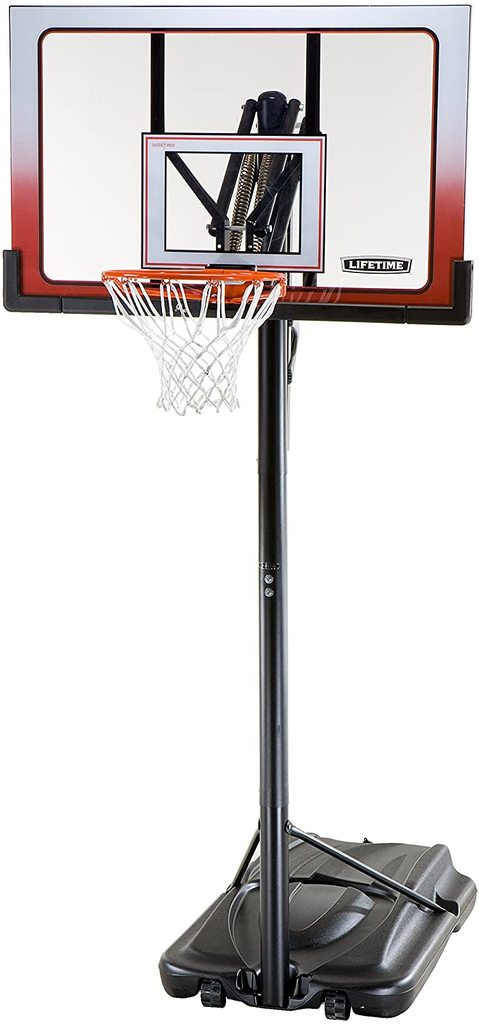 The Lifetime 1558 is another top-rated portable basketball hoop in the market today. At 52", this hoop's backboard is slightly smaller than that of the Lifetime 71524 above. However, it still brings a lot to the table, especially if you're looking for the best portable basketball hoop on a budget.
What You May Like About The Lifetime 1558 52" Portable Basketball System?
The backboard is made of clear polycarbonate that brings the feel and look of the tempered glass boards used on pro-level hoops. This backboard is made complete by a spring-loaded heavy-duty rim that's crafted for intense slamming.
The base has a volume of 35 gallons. This capacity creates enough stability for the entire rig while making it possible to move around on your driveway.
The Lifetime 1558 allows you to adjust its height from 7.5ft to 10ft in increments of 6 inches using Action Grip height adjustment mechanism. Although we prefer power lift systems, the Action Grip mechanism on this hoop is easy to use too even with one hand.
Advantages of Portable Basketball Goals
The trend in portable basketball goals took off in the 1990s. In addition to the ability to move around, portable basketball goals have a multitude of benefits over in-ground hoops. Their space saving ability means they can be economically accommodated in a constrained area and are easily transportable from one place to another.
This quality makes these portable basketball goals adequate for home use.
Though once considered to be substandard instability, in comparison with in-ground hoops, the quality of portable hoops has considerably advanced. Many portable goals now hold the same level of security, yet carry the added benefits of portability.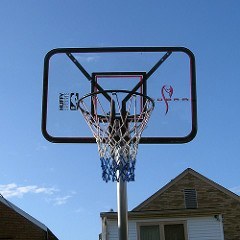 A big concern consumers face in their pursuit creating a "home court" in the driveway is receiving permission for the installation of a (permanent) basketball goal.

Many homeowners's associations hold rigid rules against the ongoing display of a basketball goal for aesthetic purposes. This could be a downfall as well if you or your loved ones are also working on their dribbling with an indoor basketball. As we all know, you need to have a lot of space for playing hoops.
In situations where your homeowner's associations may have strict rules concerns hoops, you can just store the portable hoop system in a garage or basement, when not in use. This is also advantageous for families who just prefer not to have a goal taking up space in their driveway.
The ability to easily store and move the portable basketball goal is also an appealing option to those who change residences often, such as military families, or those who are renting a house and wish to bring the basketball ball system with them upon moving to their new residence.
Portable basketball hoops are easy to set up and have the ability to go from 'box to game' within a few short hours.
Going mobile with your hoop eliminates the need for digging holes, mixing and pouring cement, and then anxiously waiting for the cement to dry before you can begin playing the beloved sport.
The convenient wheels on the bottom of many portable systems enable you to move the goal around for different styles of games, to relocate into a cul-de-sac or to open space in your neighborhood, as well as, to store the system properly when not in use.
There are many important parts of a portable basketball system. To make an informed decision about buying the best portable basketball hoop for your family's needs, you would need to spend hours researching the various components.
With a diverse and extensive range of hoops available, it often becomes mind boggling for individuals to decide which system is best for their needs. To make the sport easier and accessible to everyone anywhere, this article reviews key attributes to consider when selecting the right portable basketball hoop for your family.
The key to making the best choice in selecting a portable basketball goal for your family is being informed about what each system has to offer as well as its limitations. We make it simple for you to decide which suits you best.
Therefore, we had reviewed the most important components to consider when selecting the best goal system for your family, as well as, the top rated portable adjustable basketball hoop available in the market and discussed their styles and unique features.
What to Consider Before Purchasing a Portable Outdoor Basketball Hoop
Determine your budget
Just like any consumer product, options are varying from cheap products that often break quickly to more durable products at a higher cost. It is important first to assess your budget and determine what you are willing to spend on your portable basketball system.
Each portable basketball hoop offers benefits and negatives tailored to the particular needs of your individual family.
Keep in mind that as with most products, "You get what you pay for", but that does not mean the most expensive products are the best. Compare the different components of the portable systems to determine the product that is the best fit for your family.
Explore some of the recommended products in this article and the highlighted pros and cons. The best way to save money is to extend the life of your portable basketball goal by taking proper care of it.
Adjustability in height
When buying a portable basketball hoop, you should look for the adjustments in height as well. You should ask the supplier if it comes with adjustable height increments or not. If you are buying for your kid, you can easily adjust the height accordingly.
Often these hoops come with an adjustable height from 7 feet to 10 feet where 7 is the lowest and 10 ft. the highest. Some units adjust to lower height for younger children.
Not only is choosing the right height important, but selecting the right height adjustment mechanism is important, as well. If you are readjusting the height frequently to accommodate both children and adults playing, you will want to get a mechanism that easily adjustable.
Some mechanism that is harder to adjust; offer a better product, thus it is important to determine what is best for your personal needs.
There are five types of height adjustment mechanisms including, telescoping pole, broomstick adjustment, trigger handle, pneumatic adjustment, and crank handle.
Telescoping pole – This is typically found in the most inexpensive basketball systems. The adjustment is made by the moving of two poles
Broomstick adjustment/Exact Height- This is also generally found in lower end goals. Height adjustment occurs by lowering and raising a stick and then locking it into place with a ratchet attached to the backboard. This is considered to be a tedious and somewhat difficult process.
Trigger Handle – This is exactly as it sounds. You simply unlock a trigger, adjust the rim to the proper height, and release the trigger.
Pneumatic adjustment- This is a bit more sophisticated version of the trigger handle, as pressurized gas is used to adjust the height
Crank handle – This is considered to be the premium height adjustment system. They are known for being difficult to assemble at first, but the high quality and ease of use make up for it.
Most professionals agree that crank styles offer the most longevity and durability, but are harder to assemble than other systems.
If you want to use a high-quality crank system, don't be afraid to hire someone to install properly it. It is worth the extra time and money to be able to enjoy the product longer.
Quality Materials
When purchasing a portable basketball system, you want to get the most "bang for your buck". Buying a product made with high-quality materials increases the longevity of the product. However, in general, the higher quality the materials are, the higher the price is.
There are some 'middle of the road' products that may be sufficient for the amateur basketball player, while only the best quality materials may be preferred if you are planning out your child's future NBA career or if you just simply desire to have the best quality product, built for longevity.
Many products offer top of the line portable backboards with a lower quality height or base or the different combination.
Knowing exactly what is most important to you when purchasing your portable system will help you select the best product for your family's needs.
Durability of The Portable Goal
Depending on if you are buying the goal for young children to play with, planning for many adult games, or a mix of ages and purposes, your durability needs may vary.
Obviously, durability is an important thing to consider for all purposes, but each component of the portable basketball system contributes to the strength of the product in some form or fashion. Thus, determining your primary objective in using the basketball goal will help you decide which components of the system are more important for your needs.
Getting the Best Use out of Your Basketball Goal
Winterizing
If you choose to use water or a mixture of water and sand in the base of your portable goal, consider either adding anti-freeze to the contents in the base or to clean the bottom out by removing the water during the winter months to prevent freezing. If the substance in the base freeze, it can cause cracks in the base.
Preparing for inclement weather and rust
When possible, try covering the goal during periods of rain to prevent rust. If you live in an area prone to hurricanes or intense wind storms, lay the goal on its side to keep it from being blown over and damaging the rim or backboard. If possible, store the portable goal in a garage or basement during times of inclement weather.
Most Important Features
Backboards
It is vital to research on the materials from which the backboards are made up of so that you are well informed on the technical know-how of each type of equipment. Backboards are usually made up of one of four materials: plastic, acrylic, polycarbonate or glass.
Molded Plastic – Plastic is the cheapest of them all and has the poorest rebound when you shoot.
Acrylic – Acrylic is better than plastic and has much more durability and a good enough bounce.
Polycarbonate – Although polycarbonate is often categorized with acrylic, it is a different sort of material. Polycarbonate is of better quality than acrylic.
Glass – Glass is of the highest quality of them all. It is the most expensive and is used in the professional games like the NBA, as well as, University and most high school games. .
In addition to coming in a variety of materials, backboards also vary in shapes and sizes.
Most portable and in-ground backboards are either shaped rectangular or like a fan. Skill plays a role in selecting the best form for your family. Rectangular boards are most popular with beginner players.
Poles
Some systems come with multiple poles that are installed together, whereas, other systems come with one solid pole. Systems that break down to two or three poles are less durable. Additionally, poles often bear weak spots where the poles connect.
Many people report instability in as little as three years in multiple pole models. For best long-term durability, consider buying a portable system with a single steel pole.
The pole comes in a round shape or a square shape. The square shape gives better strength and stability as it vibrates less when compared to a round shaped pole.
It is also important to consider the diameter of the pole. They come in various grades of thickness from sixteen gauge to seven gauges. The lower gauged poles have higher levels of steel and provide the best play with the least vibration. However, regardless of the thickness of the pole, it should never bend if it is made of one individual pole, instead of multiple poles.
Hoop
The hoop is typically made of heavy metal for durability. Many people find steel hoops to be most desirable because of their strength. The most frequent types of hoops are spring loaded and breakaway hoops.
Both of these portable hoops are designed to detach from the backboard when too much burden is applied to the rim. This feature protects the backboard from breaking after an ambitious slam-dunk!
The thickness of a hoop varies with different systems between 5/8 and ½ inches The diameter of the actual hoop is usually the standard eighteen inches, for most systems. The net hanging from the hoop typically ranges in length from fifteen to eighteen inches. They also vary in thread count all way up to one-hundred and twenty thread count.
Supporting base
A portable basketball system requires that it is stable and will not come apart during aggressive play. Since it is not fixed to the ground, these portable goals come along with a base, which is needed to be filled with a certain level of sand or water for stability.
Range of use
In determining the best portable system for your family, it is important to determine what your range of use is. If you have growing children or have a goal that will be shared between children and adults, your focus should be on selecting an adjustable goal that you are comfortable with the adjustment mechanism.
However, if only adults will use your goal, you can stick with a regulation height goal
Final Thoughts
Research shows that involving children in sports at an early age has positive effects on their development, social relationships, and behavior. Most kids enjoy playing sports, being outdoors and most of all—playing with their parents!
Adding this form of entertainment to your home can change excessive couch and screen time into exercise time — and everyone wins, or shall we say, 'loses'. The aerobic nature of basketball gets the heart pumping and the muscle strengthening. These factors help defeat the growing epidemic of childhood obesity while keeping mom and dad in shape as well!
Portable basketball systems have revolutionized basketball. Instead of waiting for your turn on the neighborhood court, or having to drive to a city court, you can bring the game home.
It is now easier than ever for you and your kids to practice and perfect your jump shots at home while providing an enjoyable activity to help everyone stay fit and healthy. It requires minimal installation and provides you and your family with the ideal and optimal convenience.
However, with such a wide range of systems available in the industry, it becomes a quite an overwhelming task for individuals to decide on which of these products are best for their family. It is important to all consumers of these systems to be aware of what specific qualities to look for in a high-quality portable system.
Having discussed the type of features, you should look for when buying your mobile system you are almost ready to make your purchase based on these functions. However, we would advise you to do a little bit of research and read up on the customer reviews on the website to get more insight into the products. Comparing prices along with the various qualities of the different brands will also help you reach the best decision. Good luck in choosing the best portable basketball hoop for you or your family.