Spalding "888" Series In-Ground Basketball System Review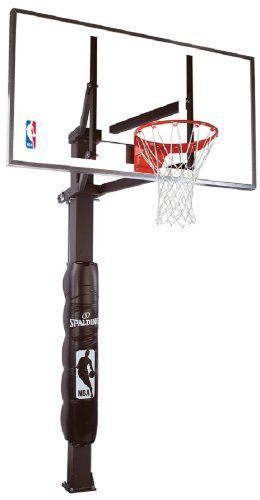 If you want a top of the line in-ground basketball system, then look no further than the Spalding "888" Series. This is the official hoop of the NBA and it's the ultimate pick for players who are serious about hooping. You get everything you need in this ready-to-install system that includes you steel pole, glass backboard, rim, net, and pole pad. Even if you're an experienced baller who likes to play aggressively, this in-ground court can take the abuse. It's highly durable and made to withstand years of action on the court.
Construction, Durability, and Features
Spalding designed the hoop to work for players of all ages and skill levels. Thanks to the U-Lift pro mechanism, you can adjust the height from 7-10 feet so the goal can grow with your young players. The backboard measures 72 inches across and is made from 3/8 inch tempered glass for ultimate durability. The board has four-feet of overhang so there is plenty of room to practice your slam dunks and lay-ups. The pole is made from heavy duty steel and it also includes a pole pad, which is a nice bonus for safety.
Design and Safety
This hoop was really created with safety in mind from top to bottom. The backboard is fashioned from tempered glass to avoid injuries. The six-inch square support pole keeps the goal stable even if you like to play aggressively. Best of all, the pale pad protects young players from common injuries. Even the U-Turn Pro lift system has built-in safety features with a safety stop that will prevent it from going lower than six feet, six inches.
This in-ground hoop includes a flex slam breakaway rim that gives you the absolute best overall playing experience. When you do a side-by-side shooting comparison between this court and other top-rated in-ground basketball goals, it's easy to see why the NBA opted for the Spalding "888" Series as their officially sanctioned system. It just shines in the way it performs during play.>> CLICK HERE TO BUY THIS HOOP <<
Installation Tips
Installation is pretty easy, although you will probably need to recruit a few friends to come help since it's pretty heavy. Spalding suggests digging a hole 24 inches deep, but if you really want to insure that it's stable, it would be better to go 30 inches deep instead. Once your hole is ready, the anchor bolt system really makes the set-up process simple.
User Experiences
As you might imagine, this hoop has fantastic reviews. Consumers report that it was easy to install, beautifully designed, and really shines in terms of durability. This system is a top pick for families with young kids and pro athletes that want some practice time away from the gym. All of these individuals report that this hoop has met and exceeded their expectations.
Pros
Official basketball system of the NBA
Beautiful design
Safety pole padding for added safety
High quality tempered glass backboard
Easy to install J-Bolt anchoring system
Adjustable height
Cons
Pretty expensive
Backboard is heavy
Hole needs to be deeper than the recommended 24 inches for added stability
>> CLICK HERE TO CHECK PRICES <<
Final Thoughts
If you don't want to settle for anything less than the best, then you definitely should go with the Spalding "888" Series In-Ground Basketball System. With top of the line safety features, easy installation, and endorsement from the NBA, you really can't go wrong here. After all, if this system is good enough for the pros, why wouldn't it be the right choice for you?