Spalding H-Frame Basketball System Review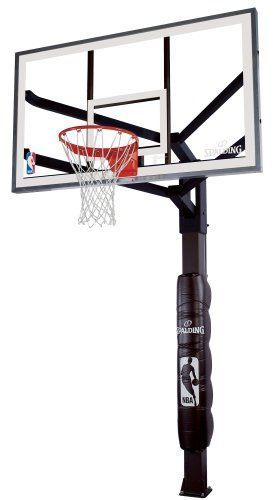 If you are looking for an in-ground basketball system that would be a top choice among the pros, then you definitely want to consider the Spalding H-Frame system. Spalding is well known as the official basketball supplier for the NBA and the WNA. Plus the backboards for the NBA and NCAA also come from Spalding. The bottom line is that this company knows how to create heavy duty basketball systems and now you can install your very own Spalding H-Frame in-ground basketball system at home.
Construction, Durability, and Features
This system is the perfect choice for serious players who want only the best. You can choose between a 60 inch or 72 inch backboard, depending on your current skill level and the amount of space you have to work with. With a four-foot offset, there is plenty of room to practice jumping and slam-dunking without worrying that you will slam into the support pole.
The Spalding H-Frame In-Ground Basketball System has a built in height adjustment so you can switch things up as your little players grow. Height came range anywhere from 7 to 10 feet. The factory breakaway rim is made from heavy duty materials so it can handle a lot of wear and tear without showing any signs of breaking down. Spalding designed this system with stability in mind. There are minimal vibrations even when you are practicing those far away three-point shots.
Design and Safety
From the first feature to the last, the Spalding H-Frame In-Ground Basketball System was built for safety. The 8-inch steel pole provides stability so the goal doesn't waver even when the biggest guys are slamming and dunking into the rim. It also comes with padding below the backboard to prevent injuries. This is just one more way that Spalding really goes above and beyond their competitors to insure that their in-ground basketball goals are the best.
Installing the Spalding H-Frame Basketball System
Once you purchase your Spalding H-Frame Basketball System, it's time to set it up. Installation is intimidating to many buyers, but it's actually not all that difficult. This system comes with a ground tube anchor kit to make assembly easy. You will have to dig a pretty deep hole for this system, measuring 24 inches by 24 inches and 48 inches deep. Then you can set your pole in the group and pour concrete around it. The only real downside is that the backboard is heavy. You might need to invite some friends over to help with installation! Spalding includes easy-to-follow instructions to make the whole process a little easier.>> BUY THIS BACKBOARD ONLINE <<
User Experiences
Consumer reviews on this system are overwhelmingly positive. People really love the Spalding H-Frame In-ground Basketball System because it is so heavy duty. From the pole to the hoop to the backboard, it looks and feels like a real professional set-up. Most buyers report it's easy to install and the biggest complaint is that it takes a while to dig such a large hole. Other than that, customers praise Spalding's system as the best they've ever tried.
Pros
Incredible durability
Classic, attractive design
Sturdy enough for competitive use
Very few vibrations
Professional gym quality
Two backboard sizing options for more customization
Cons
It's expensive… but it's worth every penny!
The backboard is heavy so recruit friends to help with installation
>> CLICK HERE TO BUY THIS SYSTEM <<
Final Thoughts
Overall, the Spalding H-Frame In-Ground Basketball System is a top pick, especially if you are a serious baller. You can trust Spalding's products because they are the top choice by the NBA. Why wouldn't you opt to use a Spalding goal at home too?