Spalding NBA Hercules Portable Basketball Hoop with a 54″ acrylic backboard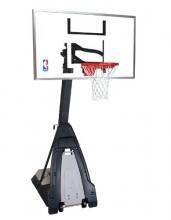 Quick Thoughts
I wanted an excellent quality system that was worth the price. This turned out to be the perfect choice. I decided to carefully research the options for portable basketball backboards available on the market. I bought this one and decided to do a detailed review. My overall impressions are the following:
The product works as advertised
It is a high quality and durable hoop that has performed well so far.
The product is perfect for highly competitive and even rough use.
Looks well-manufactured and I expect it to last a long time.
Highly recommended
A few details and some minor issues are discussed below.
Product Overview
It is advertised as one of the stronger and more expensive products by the manufacturer. Judging from the quality, it is definitely designed to be tougher than other residential basketball systems. This claim turns out to be accurate.
It was relatively easy to set up.
The parts are well made and well machined.
A Detailed Look at the Features
Base
The base is made of tough material that does not crack; it acts as an extremely sturdy counterweight once it is filled.
The choice of filling material is up to you. Water will be the easiest and quickest option. The base is pretty tough and will not develop cracks or leaks, but if you are still afraid and want to prevent this issue, you can use sand to fill the base. Be patient as it will take longer to fill the base.
Another excellent option is to use base gels. These gels are especially designed to absorb water which will add more weight and be less messy than sand.
I used water and have no issues with leakage or cracks.
Pole
The pole height is easy to adjust. We move it frequently when the younger players are using it.
Backboard
The backboard is tough and seems to sustain impacts without any major bounces. No noticeable scratches have appeared on the board so far, even though it has been in regular use for some time.
Hoop
The hoop is excellent and doesn't wobble too much. Even though it seems to be strong enough to support the players' weight if they hang from it, please resist the urge. You might end up damaging the product or hurting yourself.
Assembly:
Most reviews keep repeating the same issue that the assembly process is challenging. This wasn't really an issue for me.
The assembly requires some time because the product needs to be set up properly in order to be useful.
Read the instruction manual completely before you start so that you know what you're doing.
Just make sure you have the tools that are specified in the instruction manual and you will have no problem in putting together this product. When you are finished putting it together, you will end up with a quality product that is worth the effort.