The Basketball Shoes People Can't StopTalking About For Summer 2021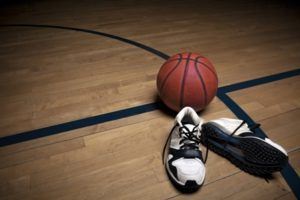 Staying fitted with the best basketball gear can feel like a full-time job: between new shoes, new player-backed gear, improved athletic wear, and ever-evolving styles, it's no wonder people need a little help sorting through all of this information.
That's where we come in. We've compiled this list of the most popular and most exciting basketball shoes on the market right now. Between a few old favorites and some new exciting options, these are the hottest options out there.
The new installment in the Kyrie Nike line was released in April 2018. Of all the shoes in Kyrie's signature line, the 4 is by far the superior option.
This shoe is excellent for players looking for a lot of traction for lateral movement, speed, and flexibility. It's a great option for point guards and small forwards especially, although any player can benefit from this shoe's traction.
While Kyrie shoes have always been known for great traction and helping speedy players stay speedy, this new 2018 model has some significant improvements. Added cushion makes the 4s more comfortable than past models while still allowing you to feel the court.
This new Kyrie model also provides excellent support while not constraining your foot. It has the perfect balance of flexibility and structure to protect your ankle while allowing you a wide range of movement for quick bursts of speed and movement.
Released in March 2018, the new air Jordans live up to their namesake. When you think "basketball shoes," you think of Jordans for a reason. They're reliable, high quality, and stylish. All this is true for these new Jordans you can rock this summer.
What makes the 32s so great? They're significantly better than the 31s (which isn't saying too much because the 31s were not something to write home about), and they have new technology that makes the supportive, comfortable, and powerful.
Usually, if you want high support, you get a clunky shoe that slows you down. That's not the case with Air Jordan 32s.
They give amazing support while staying lightweight and moveable. They're breathable and flexible without sacrificing the support your foot needs on the court.
This shoe also adds support for your heel and the balls of your feet without adding weight or volume to the shoe itself, which keeps them comfortable and springy. The design also gives you explosive power that we've come to expect from the Jordan series.
This might be the most expensive shoe we're putting on this list (with some colorways way over 200 dollars) but hear us out.
The price encompasses the many playing benefits along with the cool style of this model shoe. Released during the early months of 2018, the Nike Air Foamposite Pros scream summer.
Their cool and retro styles would be an awesome look for the summer. Not only is the look of these shoes great off the court, they're also great on the court as well.
With "foam" in the name, you'd expect these shoes to be pretty comfortable. You won't be disappointed: these are some of the most comfortable shoes for basketball that you can buy. It's literally like walking on a cloud of cotton candy.
But don't let the comfort fool you into thinking these are all style and no structure. The traction on these shoes makes for great explosive moves on the court while the foam structure will protect your ankle and keep your foot in place.
The only downside is that you really do have to break these in before you can reap all the benefits. But once you do, these shoes are amazing.
These shoes live up to their "crazy explosive" name. These ultra lightweight shoes are great for both speedy and powerful players. It's also an affordable option that's still high-quality and durable.
The high top design is a key feature. The straps and the high top itself secures your ankle in place to prevent ankle injury and keep it where it should be.
The main benefit of this shoe is the stability it can provide while staying super lightweight and keeping its traction. It's also one of the more affordable choices so you won't run out of money for other important summer activities besides playing basketball.
We've got another Adidas model shoe here with the Harden Vol. 2. Among some of the newest shoes on this list, released this past March, these are an exciting new shoe for the upcoming summer.
Part of James Harden's professional line with Adidas, the main benefits of the second release of the Hardens includes the style, the improved cushion, and the signature Adidas boost technology.
Compared to the Vol. 1 of this shoe series, the Vol. 2 has significant improvements in the overall feel of the shoe. The cushion is more comfortable, the mesh is a bit more flexible, and mesh that is easy to break in.
The boost technology of Adidas is another great benefit for all kinds of players. These shoes might not have the same "bouncy" feel as some other similar models, but the benefits you get from the Adidas boost are still there.
This gives you great court feel, impact protection, and the ability to push out explosive bursts of power.
You'll get all of that plus a newer and, in our opinion, cooler style that will make you look good both on and off the court. With 7 new colorways and the ability to design your own pair on the Adidas website, there's no way you won't look fresh this summer.
Get a Pair of the Best Basketball Shoes This Summer
Summer 2018 is around the corner, and you want to make sure that you've got the hottest basketball shoes on for the hottest time of year. The options we've gone over here each have their pros and cons, but all of them are great shoes that also offer great style as well.
If you need help finding the best basketball gear and basketball apparel, check out our extensive list of reviews and articles. You can also contact us with any questions.