Outdoor Basketball Brands | Top 5 Rated Products
Does it really matter whether you use an indoor or outdoor basketball? The short answer is yes. While many basketballs can be used in both environments, there are definitely differences in how balls are made that can make a big difference in how you perform on the court.
Indoor basketballs are built to handle more controlled conditions, whereas outdoor basketball is rugged enough to endure rougher courts. Along with having the right ball, there are some other things you'll want to consider.
Outdoor basketball can be hard on your joints, so you'll want to invest in things such as ankle braces for basketball, as well as a good ball.
The outdoor basketball will hold up to rough surfaces so you can shoot hoops on concrete, asphalt, or even dirt. As a general rule, you can use an outdoor basketball inside (just wash it off first!), but it's not to use an indoor basketball for outside play.
If you're searching for outdoor basketball, there are lots of options to choose from. All the top brands offer their own take on an outdoor ball, but they each have some pros and cons. After testing numerous basketballs to see what holds up on the court, here are the top 5 outdoor basketballs that we recommend.
Comparison Table for Outdoor Basketballs
| Product Name | Style Name | Price | Our Rating |
| --- | --- | --- | --- |
| NBA Street Basketball | Official Size 5,6,7 (29.5″) | $ | 4.5/5 |
| Spalding NBA Indoor/Outdoor Replica Game Ball | Official Size 6,7 (29.5″) | $$ | 4.6/5 |
| Wilson NCAA Replica Game Basketball | Official Size 7 | $$ | 4.6/5 |
| Mikasa BX1000 Premium Rubber Basketball | Official Size 4, 5,6,7 | $$ | 4.8/5 |
| Wilson Killer Crossover Basketball | Official Size 7 | $$ | 5/5 |
Top Rated Street Basketballs
Each of the five entries on our list is rated according to its pros and cons, as well as how rugged and durable the ball appears to be. Street basketballs may not last quite as long as those used primarily on indoor courts, but the basketball brands do make basketballs for outdoor use which are intended to last for several years—even through regular use. Modern materials and refinement processes allow for outdoor basketballs to be made to extraordinary standards of durability and rugged endurance. These basketballs can take a lot of hits, and keep bouncing back!
Spalding NBA Street Basketball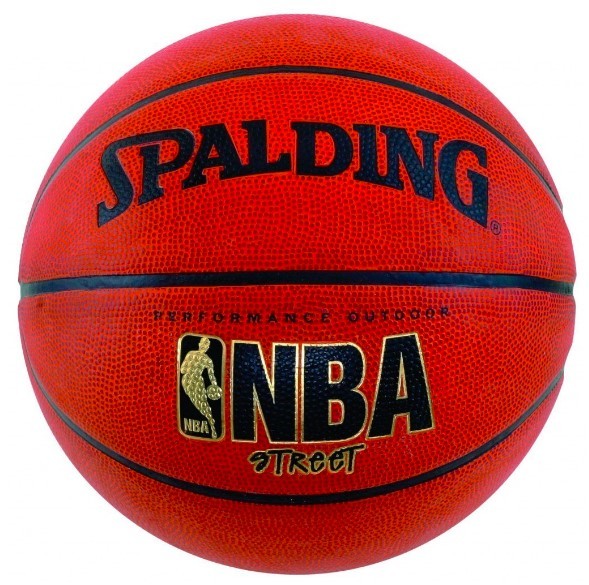 There's no arguing that Spalding is the leading basketball brand on the market today. That said, it's easy to understand why the Spalding NBA Street outdoor basketball has garnered over 12k reviews on Amazon alone.
This is a size 7 ball with a circumference of 29.5 inches (the official NBA size). These measurements make it an excellent choice for men and boys aged 15 years and up who want to perfect their skills for high school, college, and pro game basketball.
Besides its size, we are great fans of this ball's overall construction. As its name (NBA Street) suggests, this basketball is designed for extreme outdoor gaming. It features a sturdy rubber cover that's meant to endure asphalt and concrete plus a deep channel design that's intended to give you a firm grip.
The Spalding NBA Street outdoor basketball ships already inflated and ready to dribble and shoot right out of the box. However, there is a likelihood of it shipping deflated, so having a pump would be wise. All in all, we appreciate that it does not deflate too quickly, so you won't need to inflate it now and then.
Pros
Official NBA size and weight
Heavy-duty construction for durability
Comes inflated and ready to use (most of the times)
Does not deflate easily
Deep channel design offers you a firm grip
Cons
May have a slightly higher bounce for some players
May require getting used to if you're moving from a leather/synthetic leather ball
Spalding NBA Indoor/Outdoor Replica Game Ball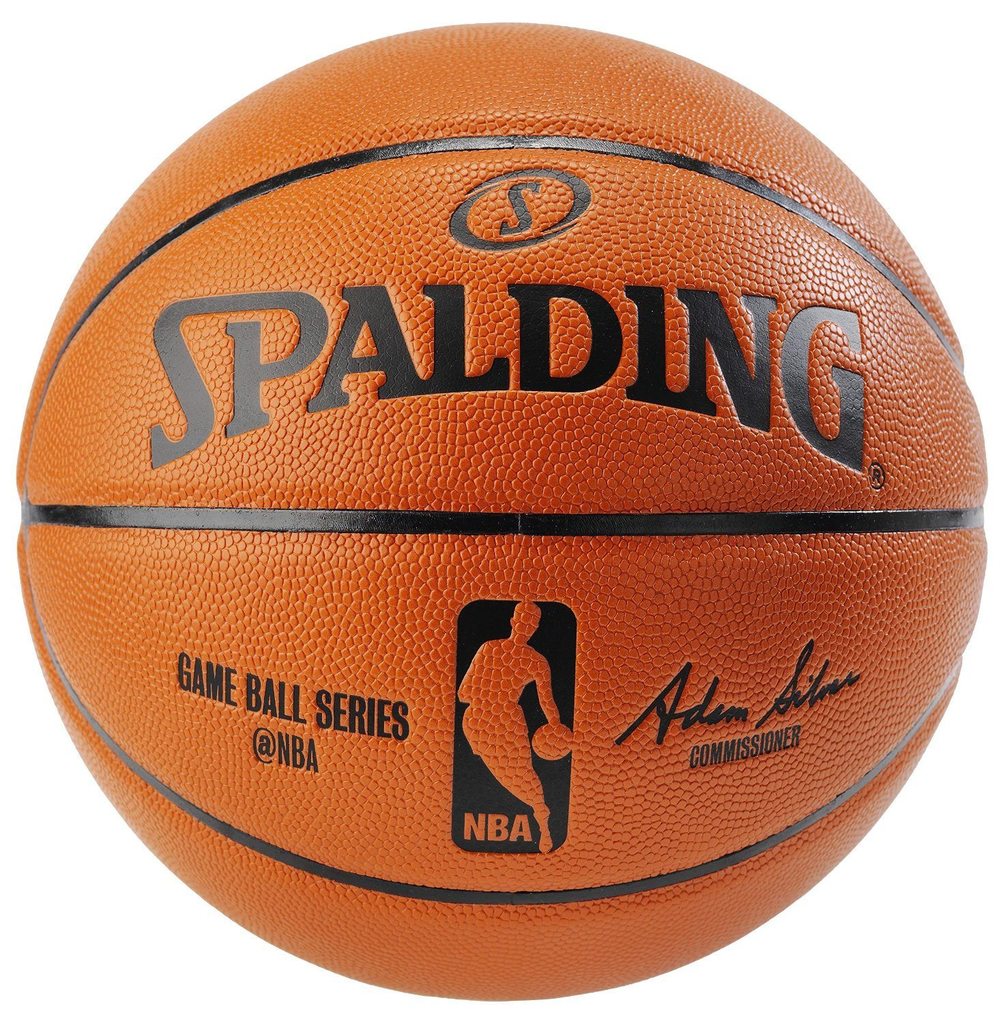 No discussion of outdoor basketball in 2021 would be valid without the Spalding NBA Replica. The first thing that we like about this ball is how closely it replicates the official game ball. Of course, the design doesn't add much to how the ball performs in general, but it may boost your confidence.
Switching gear to its construction, the Spalding NBA Replica has a composite leather cover. This material is almost indistinguishable from the genuine leather used for the official ball, and Spalding says that it will endure both indoor and outdoor use. However, owing to its soft design, we feel this composite cover may fade away pretty fast with heavy-duty outdoor use. For that reason, we recommend using it indoors.
We have to acknowledge that the Spalding NBA Replica has an impressive bounce outdoors, even when pumped to around 75 psi. But most people say that greater force is required to achieve the same bounce indoors. Lastly, and more importantly, this ball's composite cover and larger-than-average pebbling give it a slick grip that you may not find in most run-of-the-mill outdoor basketballs.
Pros
Indistinguishable from the game ball
Composite cover feels soft
Has an excellent bounce outdoors
Offers an unbeatable grip
Cons
Inconsistent bounce when used indoors
May deteriorate fast with heavy-duty outdoor use
Wilson NCAA Replica Game Basketball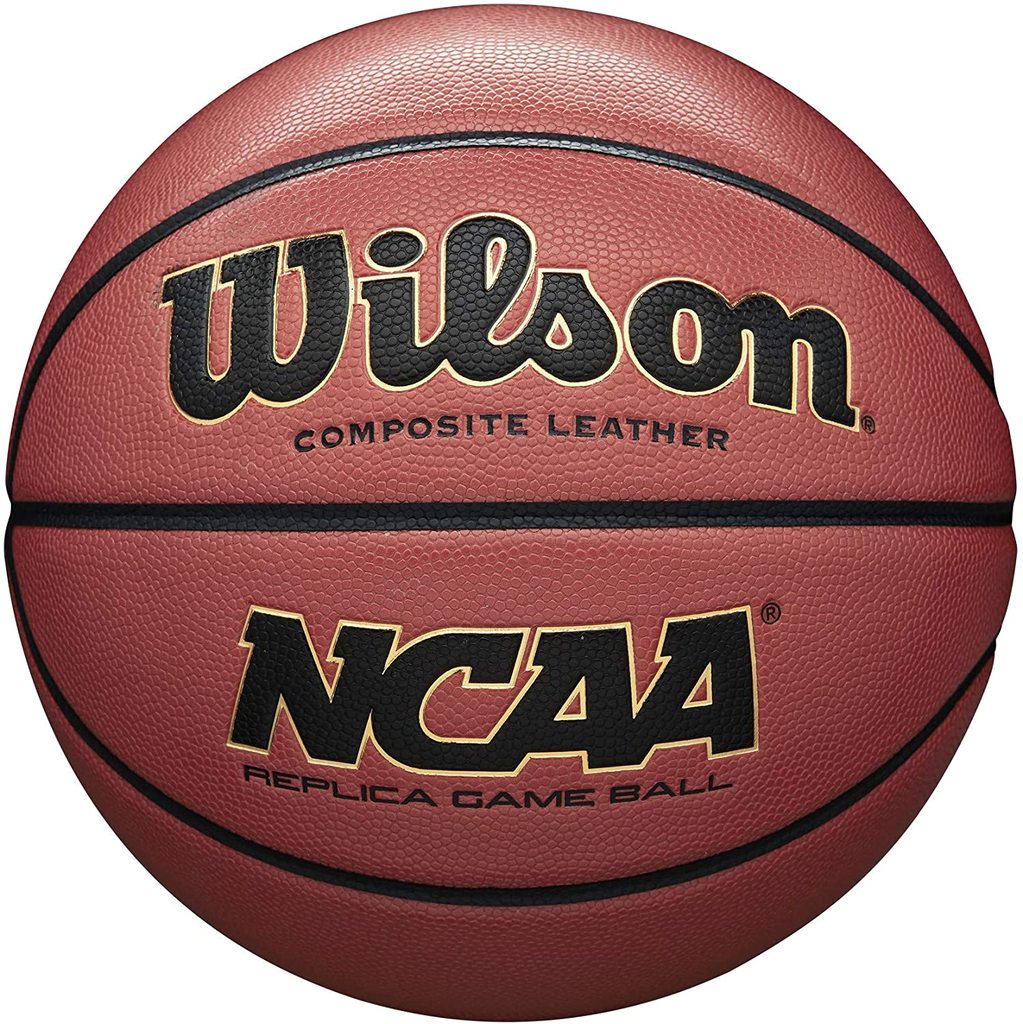 The Wilson NCAA Replica is another outdoor basketball that has garnered tons of positive reviews and feedback online. Similar to other recommendations in this list, this is a size 7 ball with the official circumference of 29.5 inches.
The first thing that caught our attention with the Wilson NCAA is its level of construction quality. Although this ball is made of synthetic leather, the manufacturer has outdone themselves in making it hard enough for the rough outdoors. And the thing is that it does not require breaking in.
This ball's channels aren't as deep as those of Spalding NBA Street above. However, Wilson compensates this by pebbling not only the panels but the channels also. As such, you'll be getting incredible grips with minimal slippage even when your fingertips get sweaty.
Is it bouncy?
Well, the Wilson NCAA Replica has a well-above-average bounce and doesn't feel flat. The only issue that our review team noticed is that this bounce is not always consistent, especially when trying skills, such as crossovers. But this is forgivable, especially when you consider what you're paying for this ball.
Pros
Hard enough for the outdoors
Feels durable
Perfect for indoor and outdoor use
Excellent grip
Has moisture-absorbing properties
Cons
Inconsistent bounce
Channels aren't so deep
Mikasa BX1000 Premium Rubber Basketball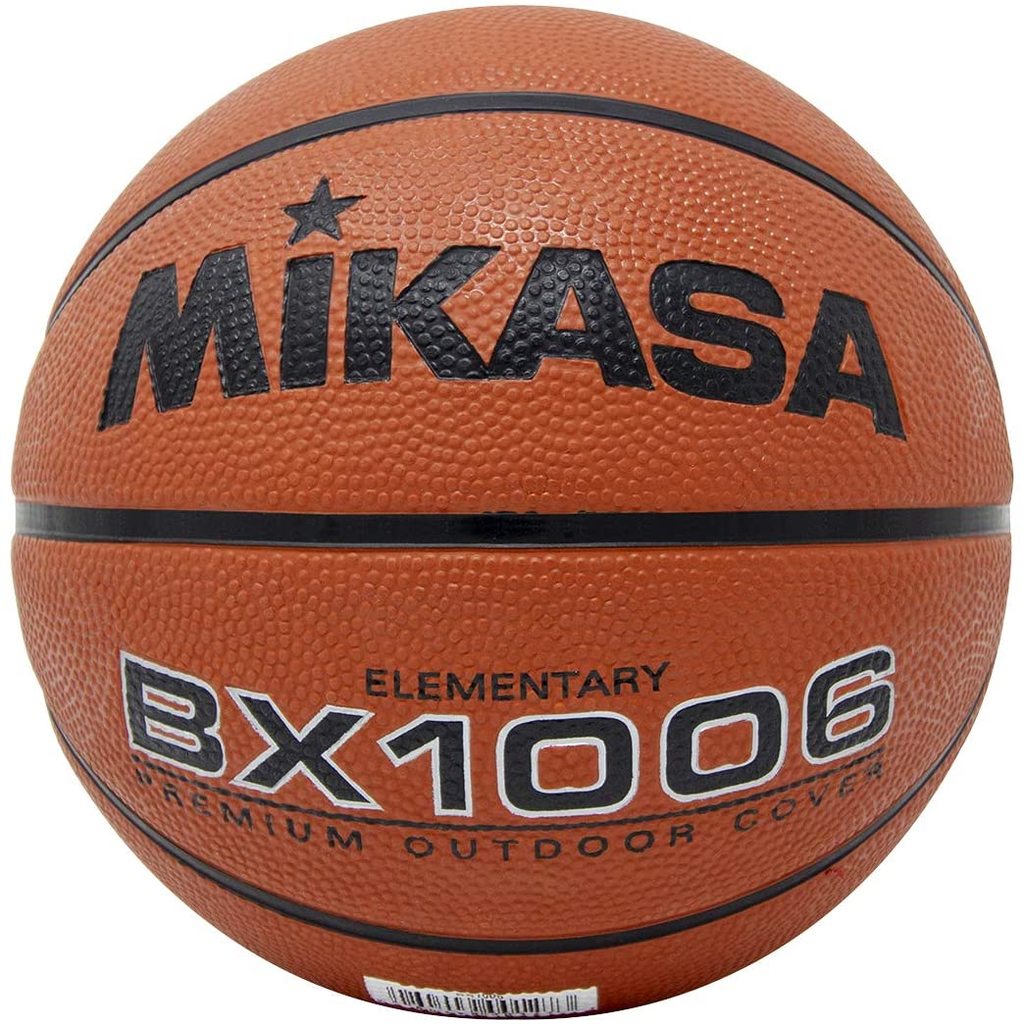 Coming from one of the basketball brands this year, the Mikasa BMX1000 is a great choice if you're looking for a good outdoor basket to build elementary basketball skills to kids and starters. This basketball costs a fraction of what other brands come at, but still, we feel it has a lot to offer at its price range.
First things first, the Mikasa BX1000 is a rubber basketball, so you should feel confident when taking it to the street courts. It has the standard channels that you'd expect on a typical outdoor basketball, but they are not as deep.
This ball has deep pebbling too make up for its lack of channeling- and sure enough, it packs a good amount of grip in regular conditions. The grip feels a little bit rough at first, but it slicks up with a few uses.  
What size options do you have?
For this review, we went with the official size 7 ball. However, the Mikasa BX1000 also comes in Size 6 (Compact 28″), Size 5 (Youth or Junior, 27″), and Size 4 (25.5″).
Pros
Affordable than most outdoor basketballs
It's soft and doesn't hurt
Deep pebbling
Good bounce
Cons
Not for experienced players
Lacks recessed channeling
Wilson Killer Crossover Basketball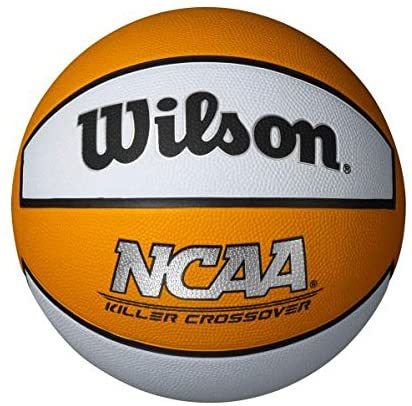 Wilson is the basketball brand, especially if you're looking for the right balance of price and quality. What we have from this brand is one of its top-rated intermediate-size basketballs with a circumference of 28.5″.'
The Killer boasts Optima rubber construction cover that gives you a remarkable amount of grip, especially in dusty conditions. And this makes a lot of sense since most street basketball courts are dirty.
Another thing that we like about this ball is its wide channels. Like most of its users highlight, these channels offer excellent control when dribbling and making a shot.
The Wilson Killer complements its great control with a good amount of bounce. But what we find even more appealing is that the bounces remain consistent regardless of the tricks that you're trying to perfect. This is bonus feature since you won't be expending a lot of energy trying to compensate for weird and unexpected bounces off the rim.
Besides the intermediate size (28.5″), this basketball is also available in Size 7 (29.5″) and youth size (27.5″). In addition, you have a choice of up to 7 color patterns with this ball: orange/white, red/white, lime/white, Carolina blue/white, brown, blue/white, and black/white. Keep in mind that size changes with the colors.
Pros
Great grip
Excellent control
Incredible value for money
Consistent bounce
Multiple color options
Cons
Different colors vary in size
Final Thoughts
Any of these five basketballs would be a solid choice for outdoor play.
Whether you go with the Spalding, Wilson, or Mikasa, you will be enjoying one of the basketballs designed for outdoor use — a ball that will last you through years of regular play, for hours at a time. They are designed to be rugged and to withstand the pounding that street basketballs inevitably take. Keep in mind, that there are also different sizes of outdoor basketballs – so choose accordingly.
Two Spalding balls were featured, as well as two balls from Wilson. In our opinion, the Spalding basketball for outdoor play is the Spalding NBA Street Basketball. The Indoor/Outdoor ball is a hybrid which, while it works very well in both settings (as is typical of Spalding basketballs) doesn't stand up to the rigors of being a street basketball as well as… well, the street basketball.
It's hard to choose the basketball brand, but Wilson Basketball reflects an international favorite which may well soon sweep across the United States. It is already favored in basketball around the world, and while the occasional quick pump of air is needed to keep it in shape, the ball itself is extremely durable and fits comfortably in the hands.
If you want to learn more, here's an article on the difference between indoor vs outdoor basketball.