Best Outdoor Basketball Brands | Top 5 Rated Products
Does it really matter whether you use an indoor or outdoor basketball? The short answer is yes. While many basketballs can be used in both environments, there are definitely differences in how balls are made that can make a big difference in how you perform on the court.
Indoor basketballs are built to handle more controlled conditions, whereas an outdoor basketball is rugged enough to endure rougher courts. Along with having the right ball, there are some other things you'll want to consider.
Outdoor basketball can be hard on your joints, so you'll want to invest in things such as ankle braces for basketball, as well as a good ball.
The best outdoor basketball will hold up to rough surfaces so you can shoot hoops on concrete, asphalt, or even dirt. As a general rule, you can use an outdoor basketball inside (just wash it off first!), but it's best not to use an indoor basketball for outside play.
If you're searching for the best outdoor basketball, there are lots of options to choose from. All the top brands offer their own take on an outdoor ball, but they each have some pros and cons. After testing numerous basketballs to see what holds up best on the court, here are the top 5 outdoor basketballs that we recommend.
Comparison Table for Outdoor Basketballs
Top Rated Street Basketballs
Each of the five entries on our list is rated according to its pros and cons, as well as how rugged and durable the ball appears to be. Street basketballs may not last quite as long as those used primarily on indoor courts, but the best basketball brands do make basketballs for outdoor use which are intended to last for several years—even through regular use. Modern materials and refinement processes allow for outdoor basketballs to be made to extraordinary standards of durability and rugged endurance. These basketballs can take a lot of hits, and keep bouncing back!
Spalding NBA Street Basketball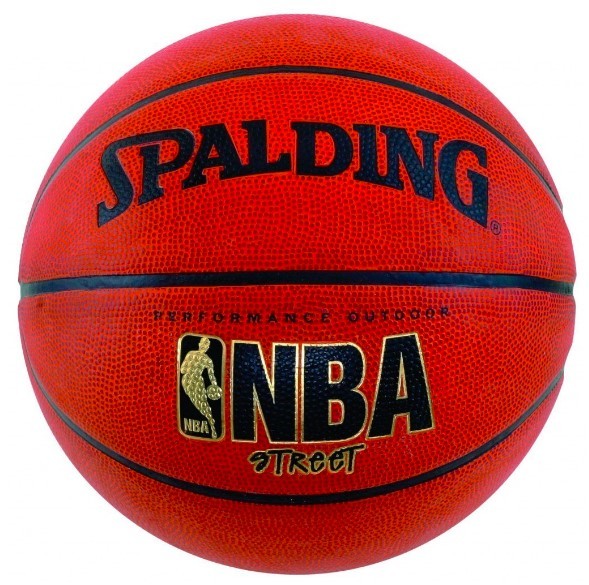 Spalding is one of the leaders in the world of sporting goods so it's no surprise that their NBA Street Basketball performed well in test runs. This is an ultra-durable ball that has a thick rubber cover to insure it lasts through many months of outdoor play. With extra wide channels, you'll enjoy better grip and it even features the NBA logo, which is a nice added touch. One of the best aspects of Spalding basketballs is the price. You'll be hard-pressed to find a basketball of similar quality at a more affordable cost.
Pros
The first major advantage is the price factor. For under $10, you can play like the pros with this basketball! We also love the way the Spalding NBA Street basketball feels in hand. It has a great rubber grip that is comfortable even if you are playing for long stretches of time. It's easy to inflate and ultra durable so you can expect months or even years of outdoor play with this ball before you have to buy a replacement.
Cons
There are very few cons for this basketball. The only complaint is that the bounce is a bit too high for some players. If you normally play with an indoor basketball, there will be a learning curve to using the Spalding NBA Street basketball. However, once you've adjusted to the differences, it will be your go to ball for all outdoor games.
>>> Check Amazon For Prices and Availability
Spalding NBA Indoor/Outdoor Replica Game Ball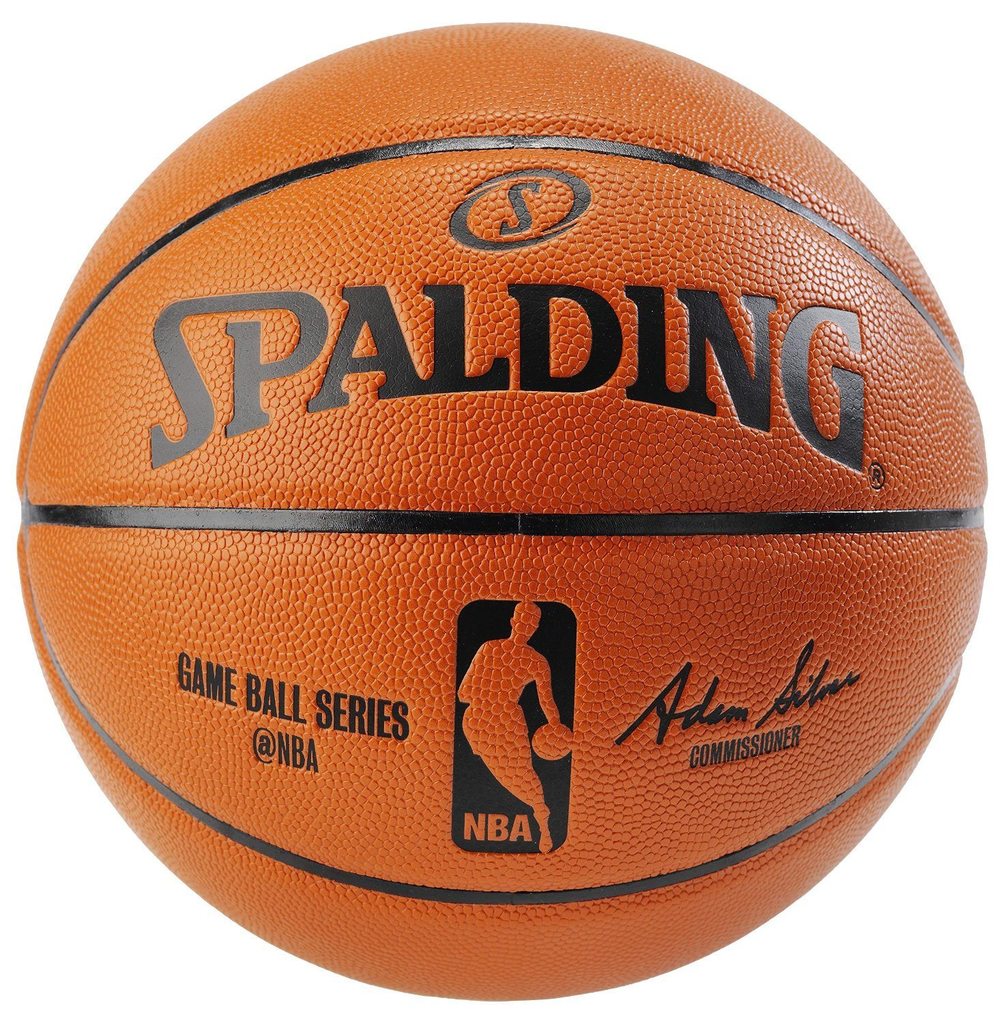 This is another smart pick from Spalding's line of basketballs. Unlike the NBA Street model, this option is perfect if you like to play both indoors and outdoors. It transitions well and holds up to all kinds of practice surfaces. If you're looking for style, this will be your favorite because it looks identical to the official NBA Game Ball. In a side-by-side comparison with other outdoor basketballs, there are some differences that we noticed, but most of them are positive.
Pros
The Spalding NBA Indoor/Outdoor Replica basketball was by far one of our favorites when it came down to comfort. It has a very soft composite leather cover, which you usually only find on indoor basketballs. But even with the soft leather, it holds up well to outside play. It has great grip and control and of course, we loved the channel design that is unique to the NBA Official game balls.
Cons
While this basketball has a lot of great qualities, it does have one drawback. The soft composite leather will definitely wear out faster than rubber if you are primarily playing outdoors. Realistically, you will probably get at least a couple years out of this ball even if you are playing outside on a regular basis and for the price, that's still a pretty good bargain.
>>> Check Amazon For Prices and Availability
Under Armour 495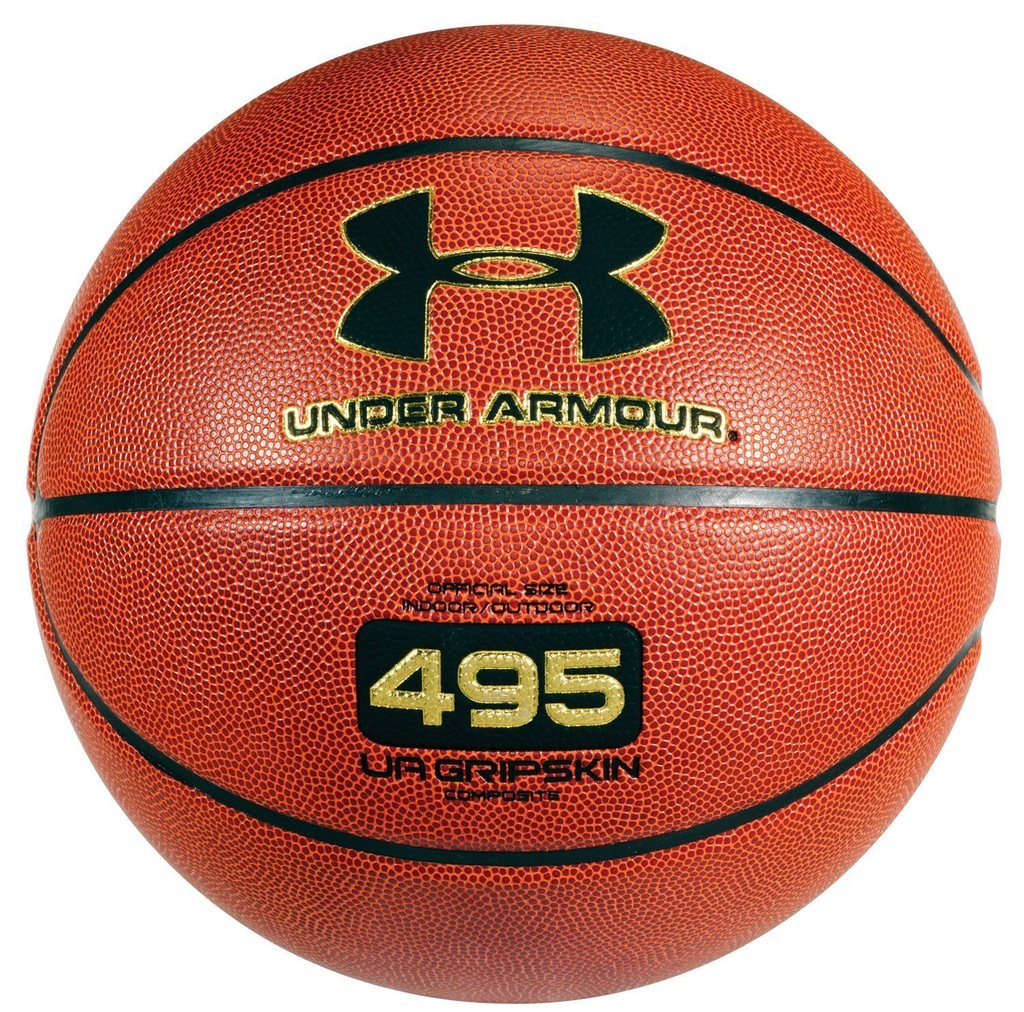 If you really care about quality, you're going to love the Under Armour 495 Basketball. It's really heads and tails above competitor designs thanks to the GripSkin composite material. The ball just feels amazing in hand and it offers the best grip of any outdoor basketball we tried. The GripSkin also improves ball control so you will notice a difference in your shooting and passing. The nylon windings increase durability and the butyl bladder ensures that it retains air even when you're playing on rough surfaces.
Pros
The best feature of the Under Armour 495 basketball is the GripSkin material. People with smaller hands report it is much easier to handle than other basketballs. The pebbling definitely increases the comfort level. We also thought this ball excelled in air retention, probably thanks to the 100% butyl bladder. Even after weeks of play, it still had great bounce!
Cons
While this basketball is technically made for both indoor and outdoor play, there are a few potential problems when you use it primarily outside. The GripSkin material that makes the ball so comfortable is a double-edged sword because it also makes it more prone to collecting dirt and dust. Some people have complained that the outside doesn't hold up well to continuous outdoor play and it shows wear and tear much faster than other basketballs. Overall, it would probably be the best pick if you were going to only play outdoors part time.
>>> Check Amazon For Prices and Availability
Molten GM7 Official Basketball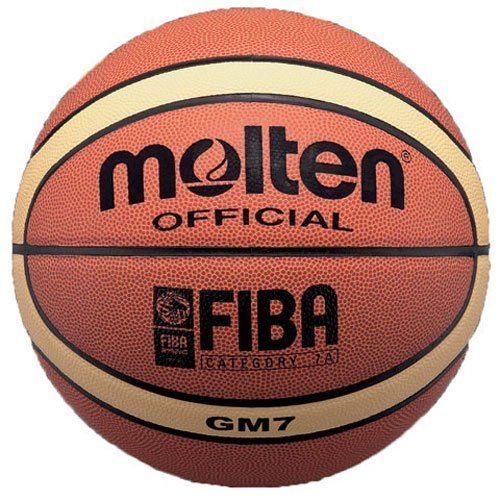 You might be a little surprised to see that the Molten GM7 featured on our list because this is not one of the main brand names we usually mention in our top basketball recommendations. While Molten isn't a well-known brand in the American world, it is considered top of the line in other countries and it is the top choice in international games and even in the Olympics. This basketball will hold up well to both indoor and outdoor play, but we focused our attention on how it performed on rough outside surfaces.
Pros
The Molten GM7 offers one of the best grips we've ever experienced from an outdoor basketball. It has a nice tacky feel with well-placed grooves that give you superior ball control. It was easy to palm this ball and it would be a great fit even for players with smaller hands. This basketball is designed with a slightly different look than most. Instead of the typical 8-panel design you see from standard basketballs, there are extra panels provided thanks to a yellow band. It definitely makes a noticeable difference in how the ball feels and we loved it.
Cons
The only downside to the Molten GM7 Outdoor Basketball is that it doesn't retain air quite as well as some other balls. It wasn't a major problem, but we did have to add a few quick pumps of air from time to time to maintain the great bounce. In the big scheme of things, it was a minor price to pay for an otherwise flawless basketball.
>>> Check Amazon For Prices and Availability
Under Armour 395 Outdoor Ball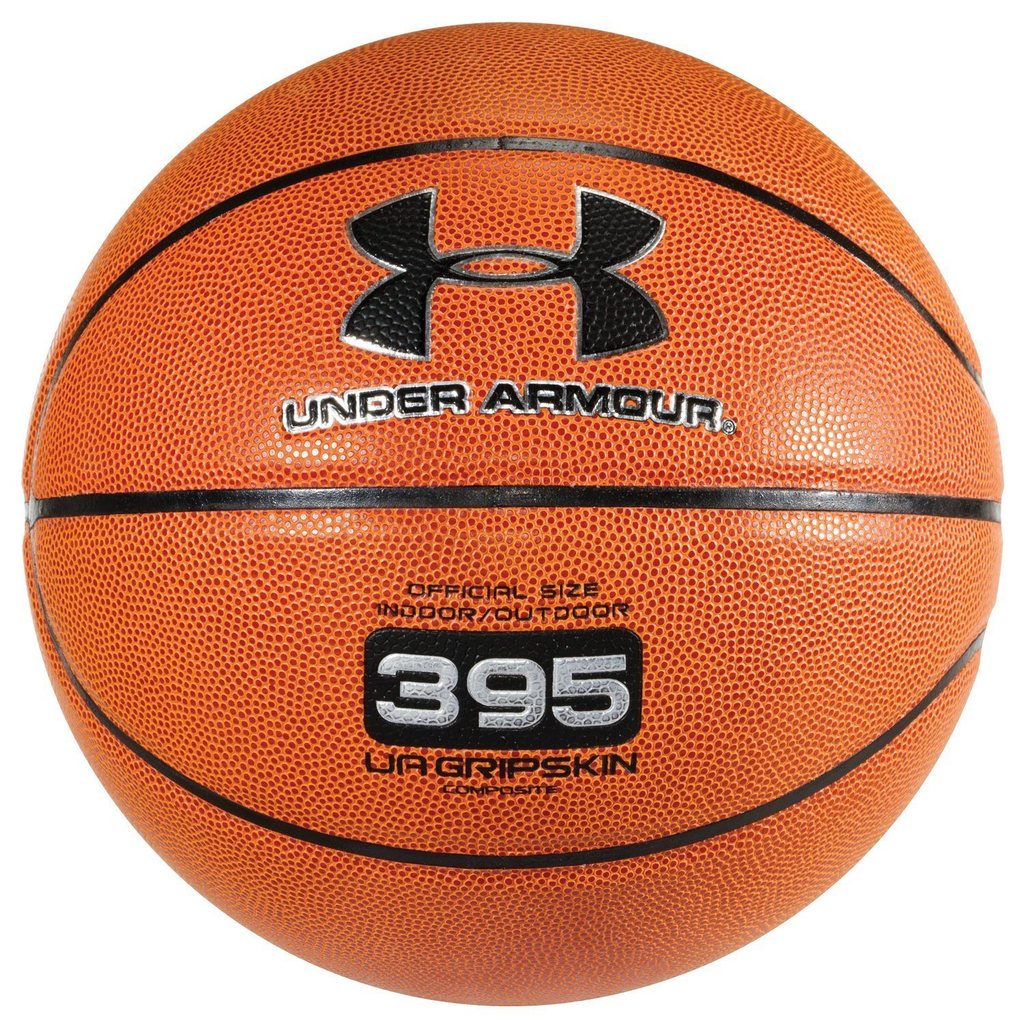 Last but not least in our round up of the top 5 outdoor basketballs we have the Under Armour 395. This is a basketball that in many ways is quite similar to the Under Armour 495 we mentioned in #3. The biggest difference is that it is a smaller size, so it's a great pick for women, youth, or even intermediate players. With a premium composite leather cover, this basketball can stand up to a lot of abuse in outdoor play.
Pros
Like the 495 model, this basketball also has GripSkin material. It offers a comfortable grip that is perfect for players with smaller hands that are working on ball handling. Whether you're passing, shooting, or dribbling, this basketball just feels comfortable and performs well. The Under Armour 395 has a bladder made from 100 percent butyl. That means it will really hold air for longer than other outdoor balls. This basketball is a smart pick for any player that wants smaller size with a comfortable grip.
Cons
While Under Armour designates the 395 for outdoor use, the GripSkin does tend to get dirty. As dust and debris clings to the pebbling, the grip will get slick so be prepared to clean it often. Some reviewers report that it shows a lot of wear and tear after a few months of continuous outdoor play, but if you care for it properly, it shouldn't be a problem.
>> Check Amazon For Prices and Availability
Molten X-Series BGMX Indoor/Outdoor Basketball
While the name Molten may not be as familiar to you as Spalding or Wilson, it is definitely a name worth knowing! This company provides the official balls for the International Basketball Federation (FIBA) and is just as reliable as any of the most recognizable brands. Molten has created their innovative X-Series to meet the growing demand for high-quality, affordable basketballs. The Molten X-Series BGMX outdoor ball offers enhanced functionality and visibility by way of its innovative features. Additionally, it presents a unique and appealing two-tone spin on the traditional style.
Pros
The Molten BGMX Indoor/Outdoor ball's composite cover material features a uniform pebble pattern that provides an exceptional grip and a consistent bounce. The multi-color design also enhances the visibility of the ball, making it easier to track each rotation as you dribble, pass, or shoot. This high-quality ball comes with a one-year warranty, which speaks to Molten's promise of durability. The bladder of this ball is made from butyl, guaranteeing that it will retain air longer than other models. The Molten X-Series BGMX is ready to be tested in any environment!
Cons
This ball may take some getting used to, as it is considerably heavier than other outdoor balls. The grooves are also shallower. While the depth of the grooves does not detract from the grip, it will most likely attribute to a different feel when handling the ball. The Molten X-Series BGMX ball comes in at a significantly higher cost than similar products. However, as is usually the case, you get what you pay for, and this is hardly a drawback if you take into consideration all the great qualities Molten's X-Series BGMX brings to the table.
Wilson NCAA Street Shot Basketball
Wilson has been a household name in the industry for as long as anyone can remember, and for a good reason! They deliver high-quality products at an extremely competitive price. Wilson is the trusted Official Ball of the Men's and Women's NCAA Tournament. The Wilson NCAA Street Shot Basketball is a fantastic option for any outdoor game.
Pros
Wilson's Street Shot is covered in synthetic leather with recessed rubber channels, providing for an exceptional grip. The Street Shot delivers the feel of an indoor ball while performing like an outdoor ball. Depending on your personal preferences, this can be viewed as either a pro or a con. The synthetic leather cover strikes a balance between the softness of composite coverings and the heftier weight of rubber. The low price of Wilson's Street Shot won't leave a dent in your wallet. It is slightly more expensive than its rubber relatives but the perks of a synthetic leather covering balance out the difference in cost.
Cons
Compared to Spalding's street ball, the Wilson Street Shot feels heavier. While this is not necessarily a con, it can be a determining factor in your purchase if you are unwilling to adjust to a different feel. Because the Wilson Street Ball performs more like an indoor ball, it will also bounce differently than a standard outdoor ball. Again, while this is not necessarily a con, it is something worth keeping in mind. Another possible con is that the Wilson Street Shot is not as durable as other options. The pebble finish may wear down easily after consistent outdoor use if you do not take the necessary precautions, and this can lead to the deterioration of the grip.
Wilson NCAA Composite Basketball
Another quality option from Wilson is the NCAA Composite Basketball. As the name implies, this ball is covered in composite leather. The dual tone composite leather cover of this official size ball provides a classically appealing traditional look. Additionally, the inclusion of pebbled rubber channels delivers a comfortable non-slip grip.
Pros
The Wilson NCAA Composite ball is equipped with a premium sponge rubber core to ensure a stable feel. Compared to similar products, this ball feels lighter and more balanced. The characteristics of this ball contribute to a feel that is comparable to a genuine leather ball at a fraction of the cost. The composite covering is conventionally more durable than genuine leather, meaning that you can trust this ball to withstand many games before showing signs of wear and tear.
Cons
Although composite coverings are sturdier than genuine leather, they are still less durable than a rubber covering. As long as you take proper care in safeguarding this ball from the elements, this should not be a problem. The Wilson Composite ball is not covered in the traditional pronounced pebble finish that other synthetic outdoor balls have. Because this ball lacks the traditional style of pebbling, it is likely that the grip will not be as reliable as other options, particularly if the ball gets wet.
Wilson Killer Crossover
Wilson's Killer Crossover is a slightly smaller model that is suitable for indoor and outdoor use. Covered in 16 optima rubber panels, this ball is ideal for recreational players across a wide spectrum of ages.
Pros
The Killer Crossover contains a pressure lock bladder that enables it to maintain optimal ball pressure in all conditions. The sponge rubber covering is suitable for any playing surface. The grip of the Killer Crossover is enhanced by the pebble channels to allow you to play in any weather without fear. This grip is superiorly dependable! The Killer Crossover comes in an array of color options, making it a stylish addition to any collection. The size of the ball allows it to be utilized by a younger audience but does not detract from its adult usability, as it can be used to develop better ball-handling skills. At such a great price, this ball would be a great supplement to any outdoor game.
Cons
While the rubber shell of the Killer Crossover does provide a superior grip, the rough texture that allows for this grip may lead to the formation of calluses or blisters on your fingertips. Rubber balls are the standard for outdoor play but you will still need to take extra care of the Killer Crossover to make sure it lasts. Additionally, the smaller size may not suit everyone's needs.
Wilson NCAA Replica Rubber
Wilson brings yet another option designed for outdoor play in their NCAA Replica Rubber ball. Covered in performance rubber, this ball is one more example of the high-quality Wilson standard that is trusted by the NCAA.
Pros
The grip on this ball is enhanced by recessed pebbled groves. The price of the Wilson NCAA Replica Rubber ball is hard to beat, especially when you take into consideration the level of confidence that the Wilson name entails. The Wilson logo embossed on this ball is outlined in gold trim, which subtly enhances the visual appeal of this model.
Cons
In general, you get what you pay for. The tradeoff for the NCAA Replica Rubber ball's unbeatable price is that it does not bring a high-quality feel. Additionally, the rubber shell lends to a decrease in durability. This can be counteracted by taking proper care of the ball.
Final Thoughts
Any of these five basketballs would be a solid choice for outdoor play.
Whether you go with the Spalding, Under Armour, or the elusive Molten GM7, you will be enjoying one of the best basketballs designed for outdoor use—a ball that will last you through years of regular play, for hours at a time. They are designed to be rugged, and to withstand the pounding that street basketballs inevitably take. Keep in mind, that there are also different sizes of outdoor basketballs – so choose accordingly.
Two Spalding balls were featured, as well as two balls from Under Armour. In our opinion, the best Spalding basketball for outdoor play is the Spalding NBA Street Basketball. The Indoor/Outdoor ball is a hybrid which, while it works very well in both settings (as is typical of Spalding basketballs) doesn't stand up to the rigors of being a street basketball as well as… well, the street basketball.
The best basketball designed specifically for younger players might be the Under Armour 395 Outdoor Ball. It's a little smaller and lighter than the 495. This can put experienced players off, but younger players will find it a welcome change from the larger, clunkier balls they're probably accustomed to using.
It's hard to choose the best basketball brand, but the Molten GM7 Official Basketball reflects an international favorite which may well soon sweep across the United States. It is already favored in basketball around the world, and while the occasional quick pump of air is needed to keep it in shape, the ball itself is extremely durable and fits comfortably in the hands.
If you want to learn more, here's an article on the difference between indoor vs outdoor basketball.