Indoor and Outdoor Kids and Toddler Basketball Hoops
Getting one of the best basketball hoops for kids is an excellent way of introducing your youngsters to this game's fundamentals. Wait. There's no guarantee that a toddler basketball hoop will carve your child to be the next Kobe Bryant or LeBron James. But that's usually not the point, anyway, especially for kids below 5 years.
At this age, an outdoor or indoor hoop works as a fun tool to keep them off the TV with minimal resistance. Also, introducing your children to basketball at a young age helps in honing their hand and eye coordination. This will pay off in the future whether they develop a bond for basketball or any other sports activities.
So, let's cut to the chase and review the best little kids basketball hoops on the market today.
Comparison Table for Kids and Toddler Basketball Hoops
| Product | Child's age |
| --- | --- |
| Little Tikes Easy Score | 1 1/2 to 5 years |
| VTech Smart Shots Sports Center | 1 to 3 years |
| Arkmiido Basketball Hoop Set | 1 to 10 years |
| Aokesi Mini Basketball Hoop | 4 to 13 years |
| Sharyee Indoor Mini Basketball Hoop Set | 3 years and up |
| N/C Kids Basketball Hoop | 3 to 8 years |
| Slam Dunk Mini Basketball Hoop Set | 3 years and up |
| SKLZ Pro Mini Basketball Hoop (Glow in the dark) | 10 years and up |
| Lifetime 32″ Youth Portable Basketball Hoop | 10 years and up |
| GoSports Splash Hoop PRO | 3 years and up |
1. Little Tikes Easy Score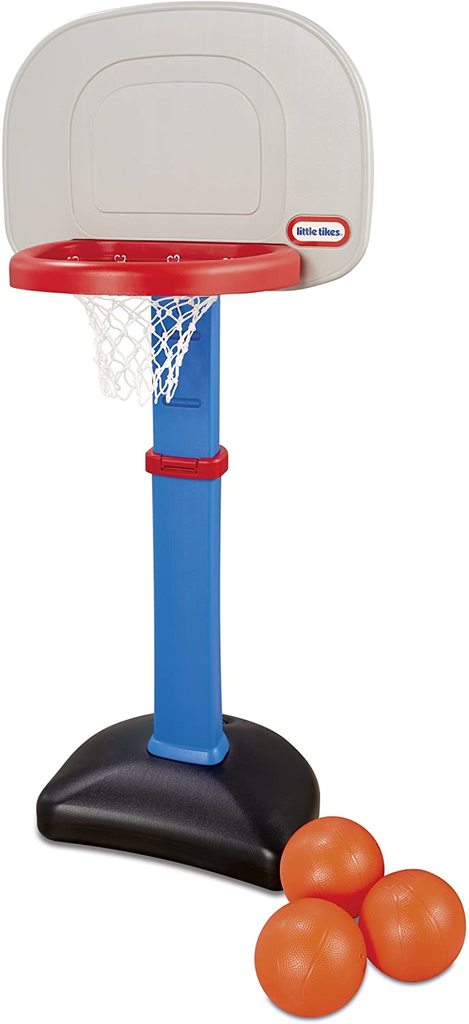 Little Tikes Easy Score has topped most indoor kids basketball hoops reviews for over 3 years. It's still among the top-rated and most recommended hoops for young players on Amazon today.
This model is designed to introduce your kid to the game of basketball from as early as 1.5 years. The basketball hoop hangs around 2.5 ft from the floor on its lowest height setting, making it easily reachable by toddlers. You can also adjust this height over 6 positions up to a height of 4ft. This height range means that the Little Tikes Easy Score will grow with your young players until they are around 5 years.
The oversized rim of this basketball is another feature that most parents seem to like a lot. For a hoop that is meant to introduce preschoolers to basketball, easy baskets will definitely boost their enjoyment.
This basketball hoop is made of soft but strong plastic for durability. Its wide base can be filled with water or sand, making the rig very stable to prevent accidents. By the way, the Little Tikes Easy Score comes as a complete package with 3 balls. Also, there's an option to get the same model in pink, which might appeal more to girls.
2. VTech Smart Shots Sports Center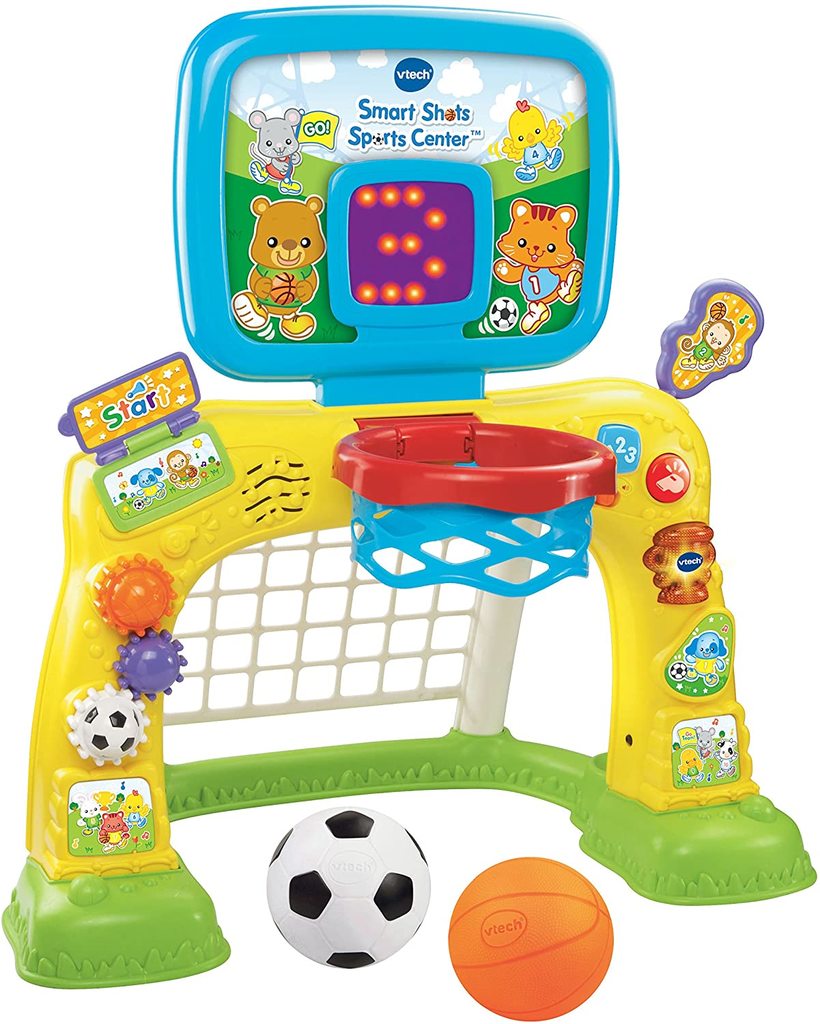 The VTech Smart Shots is another favorite basketball hoop among 1-year olds. Actually, the manufacturer calls this a sports center. That's because it's designed to offer more than a basketball hoop.
This is a 2-in-1 tool with a basketball hoop and a soccer net. We believe that these two will come a lot in handy to develop your child's motor skills. Interestingly, the basketball hoop is complemented by an animated LED scoreboard that counts the baskets up to 10. When you get to 10, you can use the purple lever on the left to restart the scoreboard.
Besides scoring baskets and goals, the VTech also has shape buttons on the right. Pressing these buttons will play 50+ encouraging songs, melodies, and sounds to entertain your players while teaching them cause and effect.
We wish that this sports and educational toy had additional languages apart from English. But for its price, we feel that you're still getting a really good bang for your money. The whole thing is generally well built, and it feels sturdy. In addition, we like that there's an option to turn off the sounds when you want to catch up with your favorite TV program.
3. Arkmiido Basketball Hoop Set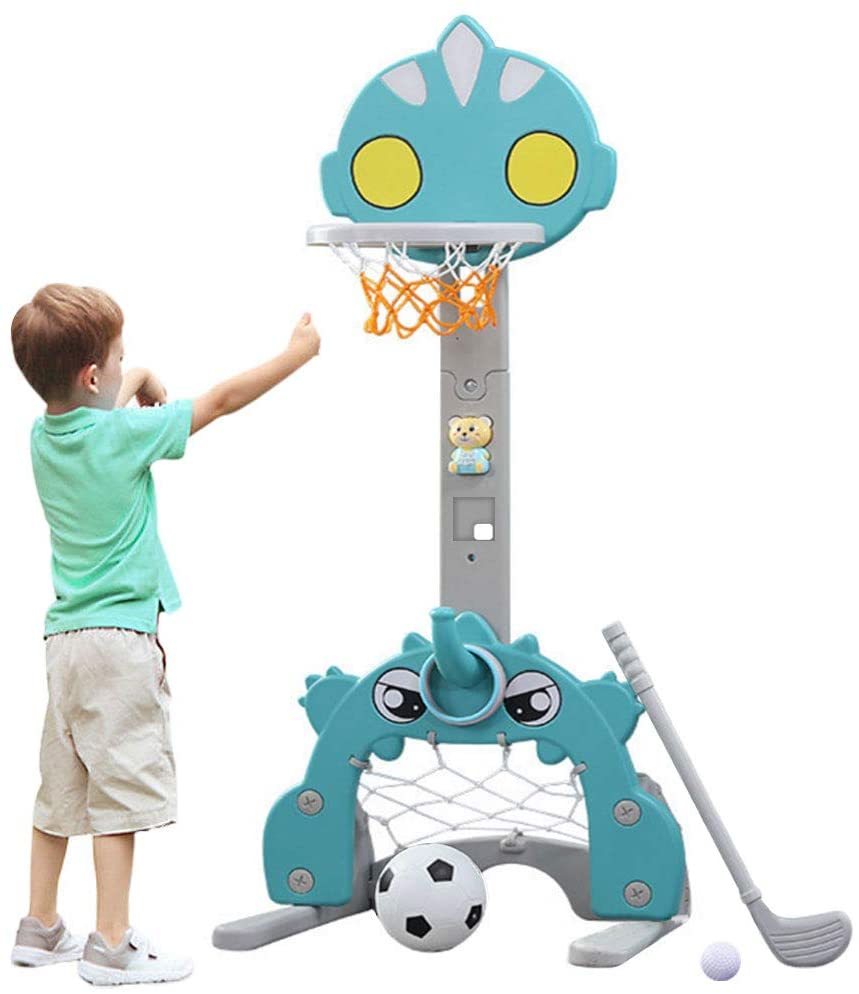 Our next contender in these outdoor basketball hoops kids reviews is the Arkmiido. Another excellent pick if you want an inexpensive but multi-featured basketball hoop.
This is a 5-in-1 sports activity center that allows your kid to shoot basketball, score soccer goals, play loop, and even throw rings. All the necessary playing accessories for each of these games is included in the package. When the kids aren't playing any of the above games, there is a musical bear attached to the pole to keep them entertained with sounds and songs.
The Arkmiido has an adjustable basketball hoop with seven height settings and ratchets between 2ft and 4ft. This height range should offer a good level of playability for kids between 1 and 10 years.
Most parents agree that this sports activity center is generally well built. They also appreciate its easy assembly, noting that you won't need any tool since all the parts snap into each other with ease.
Overall, our review team is convinced that the Arkmiido is one of the best basketball hoops on this list. It's well built, has multiple sports for your child to engage in, and it accommodates children across a wide age group.
4. Aokesi Mini Basketball Hoop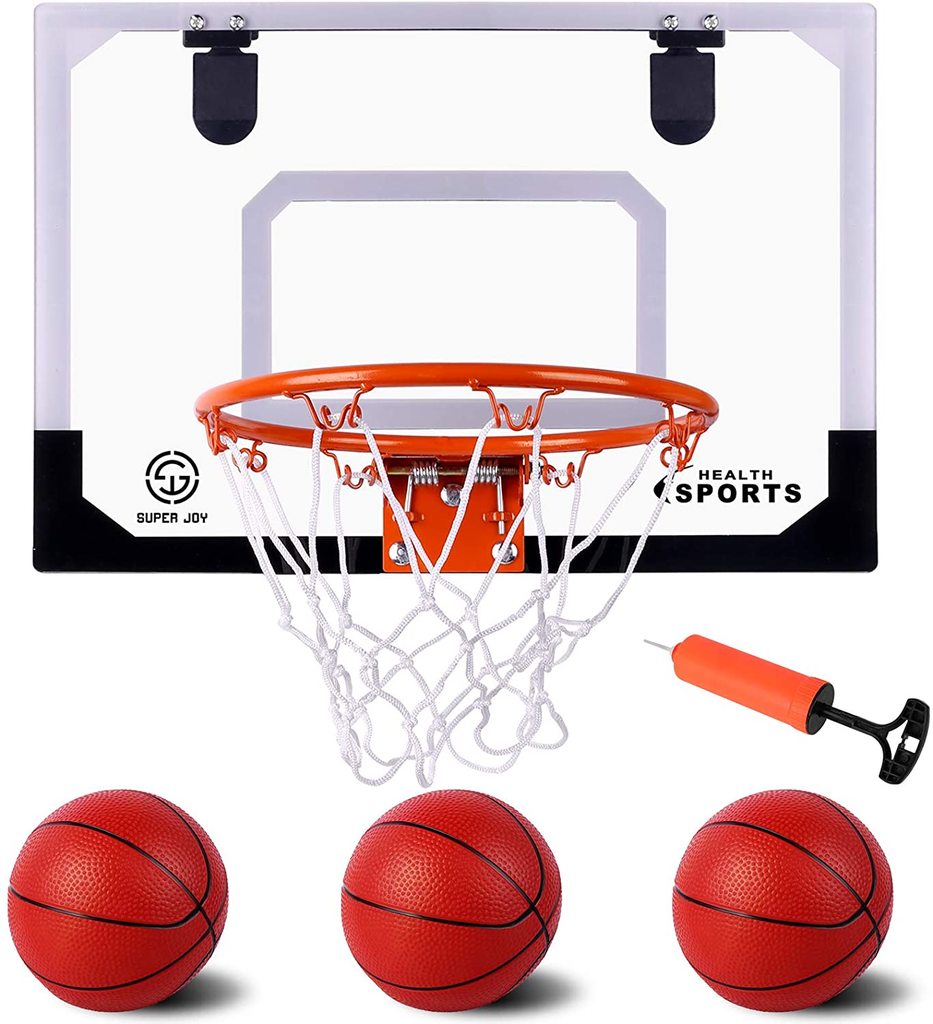 We bet the Aokesi will fit the bill if your kids are yearning for a basketball hoop that looks like the real thing. This mini basketball hoop boasts an oversized transparent and shatter-resistant polycarbonate backboard to withstand your adrenaline-filled teens.
They will also like the spring action break-away steel rim that lets them practice slam dunk in their bedroom or garage. This rim, coupled with the nicely labelled backboard, makes a perfect match for a basketball hoop that will help your potential basketballers perfect their shooting skills.
Who is it meant for? The manufacturer recommends this hoop of kids 3 months old and above. However, we feel that this hoop will be a perfect pick for kids at least 4 years up to around 13 years.
This mini basketball hoop is designed with optimum ease of installation in mind. The package comes complete with the installation hardware and kit that let you set the hoop pretty much anywhere. The manufacturer states that you can mount it on any 2.17″ door. There is also an option to mount it directly on a wall.
What makes this a much better deal is that the package also includes 3 basketballs and a pump. The box is nicely designed, too, making it perfect for gifting.
5. Sharyee Indoor Mini Basketball Hoop Set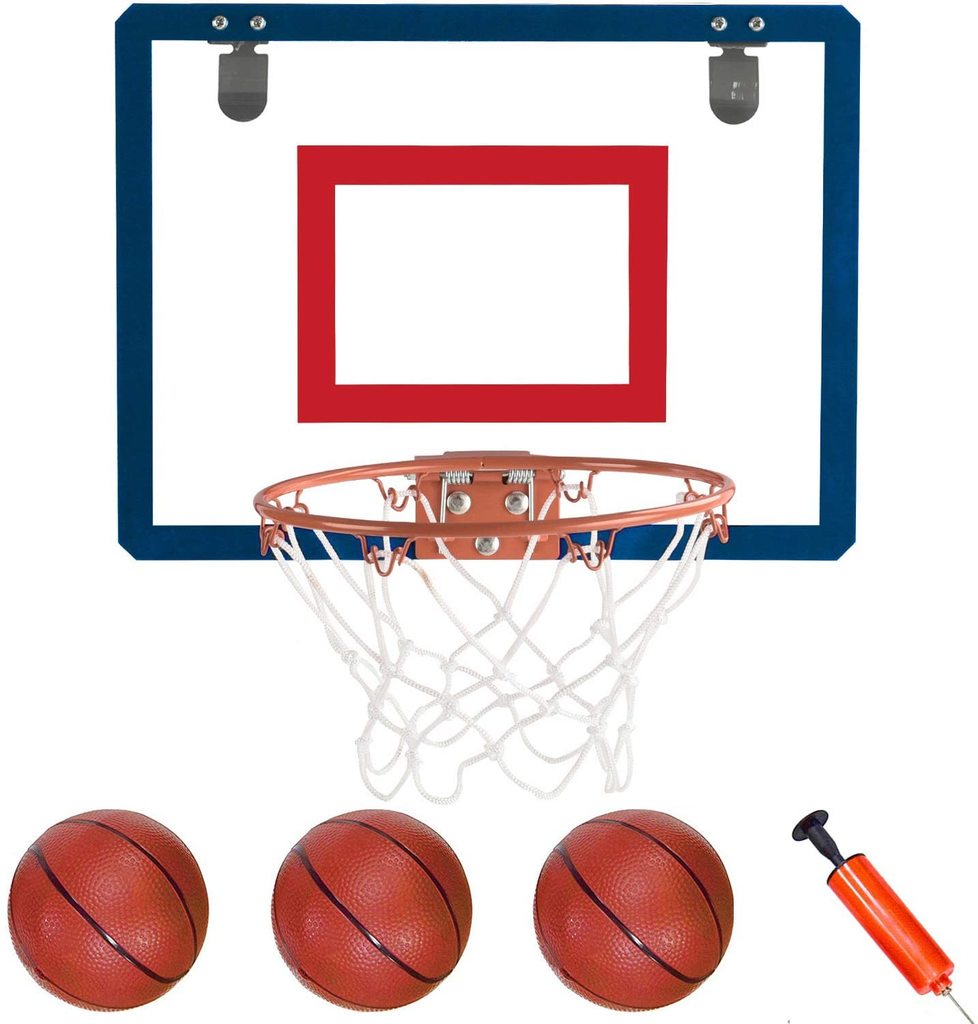 The Sharyee is another model designed to give hours of fun to older kids, teenagers, and even adults. This is one of the most affordable kid's mini basketball hoops on this list. So, if you're looking for something inexpensive, this one could be it.
When you buy the Sharyee mini basketball hoop, the package will include the hoop, 3 mini basketballs, and a pump. That's to say that your young players can jump right into the action.
Similar to the Aokesi above, the Sharyee basketball hoop features a clear shatter-resistant backboard. It also has a 9-inch diameter spring-action rim to create an authentic basketball experience that enthusiastic kids look for.
The Sharyee ships in parts that you need to set up first. Luckily, everything that you'll need to get it ready is included in the package, including a small wrench that you use to fasten the rim onto the backboard.
6. N/C Kids Basketball Hoop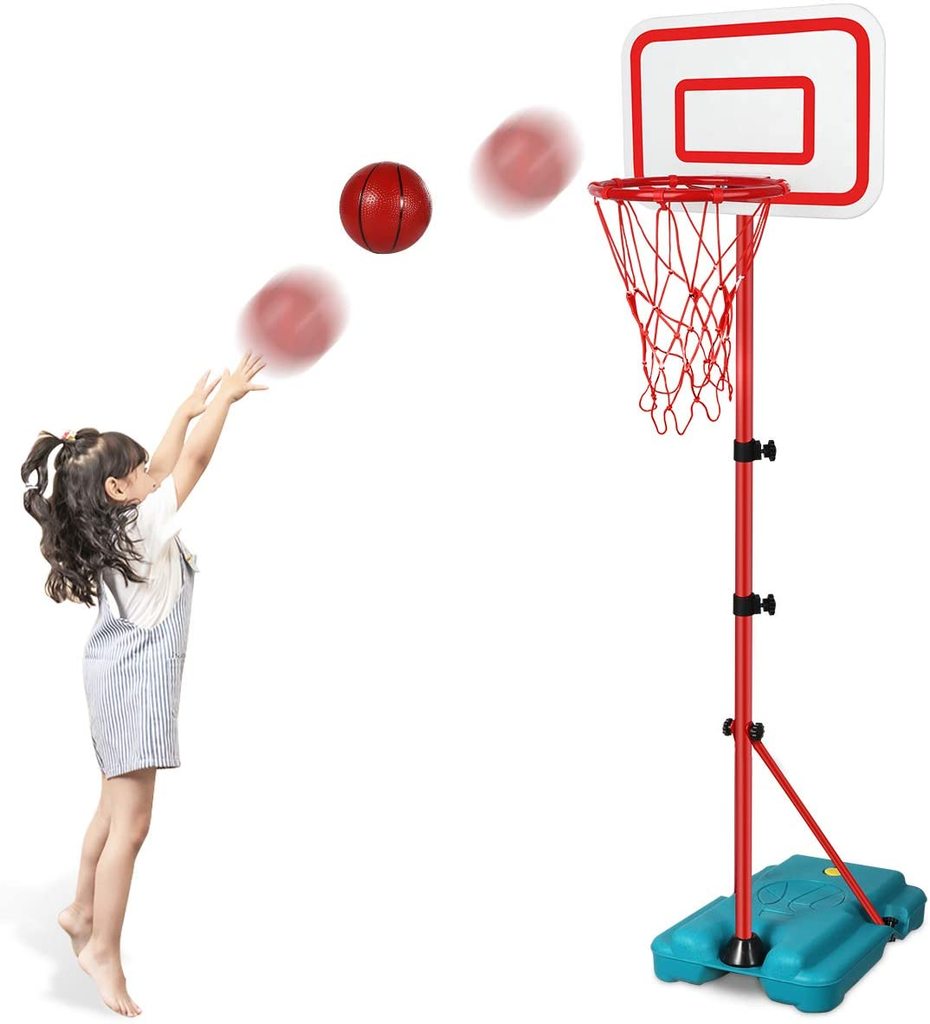 Up next is another regular contender in most reviews of the best basketball hoops for kids. The NC is one of those hoops that are best located on the driveway, but it can also be used indoors without a problem.
This is a 4-part rig with a plastic backboard, a spring action rim with a net, a height-adjustable pole, and a base. This system's pole telescopes between 2.8 ft and 6.2 ft, and it has 4 height positions within this range. This is a nice feature considering that the NC is recommended for preschoolers between 3 and 8 years. To ensure stability, this basketball hoop has a huge base that you can fill with water or sand to prevent it from tipping over.
Like other models here, the NC kids basketball hoop will require assembling after shipping. But that's an easy thing to do for most adults. Although the assembly takes time, most parents report that it was straightforward.
Note that you'll need to purchase the basketball separately. On this note, the hoop has a diameter of 9 inches, so you'll need a 5.1″ (diameter) ball.
7. Slam Dunk Mini Basketball Hoop Set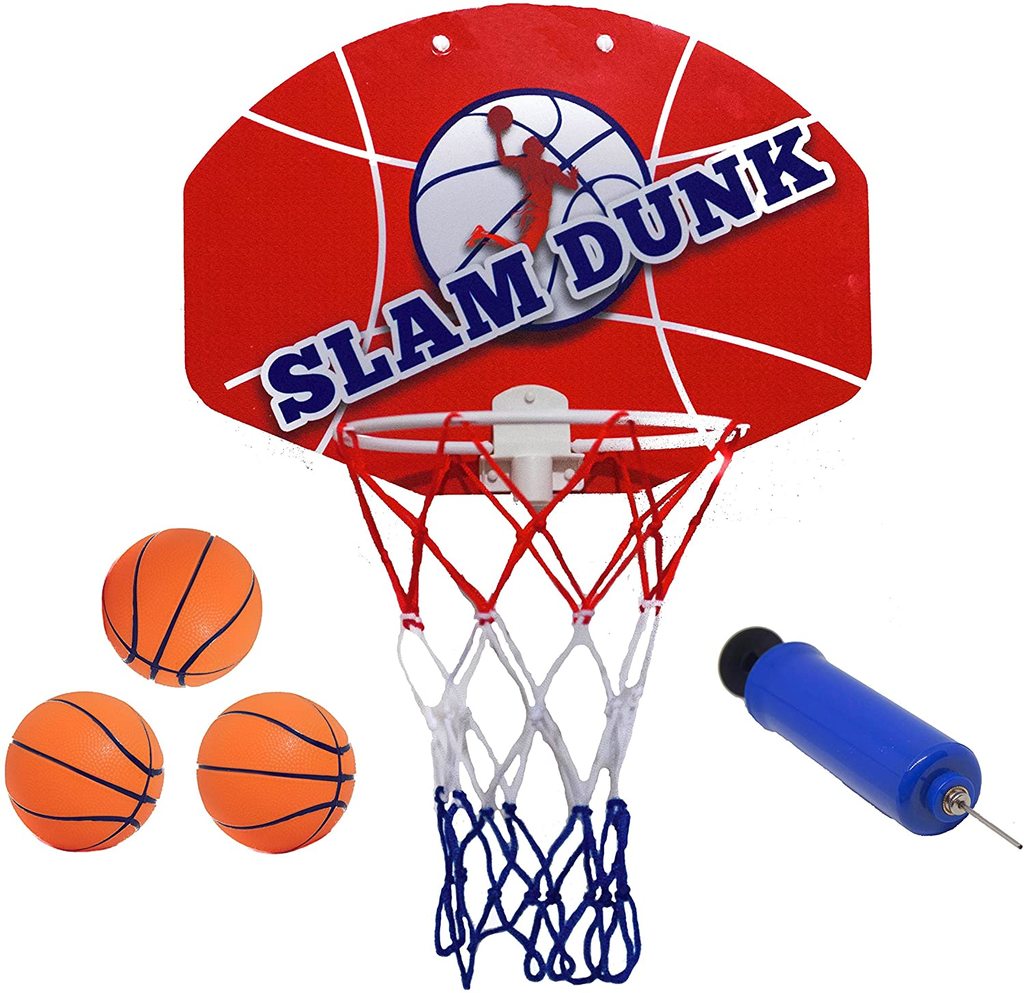 The Slam Dunk mini basketball hoop set is for kids who've graduated from toy-ish hoops and are looking forward to real game-like action. The simplicity of this rig is one of its key selling features. By simplicity, we mean everything from assembling it to installation.
This hoop measures 14″ and 10″, and set up requires attaching the rim to the backboard. The installation process does not involve any drilling. All you do is attach a backboard mount and then hang the hoop on your doors. A unique feature here is that the rim lies flat against the backboard, allowing the door to close and open with ease without having to unmount the entire rig.
Lastly, the Slam Dunk comes with a set of 3 basketballs in the package. So, your kids don't have to keep chasing a single ball around with each shot. Also, having multiple balls adds to the fun when there are several players in the game.
8. SKLZ Pro Mini Basketball Hoop (Glow in the dark)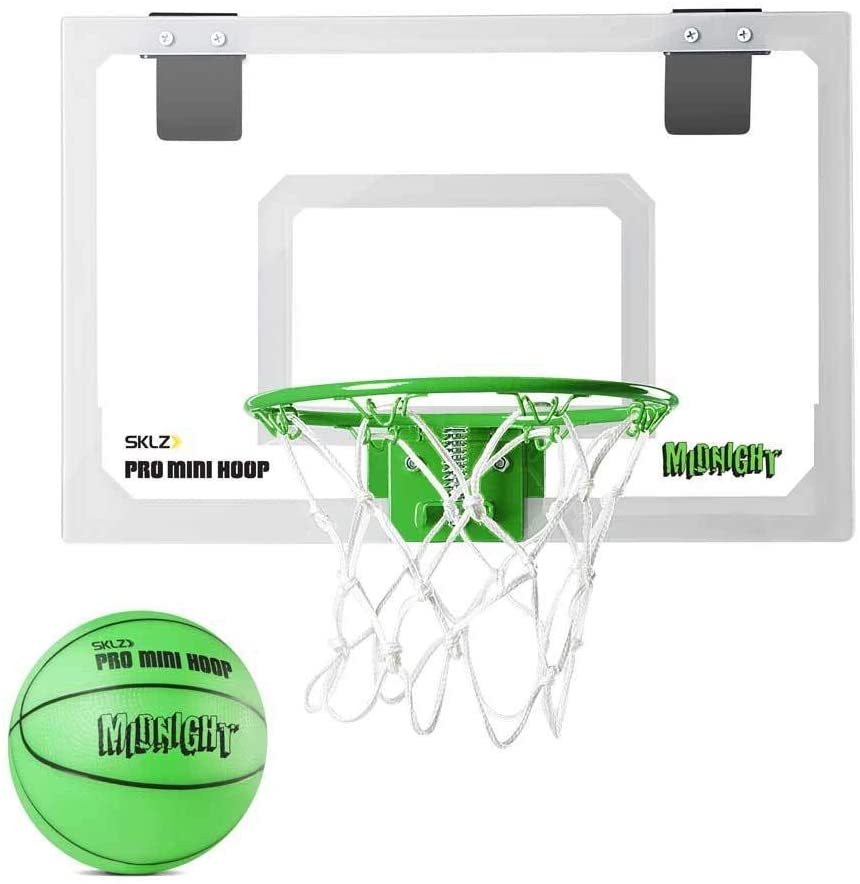 The ability to glow in the dark is one reason why the SKLZ Pro Mini has garnered over 13k reviews on Amazon today. But there's more to that. Let's start with its construction.
This mini basketball set features an 18″ by 12″ clear and shatterproof polycarbonate backboard with a pro-grade basketball hoop appearance. But what completes its look and function is the 9″ diameter spring-action break-away steel rim. This rim is flexible and strong enough to allow dunking, but we'd not advise hanging on it.
As with other door-mounted basketball hoops in these reviews, the SKLZ Pro comes ready to be hung on your doors. It has clips that attach to the backboard to allow you to hang it over any door.
Back to its key selling point, the rim, net, and pro-style graphics on the backboard of this hoop glow in the dark. Actually, the 5″ ball included in this package also glows, making this one of the most irresistible mini basketball hoops for kids. If you wish, this seller will also include a second basketball for five bucks extra.
9. Lifetime 32″ Youth Portable Basketball Hoop

The Lifetime 32″ often comes into the picture when discussing the best youth basketball hoops. While its price range puts it slightly above others in this list, we like that it's well built and engineered for durability.
As an outdoor basketball system, the manufacturer says that the Lifetime 32″ is designed to withstand harsh weather conditions throughout the year. The 5-year warranty that you get with this basketball hoop is an assurance of its quality.
This Lifetime basketball hoop is equipped with a 32″ polyethylene Impact backboard with fade-resistant graphics. The pole is telescopic and moves the rim from a height of 5.5′ at its lowest setting to 7.5′ at its highest setting in 6″ increments.
The 10-gallon base on this system comes a lot in handy in planting it firmly to the ground for stability. You can fill this base with water or sand, and there are wheels to scoot the entire rig around.
10. GoSports Splash Hoop PRO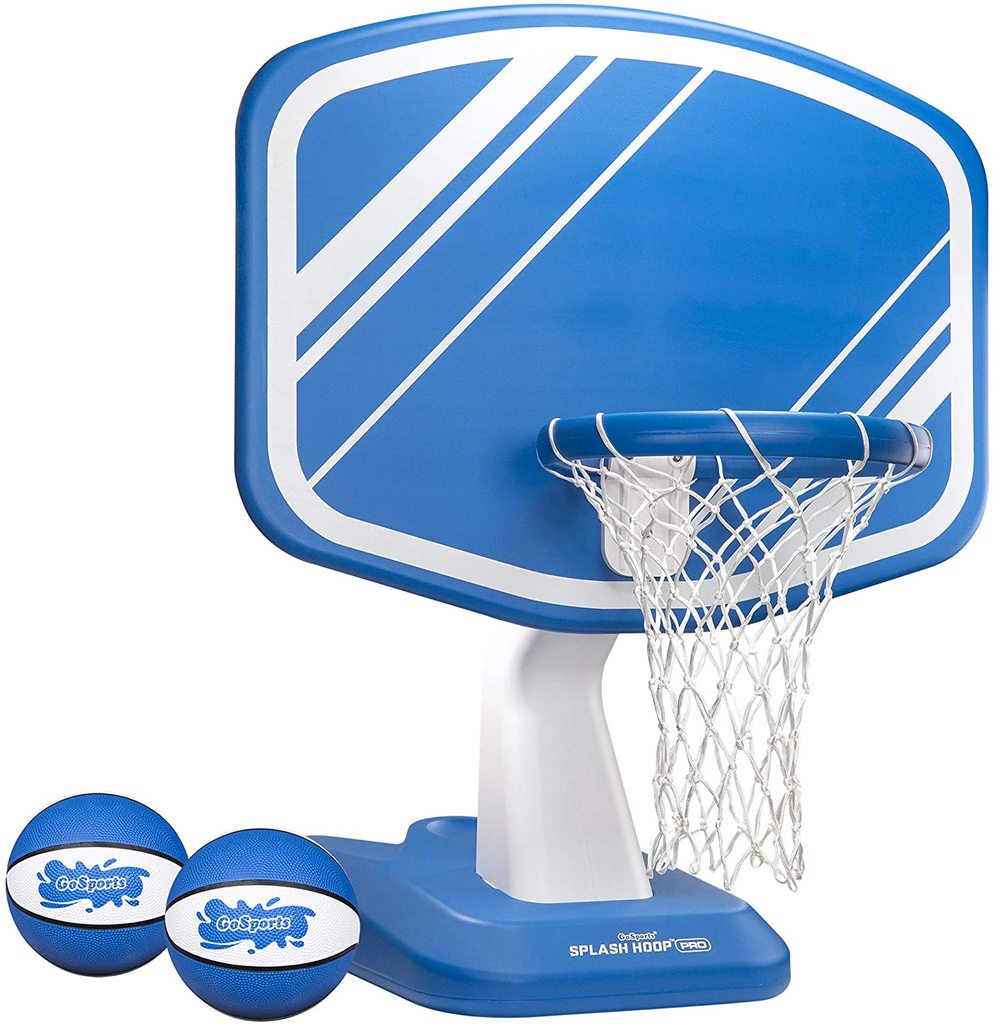 Our last recommendation for these toddler basketball hoops outdoor reviews is getting a good rave out there due to its design and functionality. If you're looking for ways to rev your summer poolside parties, the GoSports Splash Pro could be what you've been missing.
This is an easily portable mini basketball hoop with a 34″ by 25″ backboard and a 14″ (diameter) rim. Interestingly, the base measures 16.77″ wide and has a height of 3.55″. This base is weighted and can accommodate 50 lbs of water to make it stable on your poolside.
The overall construction quality of this hoop is impressive, to say the least. It's mainly made of plastic, so the issue of rusting is eliminated. The only metallic parts are the screws that attach the rim to the backboard. The manufacturer says that these shouldn't rust easily either. If anything, they are super easy to replace and shouldn't cost you a lot.
Conclusion
A basketball hoop is one of the easiest and fun ways of keeping the young members in your family active. And as you may have noted, the market never runs short of the best basketball hoops for kids and toddlers across all ages. Now, before completing that order, remember to double-check the manufacturer's recommended age group for your potential basketball hoop. Also, don't forget that the best basketball for kids should be not only fun but safe.
Happy shopping!