What's the Best Basketball Mouthguard: Our Top 10 Picks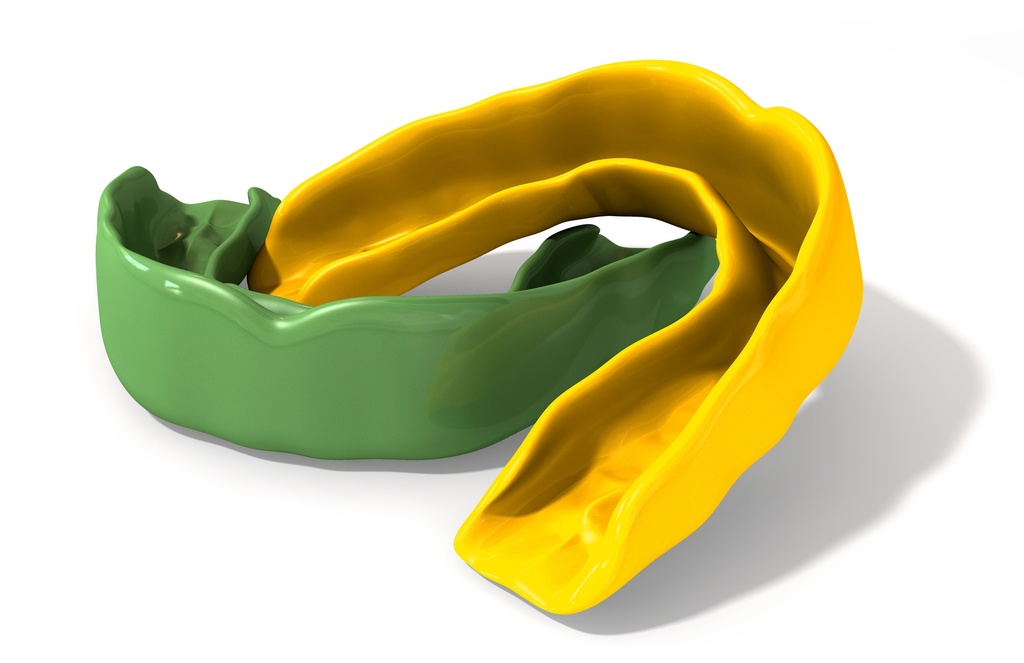 Each year, 22% of male basketball players sustain at least one time-loss injury.
While the majority of these injuries are sprains in your ankles, hips, and knees, your face needs protection too. Specifically, your pearly whites.
You should be seriously considering buying a basketball mouthguard. If you're on the lookout for the best mouthguard for basketball, look no further. We've tested the premium picks in the market, bringing you the top 10.
1. Redline Sportswear Mouth Guard
First up on our list of swaggy mouthguards for basketball, we have the Redline Sportswear.
This mouthguard has everything covered, from different colors to safe-to-wear materials to a hygienic carrying case. They have a patented double-layer design that keeps you protected from the most brutal collisions. It's a very affordable piece, with "boil and bite" comfort.
("Boil and bite" means you boil the guard and bite into it to get your bite pattern molded into the guard.)
However, there is one con: It's pretty thick. Don't expect to talk much with this thing covering your mouth.
But if safety is the name of your game, Redline Sportswear has got you.
2. Battle Fang-Edition Mouth Guard
A repeatable "boil and bite" mouthguard, this next one gives you that perfect balance of protection and style.
Battle has a Fang-edition mouthguard that literally has fangs depicted on the front of the guard. They work well even if you have braces, and they come equipped with an easy-clip removable strap with integrated safety release. Plus, Battle mouthguards come in various sizes and have a defect warranty.
Despite these features, this one is also hard to breathe in and it doesn't come with a case.
Style is part of the game, so make sure you show your flair with the best basketball mouthguard.
3. Shock Doctor Gel Max Flavor Fusion
Talk about cheap and durable. The Flavor Fusion brings a lot of things to the basketball mouthguard table.
First off, it's less than $5. That's crazy considering it's built with integrated breathing channels, a gel-fit liner, triple layer design, and an Exoskeletal Shock Frame. However, the fit is quite bulky and might take a few boil tries.
Additionally, it has what's called a flavor fusion, exclusive to Shock Doctor; you can get a mouthguard that tastes like lemon-lime, cherry, fruit punch, mint, orange, or blue raspberry.
Tastes like game over to me, especially if you're wanting to prevent orofacial injuries from basketball.
4. LiteBITE Basketball Mouthguard
LiteBITE is all about ergonomics with their best mouthguard for basketball.
Known for being thin and lightweight, this "boil and bite" guard gives a comfortable fit and can be simply customized from home. It actually covers both the teeth and the gums, even though you can still talk and drink while wearing it.
The common issues with this mouthguard are it can't be fitted over braces and it can only be customized once. Don't reboil them.
Otherwise, this is a solid, inexpensive option for your latest basketball mouthguard.
5. Sisu NextGen Aero Guard
This best basketball mouthguard has a ton going on.
"Boil and bite" once again, Sisu gives you a lot of value for a modest price. It has crumple zones that absorb impact, fortified perforation patterns for comfort and safety, a bite pad that improves moldability, and it's thin, allowing for talking, drinking, and easy breathing.
Multiple colors and a perfect fit with 50% less mouthguard, Sisu NextGen Aero is bound to be your next basketball purchase.
6. Under Armour Mouthwear ArmourFit
The primary feature of this mouthguard is it's strapless, which means it was made for the court.
Under Armour is a well-known brand that prides itself on making quality accessories and equipment. Their ArmourFit mouthguard proves nothing else with its dental fit, chew-resistant material, and the freedom to wear and talk/drink/breathe at the same time.
And it doesn't have the dilemma other guards have by allowing brace-faces to wear their guard. The dilemmas with this one are you can't get a custom fit and your age will play a factor in the fit.
But if you're an adult and love Under Armour, you'll be pleased with the ArmourFit.
7. Impact Custom Made Mouth Guard
This is where guards start to get expensive, but with good reason.
Impact takes an impression from your mouth and makes a custom mold created for you. With a perfect fit, you get the ultimate amount of protection, all while being more cost-effective than through your dentist. Plus, these guards come in a variety of designs, including sprinkles, a few flags, Halloween themes, and the Grinch.
This mouthguard is for serious ballers only!
8. OPRO Mouthguard
OPRO has many different types of mouthguards, ranging in size, attributes, and custom-fit capabilities.
Their flagship mouthguard, the Custom Fit Platinum Level, has its fair share of perks. Thirteen cavities are pre-set to fit your teeth and gums while keeping clear of your ability to talk and breathe. This despite it being extremely thick for durability and protection.
Even though it has a bulky feel to it, if you're tired of "boil and bite" mouthguards for basketball, give OPRO a try.
9. Teeth Armour Professional Sports Mouth Guard
This basketball teeth-saver is all about protection. With a double-cushioned layer, you get enhanced shock absorption. Also, it's free of additives and rubber and can be molded easily.
Great for both adults and kids, it's incredibly affordable and can fit any mouth size. Nevertheless, it has a few kinks, such as uncomfortable edges around the guard and the fact that it can't be used over braces.
Basketball is healthy. Getting your gums knocked in isn't. Stay safe with Teeth Armour.
10. Oral Mart Cushion Sports Mouth Guard
Made for youth and adults, Oral Mart brings a few multicolored mouthguards to the market.
Absorption cannot be beaten with the Cushion Sports Mouth Guard. Approved by all safety tests to be in your mouth, protecting you from brutal impact, you also get a hygienic case and a money-back guarantee if you aren't satisfied.
Unfortunately, there isn't the option for a custom fit and they aren't chew-resistant.
Make no mistake, though: This cost-friendly, savage protector of your teeth will do the job.
Choose a Basketball Mouthguard and Dominate the Competition
Why risk losing your teeth over an and-one? Pick out your basketball mouthguard today and play with reckless abandon, knowing your mouth is secure. Check out the 10 picks we got for you, decide on one, and elevate your game to new heights.
If you're looking to upgrade your hoop kicks, take a look at our guide to the Top 10 Basketball Shoes Trending in 2021.