Wilson Evolution Indoor Game Basketball Review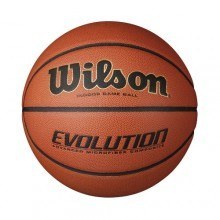 If you're searching for a budget-friendly basketball that is perfect for indoor play, check out the Wilson Evolution Indoor Game Basketball. It's fully approved for high school and college use and you'll love how it is designed for comfort. This is an all around good pick for rookies and experienced players with several major advantages over similar basketballs.
Wilson has a solid reputation as a leader in the sporting goods world. They created the first moisture absorbing basketball, which gained major recognition for being easy to handle and comfortable to shoot. Wilson's Solution Basketball has been the official ball in the NCAA for eight years, but the Evolution Indoor Basketball is newer and a little more budget-friendly.
Features
The Evolution comes in two sizes. The intermediate 28.5 inch size is popular for women's games while the 29.5 inch official size is the top pick among men. The National Federation of State High School Associations approved this basketball for game use, giving it a stamp of approval that's hard to ignore.
One of the first things you will notice about this basketball is how comfortable it feels in your hand. With patented Aqua-Grip channels that are laid-in and the much loved Cushion Core technology, you will enjoy a perfect bounce. Plus it's durable enough to keep its shape even after years of play. Dribbling is easier than ever and you will have better ball control on each pass thanks to the microfiber composite leather cover with deep pebbling.
Pros
There is a lot to love about the Wilson Evolution Indoor Game Basketball, but the feature most buyers rave about is the grip. With deep channels, you really feel the difference from the first time you hold this ball. Plus the grip only improves over time as the ball gets broken in. You'll also notice a very smooth release when you shoot with no sticky or shaky tendencies that leave you struggling to remain in control of the ball.
Another major advantage is Wilson's trademarked cover. It's made from composite leather for a softer feel. Some players describe the Evolution as feeling spongy or tacky. It seems to mold to your hand giving you better performance with each shot. The material also holds up well to moisture. Even if you're sweaty from hours of playing pick-up games, the Evolution will never feel slippery in your hand.
Even if you play daily, the Evolution is durable enough to hold up for a long time. It's best suited for indoor play, but you can also use it outside. Just keep in mind that it will last longer if you save it for the indoor court.
Cons
The vast majority of buyers love the Wilson Evolution basketball, but there have been a handful of complaints mentioned. The most common problem is with consistency. Some of the balls seem a little harder or slicker than others causing speculation that Wilson's quality control department could use a little boost.
Another possible downside is that the ball is pretty bouncy. While this sounds like a good thing, some more experienced players might feel it bounces a little too hard to be well controlled. Unless you are a hard core baller, this shouldn't be a major issue, but it's something you should be aware of.
Final Thoughts on the Wilson Evolution Basketball
All things considered, the Wilson Evolution is a solid pick with many advantages. Many players consider this the best pick for indoor play, plus it's pretty budget-friendly. Whether you're a beginning player or more advanced, the Evolution is definitely a basketball that you should consider.